The Los Angeles Chargers will visit SoFi Stadium on Thursday with two objectives in mind: getting better on the field and getting familiar with their new home.
The team will hold an inter-squad scrimmage at the NFL's newest crown jewel. It will be the first time players and coaches will see the stadium complete, and perhaps the last time before the Kansas City Chiefs come to town in Week 2.
"A lot of these guys have never seen the place before," head coach Anthony Lynn said, "and the ones that did see it, it was still under construction. So, I want them to see the finished product so that when we go in there against Kansas City, it's not the first time they've been to their stadium."
Lynn said Thursday will simulate "a game-type environment." Players will dress in their new locker room, wear their new uniforms and go through a pre-game routine before the scrimmage. It's also an opportunity for them to get adjusted before September: from quarterbacks locating the play clocks to kicker Michael Badgley being comfortable with his surroundings when attempting a field goal.
This will be the third NFL stadium that defensive tackle Linval Joseph will help to usher in. He was a member of the New York Giants for the first game at MetLife Stadium in 2010. He also played for the Minnesota Vikings when U.S. Bank Stadium opened its doors in 2016.
"I'm excited to get there, see it, feel it, and hopefully make some magic this year," Joseph said of SoFi Stadium.
"I think everybody's definitely ready to hit the grass," Pro Bowl guard Trai Turner said. "It's our first time there, we'll be excited. If I'm not mistaken, we get to put on them threads. … It'll be cool, man. We can go out there and have very a spirited practice."
Without preseason games, Thursday may be the closest thing to regular-season football. Lynn said he plans to put the team in different situations and "see who makes plays."
At the same time, he wants his players and coaches to experience what he's already seen up close.
"I think it's the best place to play football in the world," Lynn said. "Just [an] unbelievable stadium, so I can't wait to get them there on Thursday."
Uchenna Nwosu Back to His 'Strong Suit'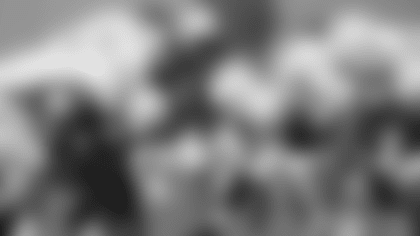 Uchenna Nwosu spent his first two NFL seasons playing two different positions.
In year three, the former USC Trojan will dedicate his time to what he does best: get after the quarterback. Nwosu said Monday that his linebacker duties will be replaced with a full-time emphasis on playing the LEO position.
"I feel great at this position," Nwosu said. "This is what I do. Get off the ball, rush the passer; just be explosive, be disruptive. So, it fits my strong suit perfectly."
Nwosu was the Chargers' second-round pick in 2018. He's appeared in every regular-season game for the team since his arrival, totaling 59 tackles, 5.5 sacks and 17 tackles for loss.
To prepare for what he views as a permanent move, Nwosu said his playing weight is 255 pounds, around five more than last season. He credits clean, healthy offseason eating and training with the father of the WNBA's Monique Billings, a friend of Nwosu's.
Generating turnovers will be a priority for the Bolts defense in 2020. The team recovered a league-low three fumbles last season. Nwosu said there's been an emphasis in camp on being more aggressive.
"I'm going for punch-outs, strip attempts," he said. "Every time we see that ball exposed, we're trying to take a punch [and] go after it any way we can."
A consistent pass rush from players not named Joey Bosa and Melvin Ingram will dramatically improve the team's 2019 sack and quarterback hit numbers, which ranked 28th and 30th respectively. Those statistics don't necessarily translate into wins, but disrupting opposing offenses can keep teams in football games.
Nwosu seems ready to help turn those fortunes, starting in September.
"I feel great," he said. "I've had a lot of reps since camp. I feel like I've made the most of those reps. I guess just what's contributed to all this is just my offseason work and also my mentality of me being even more comfortable.
"I feel like the more reps you get – the more comfortable you get in the system – it allows you to play faster and things slow down for you."
Odds and Ends
Here are additional highlights from Lynn's Tuesday media availability:
-On wide receiver Mike Williams: "He went up for a ball and he landed awkward on his shoulder, and he's gonna be out for a while. I don't want to put a timetable on it, but he's gonna miss some time."
-On rookie wide receiver Joe Reed playing running back: "Joe played some running back in college, so he's done both. Mainly at wide receiver, but he can play some running back. And if he's on this football team, the more versatility that you have going into a year like this with so much uncertainty, it can't do anything but help you."
-On rookie running back Joshua Kelley: "I believe Joshua's having an outstanding camp. He shows up every day with a smile on his face and he works extremely hard. He's made plays. I've thrown him in with the ones, he's made plays. He's in with the twos, he's made plays. And he has shown the versatility. He can catch the ball out of the backfield well. He has shown that. So, I've been pleased with his progress so far. We still have a lot of work to do, but I'm OK with Josh right now."