Chevron Cars Challenge
At every home game this season, Chargers fans can participate in the Chevron Cars Challenge by downloading the Chevron mobile app and be entered for the chance to win a $100 Chevron Gift Card.
The Chevron app is free and available on both the App Store for iOS devices or through Google Play for Android devices.
Any time before the race runs on the videoboards, open the app, choose "Chevron Cars Challenge" and select the car that you think will win during that game's race. If you provide your email address, you can opt-in to receive future Chevron offers and a chance to win the prizes. 
Then once the race starts return to the app and hit the Techron Turbo button for a chance to fuel your car to victory. If you choose the winning car you will be entered for a chance to win a $100 Chevron Gift Card. Don't forget to enter every time you attend a Los Angeles Chargers home game this season.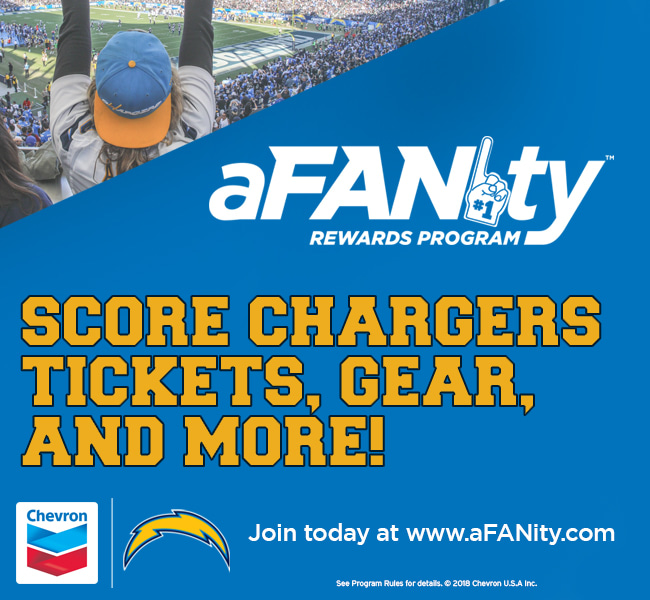 aFANity Rewards fueled by Chevron
aFANity Rewards fueled by Chevron rewards you for being a fan!
It's simple…
Sign up at aFANity.com. Start earning points. And score big with Chargers tickets, official team gear, autographed merchandise, and unique experiences!
What are you waiting for?! Get in the game and get rewarded for being a fan!
See Program Rules for details.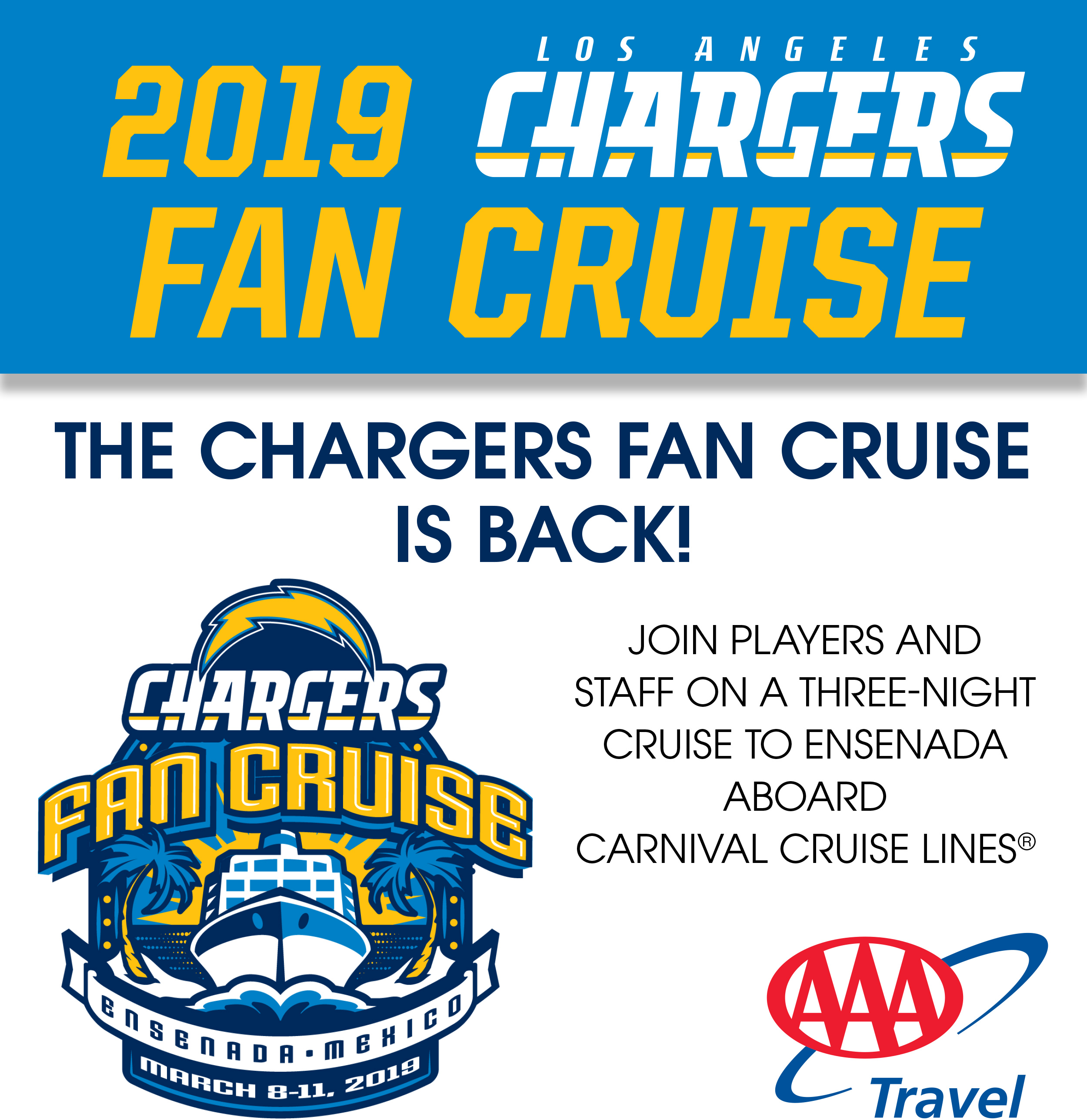 The Chargers Fan Cruise is Back! March 8-11, 2019
Join players and staff on a three‐night cruise to Ensenada aboard Carnival Cruise Lines®
Carnival Inspiration®, an exclusive offer from AAA Travel.
Enjoy refreshing pools, superb dining, spectacular stage productions, and exclusive activities with your Chargers!
Call 888.874.7222 or Click to Learn More.
Valid only for Southern California residents.
1Ships' Registry: The Bahamas, Panama and Malta.
Certain restrictions may apply. Rates, terms, conditions, availability, itinerary, taxes, fees, surcharges, deposit, payment, cancellation terms/conditions & policies subject to change without notice at any time. Advance reservations through AAA Travel required to obtain Member Benefits & savings which may vary based on departure date. Not responsible for errors or omissions. Your local AAA club acts as agent for Carnival Cruise Lines. CST 1016202‐80. ©2018 Auto Club Services, LLC. All Rights Reserved.