SoFi Stadium Know Before You Go | Los Angeles Chargers - chargers.com

UPDATED SOFI STADIUM COVID-19 PROTOCOLS:
Under the LA County public health order, fans ages 5 and over must provide proof of either COVID-19 vaccination or a negative COVID-19 test result taken within 48 hours of gameday, with a matching photo ID. Children under 5 do not need a negative test result for entry but, along with all other fans, must continue to wear a mask.
Fans may present any of the following as proof of vaccination:
A physical vaccination card that includes their name, the type of COVID-19 vaccine received and the date the last dose was administered
A physical photo/copy of their vaccination card
A photo of their vaccination card stored on a phone/electronic device
Documentation of their full vaccination against COVID-19 from a healthcare provider
To be considered fully vaccinated, fans are required to have received their final COVID-19 dose a minimum of two weeks prior to gameday – meaning two weeks following the second dose of the Pfizer or Moderna vaccines (or AstraZeneca for international fans) and at least two weeks following a single dose of the Johnson & Johnson vaccine.
Fans who are not yet vaccinated, have only received one dose of the Pfizer or Moderna vaccine (or AstraZeneca for international fans) or are not yet beyond the two-week, fully vaccinated window must provide a negative COVID-19 test for entry. Negative PCR tests within 48 hours of gameday and antigen tests within 24 hours of gameday are acceptable forms of COVID-19 testing.
Fans may present either of the following as proof of a qualifying negative test:
A printed document from the test provider or laboratory
An email or text message displayed on a phone from the test provider or laboratory
The documentation must include the fan's name, type of test performed and confirmation of both the negative result and that the date of the test falls within the 48-hour requirement.
Current LA County Department of Public Health guidance require the cross checking of proof of vaccination or a qualifying negative test with photo identification of fans 18 years of age or older beginning Nov. 1.
As always, fans are reminded to please stay home if they feel sick or have close contact with someone who has COVID-19.
In accordance with California's current guidelines, the Event Organizer is requiring fans agree to the terms below prior to ticket purchases & event entry. Prior to entering SoFi Stadium, guests 5 years and older must provide proof of vaccination or a negative COVID-19 test result. For guests providing proof of a negative test it is required that negative results from a PCR Test are within a 48 hour period prior to the event and negative results from an Antigen are within 24 hours of the event. Guests 18 years and older must also provide a photo ID with a matching name. Guests must wear a mask for the duration of the event. Please note this requirement will apply to all members of your party before they are allowed to enter the event.
COVID Testing is available on-site event days at Entry 5 and on the lake side of the YouTube Theater.
Clear Bags: The Chargers strongly encourage fans to not bring any type of bags to the stadium, but fans will be able to carry the following style and size bag, package or container at stadium plaza areas, stadium gates or when approaching queue lines of fans awaiting entry into the stadium:
Bags that are clear plastic, vinyl or PVC and do not exceed 12" x 6" x 12" (Official NFL team logo clear plastic tote bags are available through club merchandise outlets or at nflshop.com), or one-gallon clear plastic freezer bag (Ziploc or similar).
Small clutch bags that are 4.5" x 6.5" with or without a handle or strap, may be carried into the stadium along with one of the clear bag options.
An exception will be made for medically necessary items after proper inspection at a gate designated for this purpose.
Prohibited items include, but are not limited to: purses larger than a small clutch purse, coolers, briefcases, backpacks, fanny packs, cinch bags, luggage of any kind, seat cushions that have pockets or are metal, strollers, computer bags, camera bags, diaper bags, or any other bag larger than the permissible size. For more information, please visit NFL.com/allclear.
SoFi Stadium will offer a bag valet during select events. All bags that exceed the stadium's bag policy must either be taken back to your vehicle, disposed of or checked into the bag valet. Pricing of bag valet will be available on event day at the bag valet location.
Cashless Transactions: SoFi Stadium is a cashless facility. Cash will not be accepted. All major credit cards, debit cards and methods of mobile pay are accepted. There are Cash To Card Kiosks at the following locations:
Level 4 South inside SoFi Social
Upper American Airlines Plaza
Food & Beverage: Streamlined stadium concessions will be served, provided by LA Eats. Outside food and beverage is not permitted, with the exception of one factory sealed water bottles of 16.9 oz or less per guest. Guests can also bring in an empty non-metal reusable bottle. A mask must be worn while in all concession lines.
WiFi: Free Wi-Fi is available on the #SoFiStadium network.
Merchandise: Our team store, The Equipment Room at SoFi Stadium, will be open during the event and is located on the south end of the stadium. Three additional merchandise locations in the north end of the stadium will be open. View map of team store locations here.
Player Engagement: Fans are to refrain from coming in close contact with players. Autographs, meet & greets and photo opportunities will not be available. For fan and player safety, a 15' buffer zone will be in effect.
See Something, Say Something: The See Something, Say Something campaign is a simple and effective program to engage the public and key frontline team members in identifying and reporting indicators of terrorism, crime and other threats to the proper transportation and law enforcement authorities. If you see something, say something! To report suspicious activity, see the nearest Guest Experience Representative or Security Team Member or text shortcode "HWPK" with your ISSUE & LOCATION to 69050.
SoFi Stadium A to Z Guide: To view the complete A to Z Guide for SoFi Stadium please click here.
Multi-View: See every play from up to seven live angles with Verizon 5G Multi-View. Find it only in your Chargers app during the game. 5G-capable devices only.
The party starts early at SoFi Stadium! Join us at the American Airlines Plaza once gates open for music, entertainment and more!
Food and Beverage: Choose from a variety of stadium concession options while you enjoy the pregame entertainment as we countdown to kickoff!
Golden Road Beach Bar: Grab a refreshing #BOLTUP Golden Ale at the Golden Road beach bar!
Adriana's Insurance: Watch live programming on the Adriana's Insurance LED videoboard truck while you enjoy pregame festivities!
Ball Corp Aluminum Charger: Become the "Aluminum Charger"! Fans will stand in front of a screen and camera and watch themselves be digitally transformed into this superhero-aluminum character.
Inner-City Arts Aluminum Gallery Presented by Ball Corp: Check out the artistic display created from over 1,000 crushed aluminum cans, painted by young artists from Inner-City Arts!
McDonald's: Who loves free gaming!? Stop by the McDonald's Gaming Truck and play a variety of different video games for a chance to win McDonald's prizes. Games at the truck include classics like Mario Kart, NBA 2K, Madden, and more!
Suja: Visit the Suja Surf Shack and learn what makes their organic juices beneficial to your health! Suja will also be giving away various prizes to Chargers fans who visit them on game days!
Surfboard Photo Op: Snap a gnarly group pic in front of the Chargers branded surfboard photo op!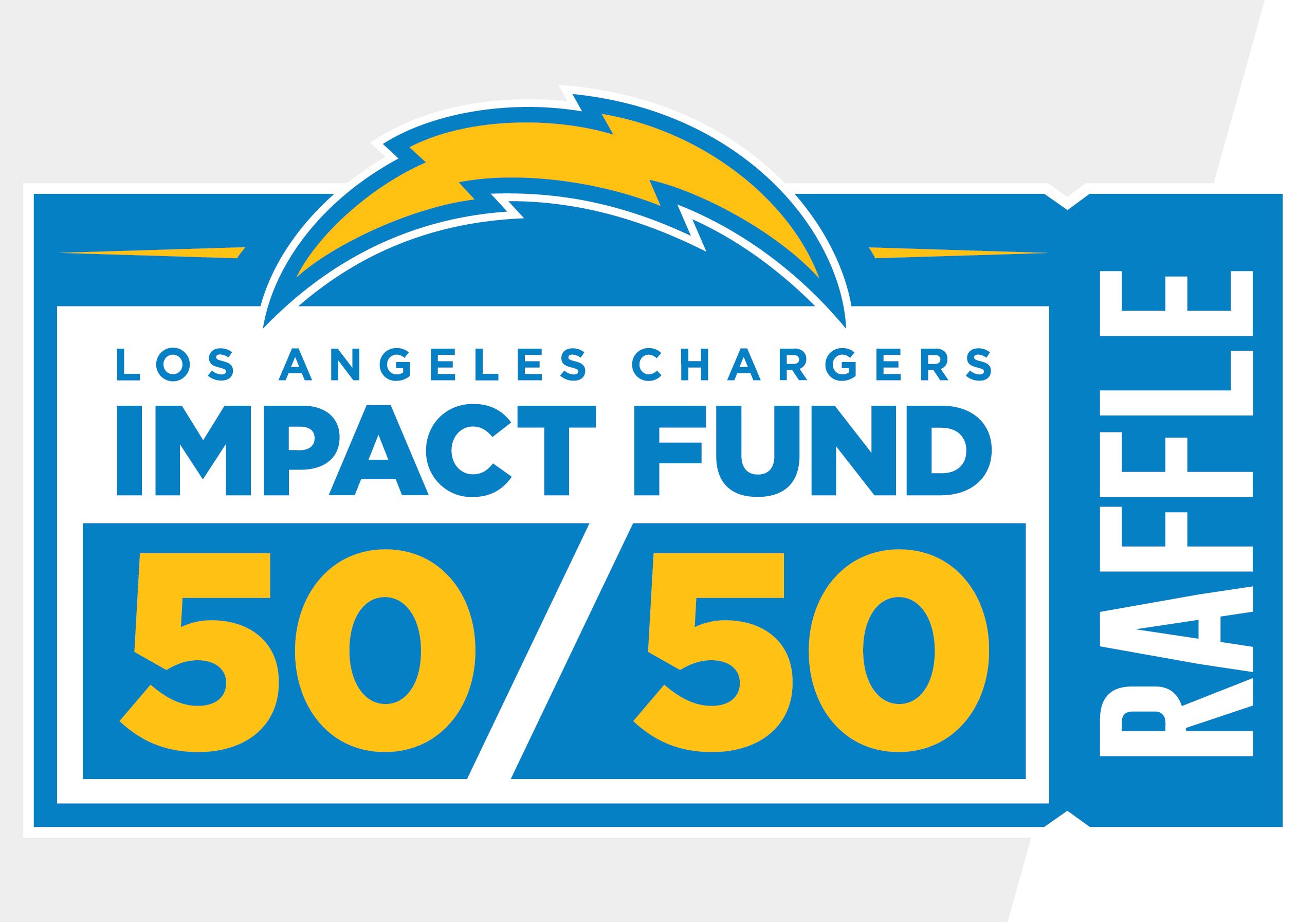 50/50 Raffle
Chargers Fans, grab your opportunity to support the Impact Fund by purchasing 50/50 Raffle tickets during each Chargers home game. Make sure to locate a 50/50 seller wearing a lime green apron or visit one of our 16 kiosks while at SoFi Stadium.