"It's almost a little bit like you have this relationship with the atmosphere and the fans, because you've been there so many times," Rivers said Tuesday.
Philip Rivers' Career Stats in Oakland
9-4 Win-Loss Record
24 TD - 10 INT
101.9 Passer Rating
67.1 Completion Percentage
As Rivers said, he's made memories and played in "a bunch of close games" in The Black Hole, including leading four fourth-quarter comeback wins over the Raiders in Oakland.
Here's a look at Rivers' five most memorable games in Oakland:
1. September 11, 2006 - First Career NFL Start
Rivers' Line: 133.9 Passer Rating, 108 yards passing on 8-11, 1 TD - 0 INT
In his first career NFL start, Rivers attempted just 11 passes but was extremely efficient, averaging 9.8 yards per attempt. The game also featured Rivers' first career touchdown pass to tight end Antonio Gates. The pair would team up for 89 touchdown connections, the most for any quarterback-tight end duo and second-most of any quarterback-receiver combination in NFL history after Peyton Manning and Marvin Harrison.
"It was a fun night," Rivers said. "Obviously, I can remember that one, only threw it 11 times. I think I can talk [Offensive Coordinator] Shane [Steichen] into more than 11 attempts on Thursday."
2. December 30, 2007 - Chargers Clinch Third Seed in AFC Playoffs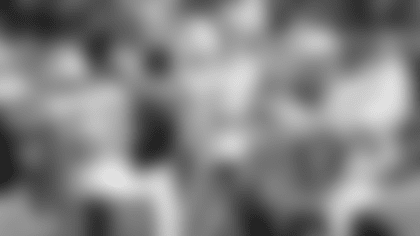 Rivers' Line: 102.6 Passer Rating, 135 yards passing on 13-23, 2 TD - 0 INT
On the last day of the 2007 season, a Rivers-helmed Chargers team defeated the Raiders, 30-17, in Oakland to clinch the third seed in the AFC playoffs. It was their sixth-straight victory, allowing Norv Turner's squad to finish 11-5 after starting the season 1-3. Despite passing for just 135 yards, Rivers threw two first-half touchdowns, a 7-yard throw to running back LaDainian Tomlinson and a 19-yard connection with WR Chris Chambers, and recorded a 102.6 passer rating.
3. October 12, 2014 - Comeback Win to Start Season 5-1
Rivers' Line: 123.8 Passer Rating, 313 yards passing on 22-34, 3 TD - 0 INT
Rivers led the Chargers to a fourth-quarter comeback win in Oakland, overcoming a 28-21 deficit with 10:01 remaining in the game. The Chargers' 31-28 victory was their fifth in a row and gave them a 5-1 record to begin the 2014 season. Wide receiver Malcom Floyd was Rivers' favorite target on the day, amassing 103 yards receiving on five receptions. Rivers also connected with Gates and wide receiver Eddie Royal in the end zone.
4. November 11, 2018 - Rivers Rolls to Sixth-Straight Win
Rivers' Line: 105.1 Passer Rating, 223 yards passing on 18-26, 2 TD - 1 INT
Rivers led the Bolts to their sixth-straight win of the season and a 7-2 record with a 20-6 victory in Oakland. On the day, Rivers found Melvin Gordon, who took a pass 66 yards to the house, and Keenan Allen in the end zone, and the pair combined for 129 yards receiving on 11 receptions.
5. January 1, 2012 - Chargers Kill Raiders' Playoff Hopes on Last Day of Season
Rivers' Stat Line: 135.1 passer rating, 310 yards on 19-26, 3 TD - 1 INT
With the Raiders only needing to beat the Bolts in Oakland to end their eight-year playoff drought and win the AFC West on the final day of the season, the Chargers did not cooperate. Rivers led the Bolts to a 38-26 victory, posting a monster stat line of 310 yards with three touchdown passes and a 135.1 passer rating. Rivers' three touchdown passes went to Vincent Jackson, Gates and Floyd, respectively, with the latter two eclipsing 100 yards receiving on the day. The decisive blow came when Rivers engineered a 99-yard fourth-quarter scoring drive that culminated in a 43-yard touchdown throw to Floyd.