Due to his excellence on the gridiron, the Los Angeles Chargers are proud to nominate Crenshaw High School's very own Robert Garrett as the team's Don Shula NFL High School Coach of the Year.
Garrett is one of 32 coaches nominated by each NFL team for displaying integrity, achievement, and leadership exemplified by the winningest coach in NFL history, Don Shula.
"It's a great honor," Garrett said.  "I'm really pleased that I could be amongst the group of people to be (nominated) as a Don Shula Coach of the Year.  It makes me honored to be a part of a class (for an award) that honors such a great man."
Garrett took a trip to Hoag Performance Center and found out about the nomination from Brandon Mebane and Hayes Pullard, two of his former players.
"It was awesome to be able to acknowledge a great man like Coach Garrett," Pullard said.  "He's coached a ton of NFL players and a ton of guys who went to college and got degrees.  It's truly a blessing that he gets this honor.  I'm really happy for him and happy to be one of his many products who got a 'degree' in making it to the NFL."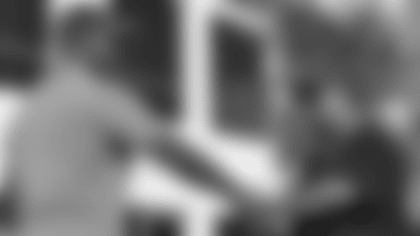 "That was more the icing on the cake," Garrett said of seeing Pullard and Mebane.  "That's very sweet.  To see some of the youngsters under your tutelage and to have them present that honor at their practice facility, that's monumental….  This opportunity will pave the way for other youngsters within the program to carry on and do similar things."
Garrett has been at the helm of Crenshaw's football program for nearly three decades.  Currently, there are six Crenshaw alumni on active rosters in the NFL.  The Chargers luckily boast two in Pullard and Mebane.  Both admit Garrett taught them things they still use to this day.
"As a young player, he taught me how to be a student of the game and a hard worker," Pullard mentioned.  "No coach can ever pass up a student of the game, so he instilled that in me as a young player and I've carried it over in college (and the pros).  That's what a lot of NFL teams liked about me so I thank him for that."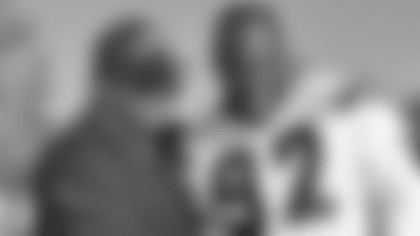 "We used to get off the ball a million times in practice," Mebane said.  "That get off right there, that I do now, helped me in high school, college and the NFL.  We did so many reps of it and it still works to this day."
This season, Garrett led the Crenshaw Cougars to an impressive 12-3 record including a 5-0 record in tough league play.  They ultimately won a 46-43 shootout over Placer High School to win the 2017 CIF Division 4-AA State Championship.
Garrett will be invited and recognized in special ways during the NFL's week-long celebration of football at the 2018 Pro Bowl in Orlando.  He will visit Pro Bowl practices, participate in the USA Football National Conference and attend the Pro Bowl at Camping World Stadium.