In addition to an expansive commitment to supporting both Orange and Los Angeles County area students – to date nearly 25,000 local youth have been impacted by Chargers community activations/donations – the Chargers have continued the organization's long-running Chargers Champions program in the San Diego community, providing more than $200,000 in funding to eight area schools in the past year alone.
Since its inception two decades ago, Chargers Champions has provided more than $6 million to assist schools, teachers and students. Schools apply on their own for funding that can go towards physical fitness, nutrition or athletic programs on their campuses.
Many of the schools who were awarded grants in 2018 are located in underserved communities where the team's donations can truly make a difference.
"We are a school that is 100-percent free or reduced lunch," mentioned Kelcie Butcher, Athletic Director for Crawford High School, which received $60,000 towards weight room equipment. "That means my families are focused on putting food on the table and keeping a roof over their heads. The ability for my kids to have extra time and money to possibly have a gym membership isn't really in the cards. Their workouts need to happen at school if they're going to happen at all."
Lewis Middle School was granted $30,000 towards a new indoor fitness room. According to the school's principal, Brad Callahan, out of the 1,100 students, 43% of them live in poverty. The funding they received from the Chargers Foundation will allow them to cater to different groups of students to measure fitness levels in P.E. classes. It will also be used for workouts outside of P.E. classes.
"What we have in there is just an empty room, and I had a vision and now my dream came true," mentioned Rodney Lowe, Lewis' P.E. coach who wrote the grant. "(My dream is) to fill it with equipment and what we plan on doing is circuit-style training. We envision filling it up with all kinds of types of workouts; from weights to cardiovascular (and) agility (workouts). Our goal is to get them in great shape and expose them to every kind of workout we can."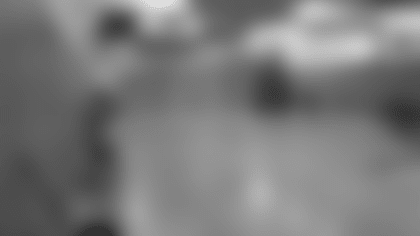 Butcher described the equipment in her school's weight room as extremely outdated. With that said, the funding provided will help her bring completely new and updated equipment into the room and in turn, up the morale of the students at her school.
"The last time it was re-outfitted was in the late '90s, so it was filled with tons of machines and things like that," she said. "We're going back to basics with benches where you can do a multitude of exercises on them. We're also bringing in TRX and some weighted balls and hand weights so it's not going to just be a football (weight) room. Everybody can go in, get a workout and feel good about themselves and focus on their health…. I can see the change in spirit when (the students) have the opportunity to have nice things."
The impact the Chargers Champions program has on these schools, as Lowe and Butcher attested, forever changes their athletics programs in that the donation not only impacts this current crop of students, but classes of students for years to come.
"Chargers Champions is actually just one way the team is still active in San Diego," mentioned Kimberley Layton, Chargers Vice President – External Affairs. "Besides continuing to provide donations and other support to charities in San Diego, our Coach of the Week program, which has been selecting a high school football coach each week for 20 years and donating $1,000 to their football program, is still happening every Friday in-season. And kids all over San Diego County can still participate in our Junior Chargers Training Camps thanks to our decades-long partnership with STAR/PAL."
"It's wonderful," Lowe remarked. "When they moved, I was heartbroken just looking at their (impact) in the community and being afraid of them cutting their ties. I was afraid we weren't going to be able to still apply for the Chargers Champions grant. But when I found out about (the Chargers continuing) the program via email, I went for it. I'm glad they still have ties in the community. It means a lot to me."
"We would not have this had it not been for Chargers Champions," Butcher added. "Our weight room probably would have stayed like this for the next 15 or 20 years. There's no opportunity for a program like ours to ever make a purchase like that. I've written grants in the past and things like that, and when you have a grant and a successful organization that's willing to help you, that's the time that you are able to do things like that. But there are groups few and far between that are supporting schools like this…. The more people realize that investing in our youth is the key to making changes, it's good."
The grant cycle for 2019 opens Monday, Aug. 19. Please click here if you are interested in applying and for more information.
2018 Chargers Champions Grant Recipients
Table inside Article

| School Name | Grant Amount | Grant Use |
| --- | --- | --- |
| Crawford High School | $60,000.00 | Weight Room Equipment |
| Knox Middle School | $40,000.00 | Outdoor Fitness Center |
| Lewis Middle School | $30,000.00 | Indoor Fitness Room |
| Perry Elementary School | $29,000.00 | Playground Renovation |
| Encanto Elementary School | $20,000.00 | Indoor Fitness Room/Outdoor Equipment |
| Discovery Elementary School | $18,500.00 | Running Track |
| Silver Strand Elementary School | $2,500.00 | Lap Tracking Equipment |
| Bay Park Elementary | $8,000.00 | Refurbish Outdoor Fitness Area |