Backstage: Chargers access, however, doesn't stop with the TV show. Under the Backstage: Chargers umbrella, Chargers.com will feature editorial stories that bring you inside the team in unparalleled ways all season long.
It's Tuesday, August 7, and we join McGeoghan in the early hours as he rises for another day of training camp.
5:15am – It's pitch black outside as Phil McGeoghan rises at 5:15 on the dot. The hours ahead will be filled with a laser focus on details and discipline toward the game he's poured his heart and soul into his entire life. But right now, in the early morning, the 39-year-old McGeoghan is solely focused on his personal life. The first thing he does every morning is an act of kindness. He wants to start the day off in a positive manner, so he quickly grabs his phone and shoots a text message to his girlfriend back home.
"It's about setting a mindset for the rest of the day. To me, if you can enrich somebody else's life, then oftentimes in the coaching profession, your own life will be enriched. It's just the spirit of giving. Try to give somebody a positive word or positive encouragement. Shoot my father a text, or my girlfriend, my brother or sister. Or a player. If I read a Bible verse or something, send it to somebody. Whatever strikes my heart as something kind. Maybe pay for somebody's coffee at Starbucks. I make sure to just do something nice."
6:00am – After a rigorous boxing workout, McGeoghan showers and changes into a navy blue collared shirt and a pair of grey Lululemon shorts. He heads down the elevator into the dining hall and devours his usual breakfast – egg whites scrambled with broccoli, sundried tomatoes, peppers, asparagus, turmeric and American cheese. After scarfing down the last morsel, McGeoghan flips a switch into coach mode for the remainder of the day.
"Now is when I get into my thoughts about practice, and who's going to be where specifically based on the plays. So I'll really just sit alone and go over the pass pictures (and) the run pictures. I make sure my meeting is really detailed, and then I'll reflect on what type (of) messaging points I want to get into. I always open up my meeting with something about life. I usually will have that thought before I go to bed, and then I'll clean it up now so the presentation is correct."
7:43am – McGeoghan has been up for nearly three hours as he walks into the offensive coaches' morning meeting. The tables are arranged in a giant horseshoe with Offensive Coordinator Ken Whisenhunt set up in the middle. To his right in the far corner is Tight Ends Coach Rip Scherer, followed by Quarterbacks Coach Shane Steichen and Running Backs Coach Alfredo Roberts. Directly to Whiz's left is Offensive Quality Control Coach Dan Shamash, McGeoghan, Coaching Intern Seth Ryan, Assistant Offensive Line Coach Mark Ridgley and Offensive Line Coach Pat Meyer.
7:49am – There's a reason why the Chargers boasted the NFL's top-ranked passing attack and number four overall offense in the league a year ago. We're only two minutes into the meeting and it's already a creative think tank with painstaking attention to detail. Whisenhunt runs it with meticulous efficiency as he goes over the offense's game plan for the day. There are certain packages and plays Whisenhunt wants to run, as well as specific players he wants to get a closer look at. He runs over certain philosophies on the plays, and McGeoghan has a question about the F receiver's duty on a certain run. He huddles quickly with Meyer as they get on the same page. There is an emphasis on situational football today, as well as a focus on the running game. The coaches weren't pleased with the way they ran the ball yesterday, so that's something they are zeroing in on.
"Whiz is an amazing human being. Not just an amazing coach, but he has a very good teaching style. He has a lot of patience. He has urgency and patience at the same time, which is very hard to master. He's an excellent teacher of coaches, so he explains to you oftentimes how a situation has played out in the past with similar circumstances, he helps you think about things from a compassion standpoint; sometimes how other people may be perceiving the situation, not just your own views. He's done a lot for me in the short period of time I've been with him, not just as a coach, but as a man and trying to be a little bit more patient with people and see things from their perspective a little bit. That's really what he's done. And (the) offensive staff is full of wonderful men. We work really well together. The egos are very low in that room and the coaching talent is very high. That's usually a great recipe for chemistry."
The plan for the day is in place.
"Are we good?" Whiz asks. "Let's go!"
McGeoghan stands up and pumps his fist.
"Some pixie dust is coming!"
It's one of many off-the-cuff sayings the coach can't help but blurt out with exuberance throughout the day.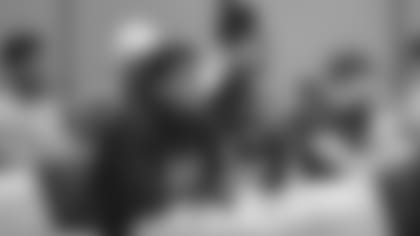 8:03am – McGeoghan takes a spot near the rest of the coaches as the offensive team meeting is about to begin. The players walk in casually, taking their seats as Ken Whisenhunt gets his presentation ready. All eyes are on Whiz and you can hear a pin drop as the offensive coordinator goes over plays and formations on the projector. McGeoghan abruptly stands from his seat, walks over to Mike Williams and pulls a chair next to the wide receiver. He begins whispering in his ear and pointing along to the film as Whiz continues to dissect the play.
"Mike Williams told me that he wanted to be great, so as soon as I get a chance to have Mike Williams around me, I want him right next to me at all times. If I see something at all, I just tell him what I see. If he sees it, that's great. If he doesn't see it, I teach him. I want Mike next to me all the time."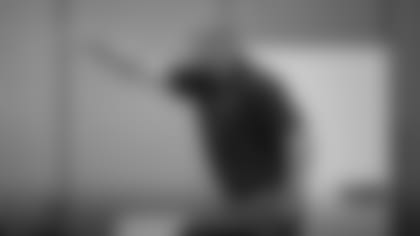 8:09am – The wide receivers remain in place while the rest of the offense leaves the room. The team meeting room doubles as the meeting space for the wideouts since it's the largest room at the hotel. With so many wideouts on the roster, the area affords them space to spread out. Melvin Gordon is the last player out the door, and in no time at all, McGeoghan is in the front of the room. Geremy Davis is in the front row. Directly behind him from left to right are Tyrell Williams, Travis Benjamin, Dylan Cantrell, Nelson Spruce and Artavis Scott. The third row consists of Keenan Allen, Justice Liggins, Andre Patton, JJ Jones and Mike Williams.
McGeoghan opens his meeting by asking his players what they learned from Brian Dawkins' Hall of Fame speech. The coach had the players watch the speech, and then report back this morning with what the legendary safety's words meant to them.
"Dawkins' message struck me as something powerful. If I find there's value in somebody's pain or message, I'll try to share it with them because maybe it helps them get through their own pain, or they'll find inspiration in it. The second thing is, I make them take notes and I want to know what they think. I don't want them to know what I think all the time or tell me what they think I want to hear. I want to know what they think. Coaching is not what I know; it's what they can do. It's what they know. We don't get greater every week from what I know as a receivers coach, it's what my players can execute. It's not what I know as a man, it's what my players can execute as men."
Keenan Allen is up first. Wearing a blindingly bright sky blue hoodie and white baseball hat, he mentions Dawkins' emphasis on knowing one's role resonated with him deeply. As a rookie, Dawkins dealt with depression. However, over time he found solace and comfort with his teammates and coaches, which allowed his role to develop over time.
"Has your role changed over time?" McGeoghan asks.
"What am I asking you to do now?"
"Be a leader," KA13 quickly responds.
"That's right!... Trav, what (did) you take from it?"
Like a teacher in the classroom, McGeoghan prefers to call on players without warning.
"Reward," Benjamin says. "His mindset of not quitting and holding himself accountable knowing that he would be rewarded, that led him."
"Exactly!" McGeoghan says passionately. "I think we all can relate to that as we've grown from young men to men. Geremy, what did you take from it?"
The UConn product is quick to answer.
"I was pretty huge on role, but not just his role - the roles that other people had on his life. And his teammates that were trying to get him better, and his trainers. All those guys who helped him recover. He spoke about where he came from and where he got to, and how everyone helped him become the man he is now. And then I liked how that reinforced how they helped him fight through depression and pain. Most of all, I liked how he turned to God and his faith to help him, and how it showed you can rely on the Lord to get you through things."
McGeoghan nods his head as Davis speaks.
"There are a lot of reasons I showed them that. One I told them about was a big reason I showed them that is because he didn't use the word good. He used the word great. To me, it's either great or it's not. Is there any gray area with that? No. So that should motivate them with their talent level and production, when they see that gold jacket, to play 16 games and see where they are for a number of years."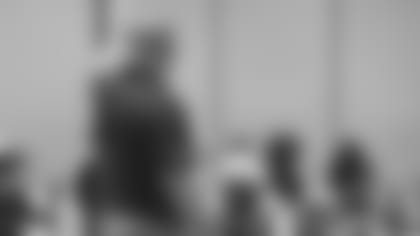 8:19am – McGeoghan pivots on a dime, firing up the previous day's films. He doesn't mince words right off the bat, explaining how the offense simply wasn't good enough running the football. In fact, he tells his players that Coach Lynn spent a sizeable portion of their meetings the night before coming down hard on their performance.
"We had a run game meeting with Coach Lynn, and what's part of my job, JJ?" McGeoghan asks.
"To funnel the information," the rookie says.
"That's right. To be a conduit."
McGeoghan spends the next 10 minutes outlining Lynn's talking points, stressing fundamentals and techniques the wideouts need to use going forward. However, not everything is negative. The coach watches a play and tells everyone to watch how Geremy Davis attacked it. He then reads the notes he wrote down from his session with Lynn.
"Geremy, Coach was saying this was a wonderful job. It allows us to get down to the corner. He said not only is Geremy catching the ball really well, he's blocking really well. What he's doing release-wise has really improved. So it's not all negative. There's positives from yesterday, too."
McGeoghan takes this part of his job very seriously, stressing how it's a sacred duty to serve as a conduit for Lynn and Whisenhunt.
"To me, that's what an assistant coach does. My job is to relay the message of the head coach. He wants his assistants to know clearly that your job is to take his message and distribute that information down to the players. To make his job easier and to take things off of his plate. Not to speak for him, but to handle the small details and make that room accountable without having to have him handle every little thing that comes across his plate all the time. So if I just communicate and try to help and be proactive, then it takes things off of Coach Lynn and Whiz and makes me feel like I'm doing a good job as an assistant coach."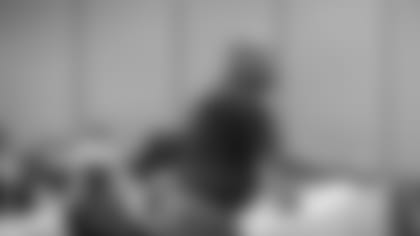 8:23am – "Every minute of practice has to be detailed!"
McGeoghan is basically frothing at the mouth, going over every small detail of each player's technique. The way they cut in and out of their breaks. How they are controlling the cornerbacks' wrists. Stationary releases. How they are running their routes.
The coach likes what he's seeing!
"Everybody is making plays right now! Are you guys not seeing the tape I'm seeing? If you are on the field available, you're catching the football, no? I mean, who has not had production in this room over the past five days? I mean, shoot, it's been impressive!"
He then screams out a single word.
It's a term he uses several times throughout the day, and has become a motto of sorts for the wideouts.
'Wakey' is like a 'Wake them up!' It's trying to get them to go, 'Let's go!' It's a presence. Be present, wake up. Or if you make a nice move, we always say that's some wakey-sauce. It's just like a wake up. It's just kind of a little catchphrase we use. It's about execution. Just executing something highly and waking them up with our play."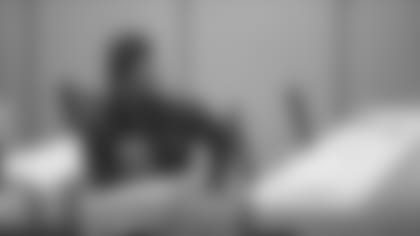 8:45am – The wide receivers meeting is over and one by one they walk out of the room and prepare to head to Jack Hammett Sports Complex for practice. That is, all but one. Mike Williams has stayed behind for an extra 15-minute session with McGeoghan. The wide receivers coach has decided to take one young player aside each day for some additional one-on-one coaching.
"The first thing is I want them to know that I care about them, that I care about their development. The second thing is, it drops their defenses when there's nobody around and I can be really critical, really get into their routes and their techniques and their fundamentals and they don't take it personally."
Today is Williams' turn. Number 81 sits in the front row with McGeoghan right in front of him with a laser pointer. McGeoghan spent the previous day selecting a dozen plays from Williams' first week of practices.
"There's a thin line between love and discipline," McGeoghan says, giving Williams a bear hug before firing up the film.
It's actually the first day of training camp, and Williams ran a perfect route, getting skinny along the boundary. The two talk about how that play helped him gain confidence with a contested catch. The next play in the cutup is also from the early days in camp. McGeoghan asks him what he should have done differently with his release.
"A tighter arm-swing," Williams responds.
"Yes! You want to control his wrist. Did you control his wrist?"
"So he got his hands on you?"
"So all that left you what?"
The pair go on like this through a series of a dozen plays, and Williams is grateful for the tutelage. That means the world to McGeoghan.
"Do you know what you can never do with somebody?" McGeoghan asks. "You can never give him back his time. No matter how much money you have, you can never buy time for someone. So when you give me your time, that's the highest compliment you can give me. Because I don't need presents. But you giving me your extra time, that's value to me. It's the same way I value you, you value me. So if I give you more, you give me more, and then we have more for the team."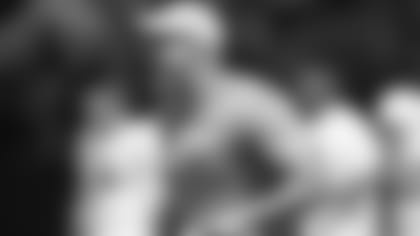 10:17am – McGeoghan is all sorts of fired up as he walks toward the far sideline of field two at Jack Hammett Sports Complex. Following his one-on-one session with Williams, he went back to his room, changed and called his four-year-old son Knox back in Florida. McGeoghan thinks about his son nonstop, but right now, he is solely focused on his wide receivers. As he's stressed several times throughout the day, there is nothing more important than time. And the Bolts are about to begin something that's very personal to him – individual period.
McGeoghan walks over to Ryan and Equipment Assistant Anastasios "Tasso" Panopoulos, who both assist him with this portion of the day.
He has a simple question for them.
"Are you ready for the rigorous demands of my individual period?"
Both answer in the affirmative.
"It's the only thing that I truly control as a position coach. I control that period and I have to get them ready for practice. Oftentimes if your individual period is lackluster, the practice will be lackluster. I want the individual period to be so crisp that it puts us in a great position to have a tremendous practice and spend more time detailing it than what I was demanded of when I was a player because that's what I choose to do with that period. I know that's what my vision is, what I can control. I can control that period, I can control everything about it. I put a lot of pressure on Seth and Tasso, anybody who's involved in the planning and preparation of the individual period is expected to be on par with the players performance as well."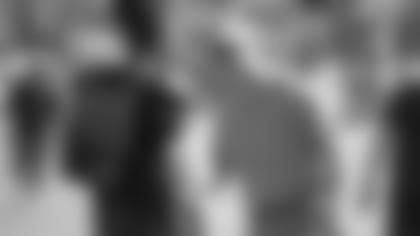 10:23am - Fans who've come out to training camp have no doubt heard the loud, energetic coach, whose bombastic voice can manage to drown out the music booming from the speakers. That's because McGeoghan won't settle for good. It's either great, or it's not…and with McGeoghan, it better be great. For that reason, the coach makes Artavis Scott go through a drill a second and third time until he's mastered it completely.
"I've been blessed with tremendous energy. I'm fortunate, but honestly the energy comes from my love for these players."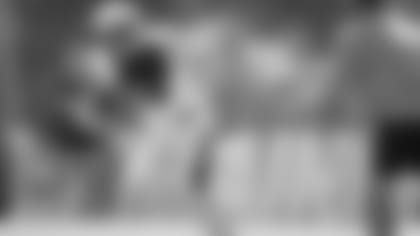 10:34am – "Finish! Finish!"
Philip Rivers just hit Mike Williams for a pass, but McGeoghan wants to see the wideout run all the way to the end zone following the catch. It's something the coach demands out of his players every single time they get the ball. If you make the catch and are touched down, it doesn't matter. Play throughout the whistle and take it to the house.
11:04am – No one is immune from McGeoghan's perfectionist personality. That includes Keenan Allen. Even though he's coming off the best season by a wideout in Chargers history, McGeoghan is determined to take his game to new heights. Already established as the premiere route-runner in the NFL, the coach calls Allen to join him after a route during seven-on-sevens. There's a small adjustment McGeoghan would like him to make.
"Keenan is a guy who has embraced the new techniques. He's been a six-year guy, I'm sure he's never been asked to do the things he's been asked to do during that period and it's OK, it's all good. He wants to be even greater, and as a coach, that's what you are looking for."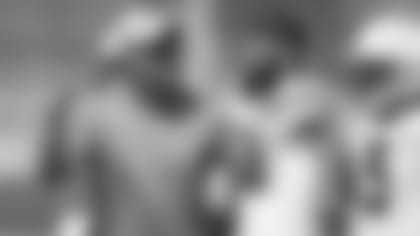 11:19am – It's time for the special teams portion of the day and the Bolts are working on field goals. As the players watch the kickers at work, McGeoghan has the wideouts over by him. It's time to work on stationary releases. Every second of practice is valuable, so those who don't have field goal responsibilities are over by the coach. McGeoghan puts on gloves as the wideouts attack his wrist.
"I think if you can control the wrist in combat sports, oftentimes you can win a grappling exchange for any type of combat…. The way I teach it, we understand where our risk control targets are. And the wrist is a big part of it, so it's very important that they understand that. It's about them really detailing the target, and just making it even smaller and smaller so that you're demanding of them more focus and concentration."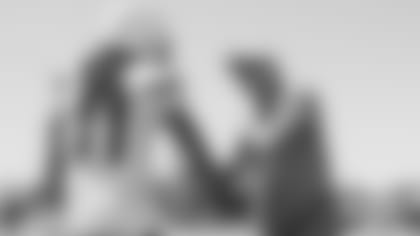 1:00pm – Practice has been over for an hour, and McGeoghan has just finished his lunch as he walks into the offensive coaches meeting room. It's time to go over the tape. Armed with three Mountain Dews – one regular for Whiz and two diets for himself – he takes the same seat he had earlier in the day. The offensive coordinator starts things up by stressing how pleased he was with the way they bounced back running the football. It was a major point of emphasis after struggling the day before, so he praises the coaches for the improved techniques on the field. Whiz fires up the first play from practice as the coaches bounce ideas back and forth while evaluating each player. McGeoghan's eyes are like lasers as he watches the film, and his ears perk up every time a coach chimes in.
"It's great going through the tape with those coaches. You learn so much. You see (it) from their perspectives, and you learn our personnel. There's nothing better than learning it and seeing it and directing it. That's where we get better as coaches."
1:11pm – This is the second time in a matter of minutes that McGeoghan simply shakes his head…following a completion. It's another perfect dime by Philip Rivers.
"That's crazy, man. That was incredible by 17. Just, that's crazy man. Crazy!!"
"There are three or four throws a day that take my breath away."
1:14pm – Whiz, Steichen and McGeoghan are discussing a certain play that resulted in an incompletion. Whiz and Steichen are doing most of the talking while McGeoghan listens, jotting down notes. He then asks a couple questions based on what the offensive coordinator and quarterback coach have decided. Finally, the trio have come up with a decision on how a certain route on this play should be run going forward.
"If the quarterback expects us to be somewhere, then I need to make sure we (the wide receivers) make it there. If I feel differently with a route, (and) there'll be a better chance or higher probability for us if we were in a different alignment, then I will suggest it. Oftentimes we're aligned in how we're thinking and we see it the same way. I'm just looking for affirmation so my communication with players can be detailed."
1:28pm – The staff lets out a series of oohs and aahs after Rivers beats the defense for a big gain off play-action. Whiz has a big smile on his face.
"Should we make this the first play against Arizona?"
The room nods in agreement.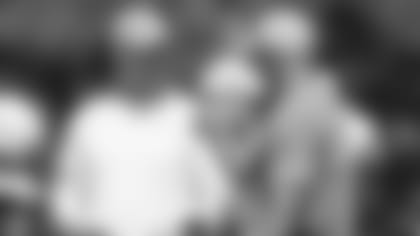 1:47pm – "This one's on me."
A wide receiver running over the middle ran his route too flat, giving the quarterback no chance of completing his pass. However, McGeoghan is quick to come to his player's defense. As a coach, he simply did not teach the play, nor the technique's needed to make it work, well enough. As someone who demands so much of his players, McGeoghan is keenly aware he too needs to hold himself accountable.
"When a player makes a mistake, that's how I feel they should respond. But I also feel like I could do more to prohibit them from making that mistake. I think it's important. So I'll fall on the sword first in that meeting, get it corrected, bring the player back and say, 'You know that's not your fault. I knew better.' It's easier just to take accountability for it and move on and get it corrected later with your players. In the end, I'm the coach. it's my fault the guy didn't execute it."
1:57pm – It's a rare sight – a pass that Keenan Allen can't quite haul in. He has a nice tight turn at the top of his route and the ball is on the money – he just can't bring it in based on the depth.
"We've got to make this one," McGeoghan says as he jots down some notes. "We'll get it."
"I'm not worried about it," Whiz says reassuringly.
Still, McGeoghan continues to write furiously into his notebook.
"I'm writing down corrections, splits, any note that may help the player be successful. Anything I feel could be an example, could be a play that popped into my head from 2013 that reminded me of this play and maybe I could show that play to them (of) another player and learn from their mistakes or their successes. Notes are meant so I don't forget."
2:17pm – Whiz is on the whiteboard at the front of the room, furiously diagramming a play from scratch. He quickly draws up the offensive line, going over a series of blocks they should make based on how the defense aligns to their formation. The energy in the room is palpable as the coaches bounce their ideas back and forth as they aim to create a single play. There's so much that goes into every decision, but it's also one of the most rewarding aspects of the job according to McGeoghan.
"It's unbelievably fulfilling when you can have any influence in a game plan and see these players have success. That, to me, is what we do this for. We all come together. Whiz, it's his responsibility to stimulate us to be creative, then it's his job to organize everyone's ideas, including his own, and make them a collaborative effort and have us go and execute it. That's his job and we try to do a great job of helping him do his job."
3:00pm – It doesn't matter that the offense had a strong day running the football. Coach Lynn already decided the night before that he wanted to sit down with the entire offense to go over what they need to improve from yesterday's session. In fact, the first thing Lynn says to begin the meeting was how even though they were much better, they still need to rehash what went wrong yesterday. With that, the head coach delves into Monday's team run. His attention to detail is awe-inspiring. Lynn can see what is going to happen a half second before it transpires on tape based on the technique and fundamentals each player is using. He stands in the middle of the aisle, reenacting the exact technique he wants each player to use, whether it be an offensive lineman, wideout or running back. His ability to communicate with the players in a direct and candid manner resonates with McGeoghan, who watches this all unfold from the back of the room.
"It's what he does, and he's great at it. He's the head football coach for a reason. That's what he does, so when he's in there, he's the boss. He tells it what it is, we get it done. When he talks about blocking, it speaks to the team about how if you're willing to sacrifice for the team, you're of high football character. I also believe strongly that if you block for other people -the linemen, the coaches, the people that do a lot for this team that don't get all the credit - they start to respect you as a person. When people respect you as a person, your confidence as a man becomes greater. And when your confidence as a man becomes greater, your play becomes greater as a football player."
3:35pm – The offense has broken out into their individual positions, and once again, the wide receivers remain where they're at. McGeoghan walks to the front of the room and announces a special guest he's brought in for the day – Larry Kirksey. A legend in the coaching ranks before he retired in 2013, Kirksey tutored some of the best and brightest wideouts in the game including Jerry Rice, Terrell Owens, Andre Johnson and more. Thus, McGeoghan jumped at the opportunity to have him out to training camp.
"He's been an NFL coach and college coach for almost 40 years. He's retired, and I respect him greatly. I never played for Larry, but I watched him. I was a coach when he was coaching, and he's great. I just respect him as a man, and I like to allow people who know more than me or have more experiences than I do to speak to the players."
Kirksey's message is simple, yet it's importance can't be overstated. There are three things that are most important when you take the field – know your assignment, play with proper technique and finish.
3:41pm – Kirksey leaves with a round of applause as McGeoghan returns to the front of the room. It's time to go over the tape. Referencing the notes he jotted down during the coaches meeting, McGeoghan goes over each play with meticulous detail. Perhaps it's his own experience as a player in the NFL that drives his ferocious intensity when it comes to coaching. McGeoghan tells his players that he wishes he had a time machine so he could go back and be where they are once again – a player sitting in that chair with a chance to get back out there on that field. He wishes he had someone to teach him the techniques they are learning and apply the same pressure he is putting on them. He tells them he knows he demands a lot, and that he is putting on so much pressure because eventually that pressure produces something incredibly valuable – a diamond.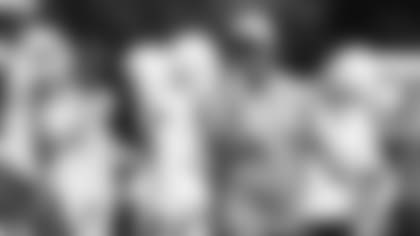 6:00pm – McGeoghan stands at the center of the field at walkthrough surrounded only by the team's younger players. With the Bolts getting a rare off day tomorrow, Lynn allowed the veterans to get a head start and skip walkthrough. McGeoghan is grateful for another opportunity to work closely with the younger wideouts. The coach relishes this chance to be even more hands-on with the rookies. However, if you think McGeoghan's intensity decreases with the Chargers going at a slower pace, well then you obviously haven't been paying attention to what the wide receivers coach stands for.
"My simple mantra at the walkthrough is if the tempo goes down, the details have to increase. If we're going at a walkthrough pace, the targets in route depth have to be exact. There's no negotiation whatsoever. In the NFL, you have to do walkthroughs because if you just run them into the ground, you're not going to have anybody left for Sunday. Walkthroughs are just as critical as the practice."
8:15pm – The plate is the same as it is every night. Half the plate filled with vegetables, eight to 12 ounces of various protein and brown rice. Drizzled on top of it is teriyaki sauce. McGeoghan houses his dinner in a matter of minutes so he can return to the coaches' meeting. It's time to start game planning and preparing for the next days' practice. But first, a FaceTime call with the person who means the most to him in this world. The last thing McGeoghan does before flicking on the TV and heading in for the night is reflect on his earlier conversations with his son, Knox. The passion he has for his players is second to none…and that's all due to Knox.
"My son's 3000 miles away and if I'm going to be 3000 miles away from my son, I'm going to treat somebody else's son just like they're my own. I want them to—if my son was in this league, I'd want their coach to do what I do with these boys, these young men."