Backstage: Chargers access, however, doesn't stop with the TV show. Under the Backstage: Chargers umbrella, Chargers.com will feature editorial stories that bring you inside the team in unparalleled ways all season long.
Today, we give you a day in the life of Defensive Line Coach Giff Smith at training camp, inviting you to take a seat alongside Joey Bosa and Melvin Ingram in the DL room, next to Gus Bradley during player evaluations and much more.
It's Thursday, August 2, and we join Smith in his room as he awakes for another day of training camp.
5:30am – It's still dark out when Giff Smith's alarm goes off at 5:30am on the dot. Universally regarded as one of the top defensive line coaches in the game, the 49-year-old veteran of six NFL seasons and dozens of years at the collegiate level rumbles out of bed and into the shower. Thirty minutes later he emerges from his room on the 15th floor dressed in a pair of shorts and a long-sleeve white Chargers t-shirt.
6:09am – The sun has just emerged over the horizon, spreading a burnt orange hue over the team hotel as Smith steps outside on his way to the meal room. He fills a to-go box with his breakfast – scrambled eggs with a couple egg whites. And of course, a cup of piping hot black coffee. It's the first cup of what'll prove to be many throughout the day. Smith brings his breakfast down the hall into the defensive line meeting room, flips on the lights and plops down into the chair in the back row. He fires up the film, taking notes between spoonfuls of eggs.
"This is my time. I don't get bothered and get my work done. It's my football meditation and helps me clear my head. This is when I set up my meetings and what drills I want us to run in practice. It's when I do my personal work. The morning is normally when I look at something that I had an issue with the day before. I want to cover it again, just one more time even though we covered it the day before. Show them again, go over it again so you don't repeat the mistake the next day."
Right now, Smith's transfixed watching one-on-one pass rush drills, jotting down today's point of emphasis. He wants to emphasize technique work for the defensive ends and also have his players get more of a vertical push from the edge.
"I will never not watch one-on-one pass rush. Over half the snaps are always going to be pass in the NFL. You've got to find a way to get to the quarterback, you might not always get the sack, but you better affect the quarterback. We try to get our guys in one-on-one situations and if we're going to try to get them in one-on-ones, we've got to get our wins in one-on-ones. So that's a valuable drill for us."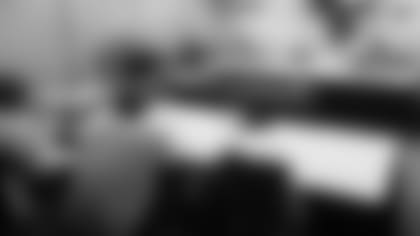 7:20am – Having already downed two cups of black coffee, Smith is midway through his third as he tosses his notebook down and heads out the door. He hooks left and marches down the corridor into the defensive staff meeting room where he'll spend the next 40 minutes with Defensive Coordinator Gus Bradley and the rest of the defensive coaches. The tables are aligned in a giant U, with Bradley in the middle. Smith takes his spot to the far left of Bradley next to Assistant Defensive Line Coach Eric Henderson. To his direct right is Linebackers Coach Richard Smith followed by Defensive Quality Control Coach Addison Lynch. Bradley is right in the middle, with Defensive Assistant Marquice Williams to his right, followed by Defensive Backs Coach Ron Milus and Assistant Defensive Backs Coach Chris Harris at the end of the other side of the horseshoe shape set up. Bradley clicks a button on his remote and runs through the day's order of business.
"We go over the practice schedule. We'll review the install that was installed the afternoon prior that we'll be running at practice and make sure we're on the same page. Then if there are any little things, situational stuff we need to cover, we try to cover different situations that could happen throughout the year and we'll just review them in that meeting. Gus does a great job with that."
8:00am – There's no need for any more coffee. All you need a steady dose of Gus Bradley. The defensive coordinator's energy is off the charts as he begins his PowerPoint presentation. He's just started talking when up pops a ridiculous photo of Joey Bosa from his college days, his hair is slicked back and eyes, two different colors, wide open during a media interview. The room bursts out laughing, especially Smith, who is sitting right next to number 99.
"Oooh, that's one baaaaaaad picture there," Smith says with a hearty laugh.
"Thanks, coach," Bosa says in his patented dry, droll delivery.
"First of all, Gus is very smart. He creates a great atmosphere of enthusiasm and energy and a willingness to learn. I think he captures the guys and gets them focused and gives them a little juice going into practice. The energy he brings into this room, it's not like any other. He has a gift for relating to players and motivating them. Those photos he finds, they rile everyone up! I just thank God they didn't have social media when I was young because they could find some bad, funny pictures to be putting up there!"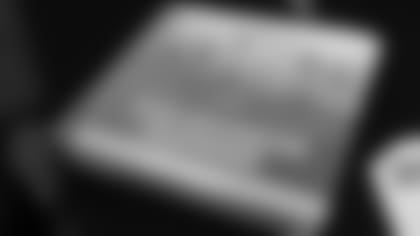 8:07am – The energy Bradley brings to the room truly is intoxicating. He marches up and down the aisle, his arms gesticulating as he goes through slide after slide of his presentation. Bradley highlights players who stood out from the previous practice. There happens to be a number of defensive linemen stealing the show this morning, making Smith proud.
Bradley makes a point to highlight Melvin Ingram's effort, and the room bursts out with chants of "Big Mel!" and "Soooooouuuuuup" for SupaMel. Now Bradley fires up a play by Brandon Mebane, the elder statesman on the defense.
"We see you 'Baaaaane!'" Smith shouts out from across the room.
Next up is a play where Bradley highlights Isaac Rochell. He stops it at the exact frame he wants as he delves into the technique. Damion Square is sitting right in front of Smith, and the coach asks Square if he'd do the same in that situation. Square generally agrees, and the two nod in approval.
"Atta boy, big Ike!" Smith said.
8:09am – Bradley's well into his presentation when he stops and gives the floor over to Smith. The defense has gone over a handful of plays, both in training camp and games around the league, debating back and forth whether they'd be penalties this season. Smith goes into a detailed explanation of the rules, explaining how what they've seen will in fact be a penalty.
"This year, obviously the helmet is a huge rule. So we've worked hard on taking that crown of the helmet out of play and so we try to talk about it and implement a drill every day on that. The other major one is the quarterback inside the box area, if you sack him you can't land on a quarterback anymore. Yes, it's a new rule. Both of them new rules. So we've worked hard on that to wrap, to do a twist so we don't fall on them and we try to hit that every day."
8:13am – The defensive coordinator is going over film when Smith abruptly rises from his seat in the back of the room. He walks directly over to Melvin Ingram, who's sitting up front. The coach just saw something on tape, and he doesn't want to wait to dissect it with the Pro Bowl edge-rusher. Smith marvels at what he calls Ingram's "toolbox." In fact, he'll spend much time later in the day stressing the need for the rest of the defensive linemen to create a similar arsenal of moves, and for very good reason.
"I think it's basically when you get into pass rush, you build different movements and skill sets, and then you're able to just go and do it versus what kind of pass set you're getting from the tackle. You could get a jump set, you could get a deep set, you could get an overset. You don't know that pre-snap, but if I have my toolbox, then I can just react to the set I got. So you've got to have a lot of moves in your toolbox, and Melvin, he's got a lot of great ones!"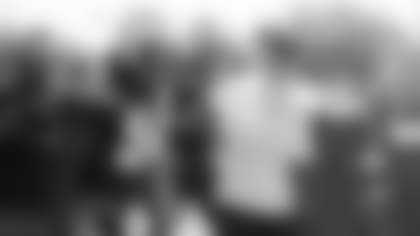 8:20am – The defensive meeting is over, and now it's time for positional groups to get together for the first time this morning. Damion Square is the first one into the room, taking a seat in the second row. Next is Joey Bosa, who sits directly in front of him in the front row. Melvin Ingram is also in the front row next to Darius Philon. Chris Landrum and Isaac Rochell walk in and occupy the second, followed by the veterans of the room – Brandon Mebane and Corey Liuget – in the third row. Smith stands at the front of the room, going over what he wants the group to focus on today. He mentions how they're skipping team run for the first time in order to put in extra time on the two-minute situation. Smith then goes over the rules once again, reinforcing the proper strike areas.
8:34am – The Bolts are about to get ready to bus over to Jack Hammett Sports Complex for practice, but Smith has some extra film he wants his players to watch. It's of some of the top defensive linemen from around the league. He shows them the likes of Calais Campbell, Aaron Donald and more, and it's something he does on the regular.
"We try to spend this time during training camp, and I'll break down different rushers, either outside rushers or inside rushers, and then we'll watch them and look for common traits that all the great rushers throughout the NFL have used. Then we apply our drills to try to hone in to those things."
8:39am – It's time to go through the rules again. With two new big ones taking effect in 2018, Smith makes it clear he wants everyone to take to heart what's happening. He runs through a series of plays, some that were flagged and some that weren't, from around the league a year ago.
"Everyone look at what's happening," he says. "Is this a good sack or will you get flagged?"
It wasn't a foul last year, but it is in 2018.
"You can't land on the quarterback. You can't hit him in the head or shoulder. Do not lead with the crown of your head!"
8:45am – "Corey, 'Bane – check this out." The two veterans are about to head out the door when Smith calls them back in. He whips out his phone and shows them a funny email he was just sent. Liuget and Mebane start cracking up. Square heads over, reads the email and lets out such a big belly laugh that he has to put his hand on his coach's shoulder to steady himself.
"If I get something funny, I'll show my players. I want my players to understand that, yeah, you're accountable, we're going to do this and we're striving to get to this point, but at the end of the day I want them to know I'll be there for them now, on and off the field, and hopefully that friendship will carry on for life."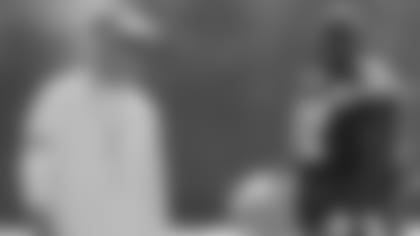 9:35am – Smith and Henderson head over to the practice field in "Coach Henny's" red pickup truck. Smith jumps on the stationary bike and gets a quick little sweat going. It's something new he's added to his repertoire this year to get ready for practice. Shortly thereafter he runs over to the far side of the near field at Jack Hammett Sports Complex, eager to set up that day's drills. If there's one thing to know about Giff Smith, it's that the man is a master technician. He's constantly tweaking and changing what he puts his players through, studying and focusing.
"I love coming up with new drills. That's my favorite thing. My drills change from year-to-year based on how the offenses are evolving in the league. I try to apply the movements that I see that the D-line needs to incorporate, and I just create drills that apply those movements – so my drills are evolving every year. And creating new ones makes me a better coach, it makes me study the position better and, in turn, it helps these guys have better success."
10:27am – There is one drill Smith values more than the rest – the sled. He's standing a few feet away from Corey Liuget as the defensive tackle strikes it with brute force. "Good!" he screams at the top of his lungs. Smith keeps a watchful eye as each player goes through the drill.
10:29am – One of those pupils is Joey Bosa, who is cruising once again through the drill circuit.  But that doesn't come as any surprise to Smith. After all, like his coach, Joey Bosa is also a master technician, so he always shows out during individual portion of practice.
"Joey is really a tremendous athlete. I think people underestimate how athletic he is. His flexibility, his hand usage, his burst, and he's got length. Joey's a very gifted pass rusher, but what's not appreciated is how hard Joey works at his skill level to keep honing it. Joey takes these drills very seriously, and you can see it translate during the games."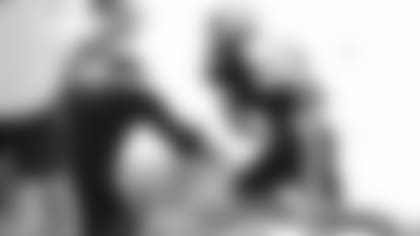 10:34am – Smith is barking loud with a purpose. He just watched Isaac Rochell work on his punch, but wasn't thrilled with his technique. The coach calls him over and goes over pointers with the second-year player out of Notre Dame. This isn't the first time Smith has called Rochell over for extra instruction today. In fact, it's the second time in a matter of minutes.  Smith has a keen interest in Rochell, who he believes may be primed for a big season if he develops at his current pace.
"Isaac has come a long way. Isaac has worked hard. Like I've said before, I give (Strength and Conditioning Coach) John Lott a tremendous amount of credit on changing his body. Isaac is a very smart kid, and he's a gifted athlete. Now, Isaac has got to be Isaac on the field. He doesn't need to be someone else, and I'm just really excited to see him play. So, if I see him do something good, but I think it can be even better, I'm going to let him know."
11:08am – The Bolts have just started their first team period of the day, which is when the offense and defense go up against each other in 11-on-11. Today's emphasis is on two-minute situations at the end of a half. The ball is at the offense's 30-yard line. There is 1:20 on the clock and they have one timeout remaining. Smith's eyes are laser focused. He doesn't pay an ounce of attention to anything outside of the trenches.
"I'm watching our rush lanes. I'm watching which way the protections are being set through our offense. I'm thinking of what gains might be beneficial to us. What's our breakdown here? In two-minute today it was, 'How we're going to handle chip blocks? How are we going to handle the nasty splits by tight ends?' All that stuff is what I'm focusing on and taking mental notes of when we go over the tape."
1:00pm – Practice has been over for an hour, and Smith has already returned to his room on the 15th floor, showered and come back down to the meal room. He goes through the lunch line, filling his to-go box with a large salad topped with salmon. He also fills his fourth cup of coffee. Black, of course. Smith makes his way through the lobby as he heads to the Chargers' partitioned area of the hotel. He goes left and enters the defensive meeting room, where he'll spend the next two hours breaking down film with the defensive coaches.  
1:04pm – "Alexis, play Motown music," Gus Bradley shouts out. Silence. Again, "Alexis, play Motown music!" The rest of the coaches are stifling laughs. "Coach, it's called Alexa," calls out Assistant Defensive Backs Coach Chris Harris. The room busts out laughing, especially Bradley, who lets out one of his big, infectious belly laughs.
"We're very fortunate. We've got a really great defensive staff. You get Milus and Chris with the secondary and Richard and Addy with the linebackers and Gus creating the atmosphere where everybody can speak. There's a lot of knowledge in that room and we all bounce off ideas and we actually all get along. When you have that kind of atmosphere, the growth of the room is tremendous and egos are taken out. We do our work, and we have fun. We'll play music in there and like to quiz each other on who sings it, and by far, Eric Henderson is the worst. We have a good time in there. I always pick Motown, probably because I can name that or '80s music better than anything. So yeah, we have a good time in there."
1:11pm – Each play of practice is caught by several cameras. Inside this room, every single aspect of every single snap is being dissected and evaluated. "Milo, this is a great instinctive play by AP here," Bradley says about a huge pass breakup in the end zone by Adrian Phillips. Then Bradley turns to Richard Smith, asking why his linebackers lined up where they did and which keys they were reading. There is a small discussion about how to better communicate between the LBs and DBs based on the motion the offense ran right before the snap. Giff Smith sits there watching it intently. There's no need to go over what the defensive line did. If this was a real game, the play would have been over in an instant thanks to a Damion Square sack. That triggers a question from Bradley, who has a question about how another player is doing with his rushes. "Not as good today, but he's getting better," Smith responds. Bradley and Smith have talked extensively in recent days about this player and a certain tweak they are trying to make to his mechanics.
"We've been talking about it a lot with him the past few days. The biggest thing with (this player) is he wastes too many steps on his takeoff. When he gets off and he presses vertical, and puts the stress on the guards and tackles, he's a good rusher. When he gets into too much wiggle at the line of scrimmage, which I called his stationary wasted steps, he's average. He's had success when he takes off, and he's had no success when he doesn't, so we keep harping on it. We keep drilling it into him – stay with that first step! Create the stress on the offensive line!"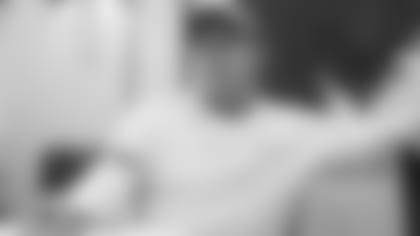 1:24pm – Giff Smith has a secret weapon, and it's the coach sitting a few feet from his left – Eric Henderson. Right now, Smith is going over fundamentals and philosophies with Henderson regarding a certain run fit. This marks Henderson's second season as the team's assistant defensive line coach. A ton of praise has been heaped on Smith for his work with Pro Bowlers such as Bosa and Ingram as well as young up-and-comers like Philon and Rochell. Still, he insists Henderson deserves credit as his right-hand man.
"Eric is a tremendous coach. I mean, he is a reaaaaally good coach. I've known Eric a long, long time; since he was in high school. There's such a comfort level having him with me because he has the same beliefs. He's an excellent coach and you're able to really split up the group in different situations during practice where they can be more one-on-one, hands-on communication, but Eric's got a really really bright future in this league and I'm really excited for him.We watch a lot of tape together. Then we just talk through things, make sure that we're seeing it the same way and that we're saying the same things to the players. We make sure the communication line is right on track."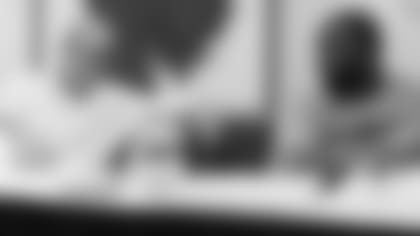 1:37pm – The defensive line had a strong day…but not on this particular play. Chris Landrum and Justin Jones tried to play a game on the outside to confuse the guard and tackle, but instead ran right into each other, crashing to the ground. Smith puts the onus on himself, saying he needs to get them more reps together. He jots some notes down along with Henderson. As much as training camp is about working on technique and evaluating talent, it's also important to get certain players reps together so they can learn each other's tendencies.
"The hardest part, to me, is your pass rush lanes when you work with someone new. When you're mixing a bunch of different people together it gets hard because everybody rushes a little bit different. There's got to be some communication with it until you get a feel for what a guy likes to do and what he doesn't like to do. So, training camp and preseason can get a little haywire sometimes. It irritates the crap out of me, but I'm trying to remain patient and understand that once you whittle this down and these guys are in those situations together, it gets straightened out. And knock on wood, we haven't had those issues come up when it comes to the regular season."
1:45pm – Today's practice was notable for a very specific reason – it marked the debut of prized first-round pick Derwin James. Bradley and Milus are discussing the way a cornerback played a run, allowing a lane to open up as he used poor leverage. Then Giff Smith's voice booms out… "Oh (shoot)! Watch 33 here!" Everyone stops what they are doing and watches as James goes sideline-to-sideline, showing ridiculous closing speed to knock the running back out of bounds. "Right now he's thinking, 'I like this defense!'" The coaches start hooting and hollering as Bradley plays the snap over and over again. Smith writes down a reminder to himself to show it later to his position group.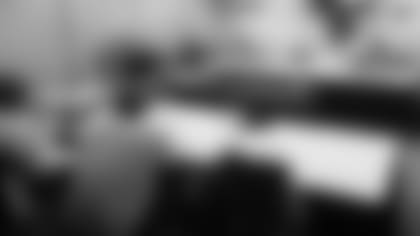 2:11pm – Smith gets up, walks over to the coffee pot and fills up his fifth cup of the day. As he walks over to his seat, the door to the room pops open and in walks Philip Rivers. The quarterback popped in to pour his own cup of coffee but looks up at the screen at a pass play. He chimes in with what he saw, mentioning a heck of a play by the corner. Bradley agrees. Rivers mixes the sugar into his coffee and walks out the door. While all this is going on, the two Smiths – Giff and Richard – are in the midst of an in-depth discussion on how the defensive line and linebacker should communicate a specific call. The two units got mixed up on it today, and they each have different ideas on how to improve the pre-snap communication. After some back and forth, they come to an agreement as Smith jots down reminders to pass along to his players. 
"I think the offenses do such a great job of being creative, like Whiz (Ken Whisenhunt) is really good at just creating different angles and different fits and there's always going to be a little grey right there. That's when you have a staff that works well together. You just talk, communicate it out, you get it corrected and then you move forward. We're very fortunate to have that kind of relationship."
2:45pm – Smith has 15 minutes until special teams meetings are done and the players enter the room. He's using this opportunity to watch back one-on-one pass rush drills. Hours earlier, he noted how this is as important as anything else his players put on tape. He stops and watches one in particular over and over. It's of Chris Landrum, and he freezes it at an exact moment where his foot is facing toward the quarterback. He turns to Coach Henderson, who is busy watching other film on a separate laptop, and asks him if he thinks this is a sack or not at this moment. Henderson watches as Smith plays it in slow motion, and quickly Henderson says no. Landrum's foot comes down and starts pointing upfield. It's the wrong technique. If he did so properly, he would have easily sped past the tackle for a sack. The coach makes a mental cue to go over this with him during film review with the players.
"We'll talk about the angle of his foot and his plant foot on the top end turn, and then we'll drill it and then we'll watch the drill. We'll keep doing that. It's like with any technique, like the dip of the shoulder. The more you can harp on the little things, where it becomes second nature, the better they'll get."
3:00pm – "I want to start with the team period and then we'll go back to two-minute," Smith says as he begins the position meeting. Before he can even go over the first play, Square speaks up and raises his hand. He has a question about a specific technique he should be using based on how the opposing guard plays him.
"I had a block back, but he pulled a certain way. Which way should I go?"
Smith asks about the technique the O-Line is playing, and Square gives the correct answer.
He asks what Square did, and the defensive tackle said he went across the guard's face. Smith says that's what he would have done. Now he asks the rest of the room their thoughts. They start bouncing ideas off one another with Smith listening to feedback from Ingram and Mebane among others.
"I know what I know, but I want to know what they know. I want them to have ownership in what they're doing on the field. Maybe I have it in my mind one way, and maybe they see it a different way. As a coach, if you're going to continue to grow, listen to what they say and then see it and then sometimes you'll say, 'No, we're going to do it this way, this is the best way and this is why.' Or it might be, 'I get what you're saying right there, let's try that and we'll see how it works."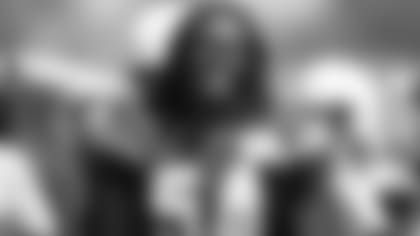 3:06pm – Smith drags his chair into the middle of the room with his clicker in hand, going back and forth during each play. All eyes are on the tape.
 "Melvin, are you setting the edge here?"
"If he goes outside where is he going?"
"If he does that it's an RPO (run-pass option)."
The next play pops up and Smith has another question for Ingram. The Pro Bowler just made an incredibly athletic move to catch up to the running back on a pitch play to the right. However, when he made the tackle he went in a bit too high. 
"Let me ask you something, Melvin. Now this is an example, I'm not picking (on you). Watch your head here. Be careful of what?"
Now a debate breaks out. Half the room insists it was a penalty. The other half, including Ingram, fiercely deny it. They debate it back and forth, but Smith doesn't care. If it is close to being a penalty, then it's a penalty. He wants everyone to understand that. So he shouts out "All eyes on me!" When he does that, everyone knows he means business. All 14 heads turn to meet him.
"I think it's just a mutual respect for each other. I respect them and they respect me. I want it loose in here because I want talking. I want to know what they know. I want to bounce ideas, but there always comes a point in time where there is one figure that's running this meeting. They know by the tone of my voice that that's it. Eyes on me. Get this point across."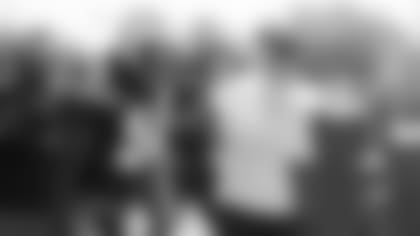 3:11pm – Brandon Mebane has been in the league for over a decade, but Smith is confused by what he watched the veteran do on a specific run fit. Mebane's answer is simple. "I just messed up." No excuse, just taking accountability for a bad play.
"There's sometimes where it's, 'Hey the guy got me.' Sometimes when I do that with a veteran guy, I want the young guys to understand that that's OK. You're not going to win every time. Sometimes the guy gets you. Now, let's look at why he got you. 'Well right there I took a fault step,' or 'My eyes weren't in the right place.' I use the veterans sometimes as a platform for the younger guys to understand. Making a mistake in practice, and owning up to it, that's OK. There's a way to correct it, so that's what we'll learn from it."
3:15pm – Remember that play the two Smiths went over when it came to communication? That specific play just popped on the screen, and the defensive linemen are confused.
"Why did the linebackers do this?" Mebane asks.
Giff responds with what Richard told him. It makes sense to the rest of the unit, who'll make the adjustment moving forward. Smith now runs through the rest of the play and notes another tackle where the player's helmet gets too low.
"We have to start cleaning this up now!" Smith barks out. "We can't wait until the first game."
Square emulates a technique as the play gets rewound. Meanwhile, Landrum has a question.
"What would you have done differently here?"
"That's a good question," Smith says.
He goes around the room asking the veterans what they'd do.
"Get vertical!" they scream in near unison.
3:25pm – Now, remember that play by James that wowed the coaches? Smith just pointed it out to his players, who go crazy over it.
"Daaaamn! That closing speed!" Ingram says.
"That hamstring must be feeling good," Bosa says, referring to the minor ailment that delayed the rookie's debut.
Smith shows the play for a reason. There's more to the game than just technique, even though he harps on the fundamentals a great deal. It's also about energy and passion.
"There's certain skill sets that flash on tape like that, and I think it's good. Milus and Chris do such a good job with those guys, and they're such great fundamental coaches. I think sometimes it's good when somebody doesn't coach and just points out the pure 'look at that closing speed.' And, 'Look at him flying to the ball.'"
3:27pm – The second-team defensive line just manhandled the offensive line, and Smith is pumped.
"Is it good by Sweetwater?" Smith asks, which is the nickname for Landrum.
"Yes!" the room screams out.
"Yes. That's good ball, fellas!"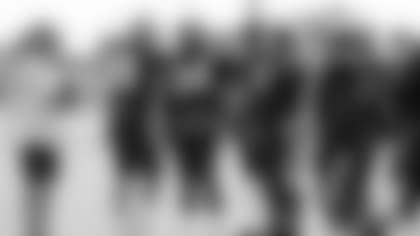 3:29pm – "Kiki, do you love me? Are you riding? Say you'll never ever leave from beside me, 'Cause I want ya, and I need ya, and I'm down for you always…"
Justin Jones is in the front of the room belting out Drake's "In My Feelings" in front of his fellow linemen. They cheer him on as he busts out some dance moves, including the moonwalk. This is all part of Smith's plan to keep things loose while also bonding the team together.
"Yeah, the rookies, make them sing in front of everyone. They have to earn their stripes to be part of this family, so we do it in a fun way. Sometimes you find guys who can sing… we have not found that this year."
3:34pm – It's now time to go over the two-minute portion of the day. Just a few plays in and Joey Bosa has already practiced what the team preaches – "Run. Run. Reach!" Bosa bursts around the edge and puts his hand up for strip sack. "Run. Run. Reach!" is a major point of emphasis from Bradley, who wants his rushers to not only get after the quarterback but also reach out to strip the football.
"I can take the ball right now," he says. "This is a sack."
"That is a strip sack!" Smith says to correct him. "That is a two-minute drill's dream. Listen to me. That's one hell of a rush. Sack. Fumble. End the game."
Smith isn't done evaluating the play. He wants to know why Ingram and Bosa decided to play the game they did that led to the strip-sack. The pair explain their reasoning much to Smith's satisfaction, showing why they are considered the top pass-rushing duo in the NFL.
Still, it's the way Bosa finished – the "Run. Run. Reach!" – that particularly pleases Smith.
"We want the ball. We don't want just a sack; we want the ball on a strip sack. There are a lot of times that it's a gamechanger. Joey had one last year against Eli Manning where he couldn't even get a hand on him, but he was able to punch the ball. That's a sack and we really preach that. That's been a point of emphasis for a couple years now – that "Run. Run. Reach!"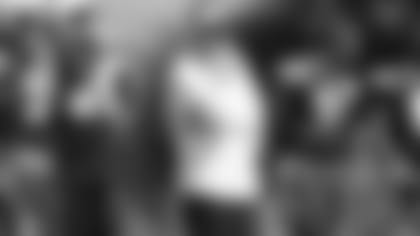 3:35pm – Melvin Ingram just jumped offsides, giving the offense a free play.
"You have all done a good job with that," Smith says. "Don't let that start to slide. Do you hear me?"
The room responds in the affirmative.
3:38pm – "What are you doing here, Justin?"
The third-round pick has been sitting in his row in rapt attention throughout the entire meeting, soaking everything up. They are going through a play where his game on the outside didn't develop, so Smith chooses to show him what to do when this happens. Jones nods his head in understanding.
3:41pm – The defensive line is dominating, and the room is fired up.
"Yeah Chris!" Smith says of Landrum. "Be violent with your hands. Make them call the hold."
Now it's the third-round pick who impressed.
"That's a good spin move JJ, but you've got to get the extension. You're still high there. Make them call the hold!"
4:00pm – The entire defense is once again together for the final defensive meeting of the day. Bradley is his regular commanding self, running through the highlights of the day. He rolls through the standout plays, including Derwin James' sideline-to-sideline tackle and Adrian Phillips' end zone breakup. Not included is Joey Bosa's sack in the two-minute drill, and number 99 lets it be known he believes he should be up there.
"Gee, all I did was have a sack-fumble," he says in a mock-Eeyore type voice. "They never put me up there."
4:10pm – Smith is drinking his sixth cup of coffee when Bradley shows the play with the borderline Ingram penalty. The entire defense is now having the debate the linemen did an hour earlier. Smith speaks up from the back of the room, his voice booming to hammer home his point.
"Hey listen! They are going to call it, especially in the preseason, if you lower your head. We will keep bringing this up. That's the rules. And we have to adjust to what?"
"RULES," the players respond in unison.
4:44pm – It's almost time to leave for walk-through, which is an important part of the day. The team gets together at night to install new plays and formations. They'll run through them in real time tomorrow, so tonight is about "walking through" the play in order to better understand it. Back in the defensive line meeting room, Smith goes over what they'll be learning that night.
"Walk-through is the time of our install, so it's the first time that we get to go into an 11-on-11 situation where we're running our new stuff. I'm looking for alignment, assignment and technique."
6:30pm – Smith is spending most of his time with the rookies during the team's walk-through. It makes the most sense considering the veterans have a firm understanding of it all after having been in this system last year. However, for the rookies, this is their first time learning these calls.
"Last year was different, because it was a new system for everyone. But this year is how it usually is.This is the second year in this defense, and guys like Brandon Mebane have been in this type of system for a long time. But there's always new stuff that comes up. So you try to keep them dialed in, and they're good about when they're out there. For the most part, they're good watching the younger guys trying to give them some tips."
8:00pm – Smith is enjoying his dinner while back in the defensive line meeting room. He's watching more tape of one-on-one pass rush moves while eating a plate piled high with vegetables. He made a promise to his wife, Jenny, to eat healthy during camp. Smith is mainly watching the rookies right now, as he's about to hold an hour-long meeting with them. All rookies have extra meetings at night with their position coaches as they grasp the pro game.
"We have rookie meetings, and then I'll start breaking down another rusher that I like. Or if we've got an install, I'll build another tape to try to get some different situations where we have to make an adjustment."
11:01pm – Smith does some work getting ready for Week 1 vs. Kansas City while also pulling together some ideas about how to incorporate Uchenna Nwosu into the mix, as the linebacker will be used at defensive end in certain packages. He hasn't worked much with Nwosu just yet but anticipates that time coming in the near future. Right now, however, none of that matters. Right now comes the highlight of his day – a call with his wife. Smith facetimes with his two kids, Ava and Sam, throughout the day whenever he gets a free moment. While saying Smith is passionate about his job is an understatement, family is everything to him – which is why he values these nighttime calls.
"My family means everything to me. We'll text throughout the day, but at night, I set out at least 20 minutes to talk. Being able to talk to her at night and my kids, that's what really keeps me on the even keel. I'm very, very grateful and fortunate to have the family that I have."
11:28pm – Smith's been up for 18 hours when he finally puts his head down on the pillow. He shuts off the light and closes his eyes with sack-fumbles and his players' technique among the visions flashing through his mind. He finally drifts off to sleep, ready and eager to get up in a mere six hours to start it all over again.