With the NFL Scouting Combine in the books, let's take a look at whom draft analysts have the Chargers selecting at No. 6 overall in the 2020 NFL Draft from Las Vegas:
Last updated: March 2, 2020
"The Chargers could grab Oregon QB Justin Herbert here, but if they aren't sold on him, addressing the offensive line is a must."
Last updated: March 2, 2020
"Yes, it's a selfish pick on my end, but who doesn't want to see Derwin James paired up with bigger Derwin James? Instead of modern offenses giving defensive coordinators nightmares, it's about time someone flipped the script. Adding another movable chess piece that runs a sub-4.4 40 would do just that."
Matt Miller, Bleacher Report – QB Justin Herbert, Oregon
Last updated: March 2, 2020
"The 6'6", 236 pound athlete with a big right arm and impressive mobility could draw in the West Coast fans while also giving head coach Anthony Lynn a young quarterback to groom and grow with. There are many options on the table, but without projecting trades, Herbert is the best choice pre-free agency."
Last updated: March 2, 2020
"They need to get a developmental passer and Love would seem to fit. He didn't play well last season, but he's a talent."
Last updated: March 2, 2020
"If the Los Angeles Chargers aren't taking a quarterback with their top pick, expect it to be one of the top four offensive linemen. Here they go with the most physically imposing one."
Last updated: March 2, 2020
"Jordan Love has had a good draft season, which is precisely what he needed after a forgettable 2019 campaign for the Aggies. Love's measurables are off the charts and it's not a stretch to think that some teams will like him more than Justin Herbert."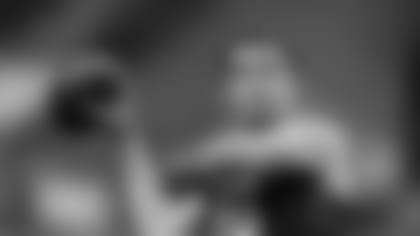 Last updated: Feb. 28, 2020
"Love is an intriguing talent with a promising skill set."
Last updated: Feb 26, 2020
MOCK TRADE WITH DETROIT: "The Chargers aren't absolutely desperate at quarterback with Tyrod Taylor on the roster, but would probably want to plan for the future. They figure Tagovailoa won't fall to them and they like the nucleus they have on defense for the next few seasons."
Last updated: Feb. 25, 2020
PROJECTED TRADE WITH GIANTS. "In the 2016, '17 and '18 drafts, three teams pulled off trades to get a future signal-caller. Philip Rivers' departure means the Chargers are in the market, and there are multiple teams also in the hunt for Herbert's services."
Last updated: Feb. 25, 2020
"Herbert could be a nice fit as an athletic, high-IQ passer with intriguing physical tools."
Last updated: Feb. 18, 2020
"With the Philip Rivers era now in the rearview, the Bolts are looking for their next franchise QB. Are they comfortable with Herbert here? Is he the QB they want to lead the team? Would they have to trade up for him? Or might they address the position in free agency?"
Last updated: Feb. 18, 2020
Subscription required: "A quarterback obviously makes sense here too, but with Tagovailoa and Justin Herbert off the board, they shouldn't reach. They could instead look to free agency for their 2020 starter, or stick with Tyrod Taylor, who won't turn the ball over."
Last updated: Feb. 4, 2020
Subscription required: "It is uncommon for a quarterback to be drafted in the top-10 without the drafting team having the No. 1 overall pick or using a trade-up. In fact, it has only happened once over the last four years: Daniel Jones with the No. 6 overall pick last year. And it could happen at No. 6 overall again this year with the Chargers and Herbert."
Last updated: Feb. 3, 2020
Subscription required: "The Chargers need a quarterback, and Herbert showed why he's capable of leading an NFL offense at the Senior Bowl, standing out from the pack. But the Chargers could also use some help along the offensive line, and considering that they are among the best in the league at evaluating draft value, they could take one of the premier prospects in the trenches."
The opinions, analysis and/or speculation expressed above represent those of individual authors and do not represent the opinions or policies of the Chargers' organization, front office staff, coaches and executives.