Los Angeles Chargers founder and original club owner in the American Football League, Barron Hilton, passed away Thursday at the age of 91. He was the last surviving owner of the AFL's founding members.
"Simply put, the modern NFL would not be what it is today without the vision of Barron Hilton," said Dean Spanos, Chargers Controlling Owner and Chairman of the Board. "A founding father and charter member of the upstart AFL's sarcastically self-dubbed 'Foolish Club,' Barron was a pioneering leader, risk-taking entrepreneur, prolific philanthropist, devoted family man and, of course, anything but foolish. It was that very devotion to family that created the common bond between Barron and my father, Alex, and formed the foundation of their decades-long friendship – well actually it was family, golf and bragging rights following day-long games of gin rummy.
"It seems fitting that we celebrate a life extraordinarily well-lived the same year as we recognize the Chargers' 60th anniversary season since without Barron, there would be no Chargers. On behalf of my family and the entire Chargers organization, I want to express both our gratitude and deepest condolences to the Hilton family."
Known for his many business ventures and entrepreneurial spirit, he honed his skills throughout the 1950s and became Vice President of Hilton Hotels, under his father, Conrad, in 1954.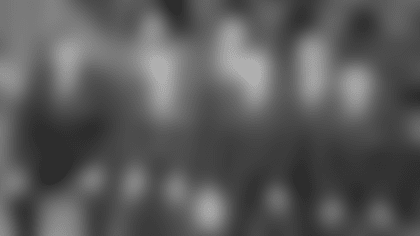 In 1959, Lamar Hunt approached Hilton and several other businessmen to form the American Football League. It was then that Hilton founded the Los Angeles Chargers as he purchased rights to the franchise for the tidy sum of $25,000. As Spanos noted, Hilton and the other seven original AFL owners deemed themselves the "Foolish Club" for forming a league set to rival the NFL.
Hilton revolutionized the game in a multitude of ways. His newly minted Chargers became the first team to place last names on the backs of their jerseys, and the iconic lightning bolt on the team's helmets wouldn't be there if it were not for Hilton.
He even held a contest to name the team and ultimately selected "Chargers" as the winner. In an unhappy coincidence, Hilton owned a credit card company named Carte Blanche, leading some to speculate that was why "Chargers" won out.
Hilton, however, begged to differ.
"It was after the trumpet call, followed by the roar of 'Charge,'" he told the Los Angeles Times in a 2009 interview. "It never had a thing to do with the credit card."
Hilton deemed his six seasons at the helm of the Chargers as the "happiest days of my life." During that time, he assembled a team led by legendary head coach Sid Gillman, who also took over general manager duties from Frank Leahy in the team's inaugural season.
The Chargers won five Western Division titles in their first six years of existence, highlighted by a 51-10 victory over the Boston Patriots to capture the 1963 AFL Championship. Notable Chargers on that '63 AFL Championship team included running backs Paul Lowe and Keith Lincoln, defensive lineman Earl Faison and two future Hall of Famers, wide receiver Lance Alworth and offensive tackle Ron Mix.
In 1965, Hilton joined fellow 'Foolish Club' member Lamar Hunt as an instrumental force in negotiating the AFL-NFL merger that was made official a year later in 1966. Hilton then sold his controlling interest in the Chargers to become President and Chief Executive Officer of Hilton Hotels Corporation, where he worked until he retired in 1996.
In 1981, Hilton sold his remaining percentage of the Chargers to Alex Spanos "between the eighth and ninth holes" of a golf game at the Bel-Air Country Club, he once recounted. When the hotel company was sold in 2007, Hilton served as chair of the Hilton Foundation board until 2012.
He is survived by two daughters, six sons, 15 grandchildren and four great-grandchildren.