With the 2020 NFL Draft three weeks out, CBS Sports' Ryan Wilson and Will Brinson joined Wednesday's episode of "Chargers Weekly" to answer five key draft questions.
Listen to the full interview to hear their thoughts on Tua Tagovailoa vs. Joe Burrow, and the best defensive player in the draft outside Ohio State defensive end Chase Young. Other highlights from the conversation are below.
The first-round talent not getting enough love is:
Wilson: "I'll go with cornerback Noah Igbinoghene out of Auburn. He came out of nowhere. Like, he played at Auburn – a big-five school – and you're like, 'OK, you can't come out of nowhere. You're playing against these SEC teams every week.' But I was talking to someone at the Shrine Bowl. There are reps for Igbinoghene going around saying, 'You gotta watch this guy's tape!' And we're like, "Yeah, yeah we'll get to it,' and eventually you did and you watched him and you're like, 'OK, this guy was legit. This is exactly who we should be watching.'
"… He's like 5-10, 5-11, about 195 (pounds). He is built like a firetruck, but he can run. He can cover. He can help out in the run game. He may fall to the second round. … If the (Chargers) took him at No. 37, that would be a huge get."
Brinson: "I will go with (Penn State defensive end) Yetur Gross-Matos, which is just a fun name to say. He is a first-round pick. … I'm a little surprised he hasn't climbed higher in the process because of his position, because he plays as an edge rusher, and because he has like a bunch of raw upside to him and he's also pretty good against the run. Like, you feel like you could watch him sort of maybe grow into what he does a little bit more and it could really explode into being a dominant player."
Sleepers outside the first round who could potentially be Pro Bowl players:
Wilson: Lynn Bowden out of Kentucky. … He can play in the slot, he can play out wide. He can play H-back. He can run these end arounds, he can run screens. He is electric with the ball in his hands and he feels like a third-round pick to me. I've talked to people that feel like he may even go higher than that. A Randall Cobb-type is what he's been described as.
"Another guy (is) Antonio Gibson out of Memphis. He was a wide receiver. I think he caught about 30 passes last season. At the Senior Bowl, he was used as primarily just a running back; he rushed about 35-38 times last year, I think. He looks like he's about 240, 235 (pounds). He ran a sub 4.4 at the combine and he was running over people at the Senior Bowl, and not just running them over – he has quick feet. He can obviously catch the ball. So these versatile-type, Taysom Hill-type players could be sort of the new wave of things we see."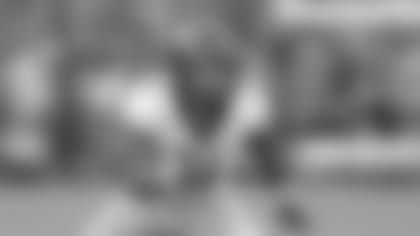 Brinson: Safety Antoine Winfield Jr., Minnesota – "Winfield was just always flying to the ball. I think a dynamic type of prospect that you can put in there who has the pedigree, who can move around and play some different positions, and I think would be a very nice fit for a team.
"… The one other guy that I'd throw out there that I think could be a real day-two sleeper in terms of being a wide receiver; I know he's got injury issues, but I love him at Colorado, Laviska Shenault. If you watch any of their games, that guy can just take over. It feels like a boom-or-bust situation, but his boom is so high that I'd be willing to take a day two risk on him."