While you may be aware tackle Storm Norton comes to the Bolts after a recent stint in the XFL with the Los Angeles Wildcats, here are some facts you may not know about No. 74.
Yep, That's His Real Name
A football player with the first name Storm might sound like a created player in Madden, but it actually is Norton's real first name! "It comes from a Detroit Tigers baseball player named Storm Davis." While "Storm" may have been a nickname for the two-time World Series champion otherwise known as George Earl Davis, Norton's parents loved the name so much they decided to remember it for their son. "The backstory is, my parents were at a game one day and Davis happened to be pitching. That's when they decided that's what my name would be!"
Norton's hair is unmistakable, whether it's down or up in a bun. And, it's something he's been rocking for a while. "I started growing it out in college. (At the University of Toledo,) our whole offensive line did it and I just kept it." Norton says he's "saved a lot of money on haircuts" since growing it, but don't expect him to chop it any time soon. "As far as cutting it, not in the near future because my wife likes it too much!"
Norton grew up playing baseball. Back in the day, his 13u travel team, MSA Black, made a trip to Cooperstown. Norton is currently 6-7, but was always pretty tall. Just ask him for his stories on what it was like being a taller kid on a youth team. "Side note, I had to carry my birth certificate to every baseball tournament because opposing coaches didn't believe I was 13."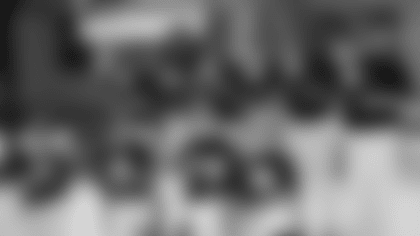 A self-proclaimed fan of shoes, Norton is soliciting help for his last fun fact. "I wear a size 18 shoe. It's interesting, but also frustrating because I love shoes! I'm mainly putting this here to see what shoe places in L.A. carry my size." If you know where Norton should go, send all recs to his Twitter.