The annual Fritz Pollard Alliance Meeting and Awards Reception has been a landmark event at the NFL Scouting Combine for 16 straight years.
This year's event, however, was especially noteworthy as John Wooten, who helped establish the alliance and serves as the organization's chairman and leader, is stepping down to enjoy his retirement. He's a figure who's left a lasting impression on the NFL, dedicating much of his professional career to creating a pipeline across the league that helps coaches and front office personnel earn jobs.
"What he's done, and not just for African Americans but creating opportunities for coaches, is special," said Chargers Head Coach Anthony Lynn. "I remember Mike Smith, who was a head coach in the league and a longtime coordinator, telling me that no one in this league has done more for him than John Wooten. So, he's done a heck of a job mentoring young coaches, helping them land jobs they only dreamed about."
With tributes to Wooten's career a prominent theme of the event, the Chargers were also front and center during the ceremony as they took home some of the biggest honors. Lynn was honored with the Paul "Tank" Younger Award, which is given to 'the persons who have displayed outstanding work throughout the years both on and off the field in helping to level the playing field in the NFL.'
That's certainly what Lynn is all about, and not just among minority coaches. As he explained at his Combine press conference, he's a fierce believer in giving opportunities regardless of someone's path to date – specifically referring to recognizing position coaches as candidates for head coaching opportunities regardless of whether they've served in a coordinator role.
"I think the NFL is no different than society," Lynn said from podium #3 inside the Indianapolis Convention Center. "We're always fighting for equal opportunity to this day. I just hope that continues. I think we're headed in the right direction. I hope we continue to get better, just for guys to get an opportunity that they deserve…I would think, me coming from being a position coach, I don't think that one year of being a coordinator made a big difference in me being a head coach. I would like to see more position coaches get opportunities to be head coaches, where they don't have to check the coordinator box. I think we're missing out on some pretty good coaches having that as one of our criteria. And it's not just African-American coaches; it's every coach."
Mere hours after addressing the media, Lynn, now speaking to a packed room at the Fritz Pollard Alliance event, used the opportunity to offer heartfelt remarks about all Wooten has done for him over his career. Those in attendance gave a rousing applause as the NFL legend had a similar impact on so many around the league.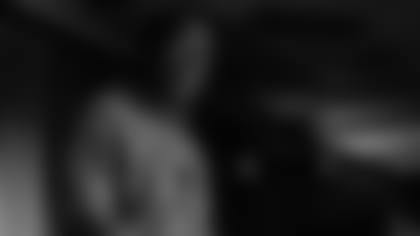 "(A few years ago) I was asked to interview for head coach of the Jets," Lynn recalled. "I wasn't going to do it, but I spoke to John and we had a long talk. The Rooney Rule is not about unqualified people getting jobs. It makes me sick when people think it's about hiring people that aren't qualified. That's the point I don't understand. There are a lot of people who don't get the opportunity to interview, and it doesn't matter if they are white, black or whatever. What's important is that people who work their butts off all their life get an opportunity. And that interview with the Jets, I went in and did it and it was supposed to be a two-hour interview. It went on for about five hours. We connected and had some really interesting conversations. And I think that's how my name got in circulation. It was after that interview, and I got a (head coach) job two years later. If I hadn't done that interview, maybe I wouldn't be here now."
In addition to Lynn's honor, Director of Player Personnel JoJo Wooden and Senior Director of Pro Personnel Louis Clark were named Co-AFC Scouts of the Year. General Manager Tom Telesco presented the pair, and he couldn't have been prouder to see them get their proper due.
"I was honored to be asked by the Fritz Pollard Alliance to present the AFC Scout of the Year award to JoJo and Lou. I was proud to see the recognition they received, and this team would not be where it is without their daily contributions. They are two of the best in the business, and we are very lucky to have them in our organization."
True to form, both men responded with humility and quickly pointed out that this really is a "team" award that's not just about themselves.
"This really is an honor, and I wasn't expecting it," Wooden said. "There are a lot of guys out there who are minorities who do a fantastic job, so I was not expecting this at all. And to get it from the Fritz Pollard Alliance means a lot because these guys are pioneers. But this award, it's really about the entire front office. We all work together, so I don't view this award as one that's about me."
"It means a great deal (to receive this honor) simply because of the people that I work with," added Clark. "We do a good job working together, so this is not a one-person award. It's a group award. I couldn't do my job if I didn't have the help of the guys in this office. And that makes getting this award that much more rewarding, because I get to share it with the other guys. And to be recognized by the Fritz Pollard Alliance means a lot because it shows they recognize the work that we do, and not just as an individual, but rather as a group."