With the 2020 NFL Draft four weeks away, NFL.com's Lance Zierlein joined Tuesday's episode of "Chargers Weekly" to reveal some of his favorite players in this year's class.
Listen to the full interview to hear why Zierlein has the Chargers moving up to No. 3 overall to select a quarterback. More highlights from the conversation are below.
Blue-chip defenders at the top of the draft
LZ: "Well, I think (Ohio State cornerback Jeff) Okudah is a guy at his position who's got a lot of the traits you want. It's just a matter of him continuing to fine-tune his game. (Clemson linebacker) Isaiah Simmons is a little bit more high-risk, high-reward. He's got tremendous physical traits. He's got tremendous potential. He is a versatile defender as well, and can allow a creative play-caller on the defensive side to kind of move him around and create some matchup issues for offenses. But, the problem you have is he's not really a classic linebacker at this time. He's not really a classic safety right now. You have to find a role/position for him that makes sense for his versatility and that allows him to really grow.
"… I think (Auburn defensive tackle) Derrick Brown is another one who's not mentioned as much. Derrick Brown is a rock, and he is a really good football player who's probably gonna fall a little bit in this draft because he's not a plus-pass rusher. He's a decent one, but if you're not a great pass rusher and you're an interior tackle – interior defender – you tend to slide a little bit in the draft. So, I think Derrick Brown is another one that really deserves to be mentioned as a talented, talented football player on the defensive side."
First-round offensive tackles
LZ: "For me personally, I actually think – I think (Alabama's Jedrick) Wills is the best and then (Lousiville's Mekhi) Becton is right after that. I think there's a little bit of a drop until you get to (Iowa's Tristan) Wirfs and (Georgia's Andrew) Thomas, who are in the same basic boat to me. … I think Jedrick Wills, even though he played right tackle, that was to his blind side so I think he could play left tackle. I think he has the footwork and the quickness and everything that you'd want to play on the left side. I know Mekhi Becton can play there, so I'd have no problem with the Chargers looking at tackle at that spot if they sat still at No. 6 and I obviously think that would be one of the favorites to happen at No. 6."
Favorite players in the draft, regardless of round
LZ: "Logan Wilson, linebacker from Wyoming is really talented. He's got a tremendous amount of instincts, makes a bunch of plays. (He) reminds me of (Cowboys linebacker) Leighton Vander Esch in terms of his ability to drop into space and just know where the ball's going. I mean, Leighton was special in that regard. Logan doesn't have the same traits, same explosiveness, the same length. But, he is a really talented linebacker who the general public doesn't really know a lot about him, probably, but trust me NFL scouts do and he'll be a day two linebacker.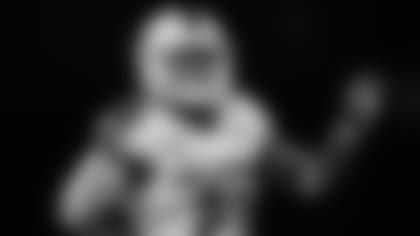 "Amik Robertson, just loved watching his tape – maybe the most competitive cornerback in the entire draft. He was out of Louisiana Tech. He has 14 career interceptions, I think 47 passes defensed. I mean he is just as tough as they come, but he's a smaller guy and I know he's had some injury issues. So, that's been a concern.
"Clyde Edwards-Helaire, running back out LSU is just a lot of fun to watch. (He's) very good in short spaces, very efficient in terms of his movement – quick, sudden. He's a good pass-catcher out of the backfield, a big fan of his as well. I think he's got a lot of talent.
"Kyle Dugger from Lenoir-Rhyne is a safety who has all the physical tools, but played at a very small level and there were times on tape where I thought he got bored. And I think once he steps up to the NFL level and once he catches up with the play speed, I think he's got a chance to really be an exciting player on the next level.
"And then, I'll give you another one: tight end Devin Asiasi from UCLA. … Once the ball's snapped, he's got some good field speed. He's got athletic ability and there's just this smoothness to his game that I really like. I think that teams who are looking for a tight end are gonna be very pleased with him when they see him develop on the next level."
How the coronavirus pandemic has affected the draft evaluation process
LZ: "It hurts certain players more than others; the guys who are speed deficient, the guys who didn't work out at the combine and have speed questions. That could potentially raise a red flag, especially the guys who have medical concerns. … The ones who have the best scouting departments who really trust their area scouts to know the talent inside and out, I think they're gonna have a natural advantage."
Subscribe to the Chargers Podcast Network on Apple Podcasts. A five-star rating/review is appreciated and will help spread the word to other fans this offseason. The Chargers Podcast Network is also available on Stitcher, TuneIn, Google Play, SoundCloud and the official Chargers app.