This offseason, we want you to get to know our rookies a little more off the field.
While you may be aware defensive tackle _Cortez Broughton_ was selected in the seventh round of the 2019 NFL Draft, here are five fun facts you may not know about number 91.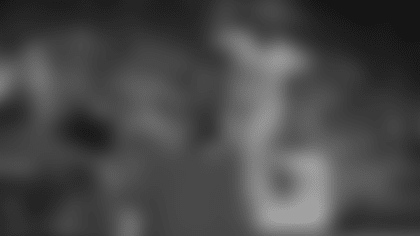 1. Little League World Series Alum: While he grew up playing football, Broughton also played baseball and ended up playing in the 2009 Little League World Series at 12 years old. Representing the Southeast Region for Georgia, Broughton and his team made it to the semifinals where they ultimately fell to the eventual 2009 champs, California. "Everyone was in school watching us on TV and even when we lost, they threw us a parade with a police escort. You never know when you're going to get your last police escort for a good reason! It was sweet."
2. DT by Day, Chef by Night: Broughton loves to cook, a hobby he picked up from his mom. While he prefers southern-style food, he likes to dabble in creating different culinary varieties. "My favorite thing to cook is blackened salmon and probably some asparagus or something green on the side. I'm not a big carb person, but I leave the other dishes to my mom." Broughton said he'd like to be a connoisseur of food some day.
3. Future Setter of the Seas: So along with being an eventual food connoisseur, Broughton said another goal of his down the road is to own a yacht and travel the seas. "I just want to venture out and travel. The best way to travel is by boat like they did back in the old days. Nobody flew planes back then!" Part of why he also wants to do this is because he's never been out of the country. It's been for good reason though; sports has taken precedence.
4. Method to his Netflix Madness: Broughton is a big fan of Netflix. While he got away from binging shows due to football obligations, he does have a few favorites including "Prison Break" and "Breaking Bad" followed by "Scrubs" and "Dexter". They're go-tos he can always rely on; however, he has a very specific Netflix-viewing style. "I will never watch a show twice," he said. "It ruins the experience for me. If I re-watch it, I can't enjoy it the same way I watched it the first time. I want to keep that same enjoyment." He added that if he re-watches, he'll start nitpicking the episode, so it's best kept at a one-time-only viewing experience.
5. Dream Car: Ask Broughton what his favorite car is and he'll tell you it's also the one he's had his eyes on for quite some time – a Ferrari 458 Spider. He first saw the car on the Netflix show "Royal Pains" and realized it was his dream car. As for the color scheme, let Broughton explain it himself. "I'd like a red one, a candy red exterior. For the interior, maybe a beige. Or, I can do an all-white interior with red (exterior)."
Have a comment, question or idea? Sound off below!