Rewind to 2012 and Anthony Muñoz held his first NFL PLAY 60 Character Camp with the Chargers.
Fast forward to this past Wednesday, and the Pro Football Hall of Fame tackle held his ninth camp with the Bolts, teaching over 325 kids about football as well as the importance of having good character in athletics and life.
"I think the main thing is getting the kids out here and using football as a platform," Muñoz said. "I've been fortunate to use the game to teach (the kids) other things about life. Nine years ago, when we went up to the NFL office to talk to the Commissioner and his marketing group about doing the character camps (and) we wanted to instill character and team building (in them). The thing that excites me is we get to teach these young kids what it means to work together and what it means to be a person of character."
This camp was held in Compton, and former Chargers wide receiver, Mike Willie, assisted Muñoz and the Bolts with the camp. Willie, a native of Compton, couldn't have been happier to go back to his hometown and share his story with the kids.
"Being able to have a platform and tell kids how to (achieve their goals), it's beautiful and amazing," Willie reflected. "It's wonderful for the Chargers to be in Compton and it's wonderful for Compton to be able to level off the (negative stigma) with this. It's about the character. It's about who you open the door for. Who you say, 'yes, ma'am' and 'yes, sir' to. What you say at the right time and what not to say. Character plays a big part, and that's why Compton is leading this and we're going to take advantage of this opportunity to get better."
"Not only did he grow up here and make it, but now he's back even after football is over," Muñoz added. "It's not rare if you stay in the city where you played your whole career, but (a lot of former players) continue to go back to where they're from. But (some players) kind of retire and go out and do what they want to do as far as their self-fulfillment instead of giving back. Mike's giving back and that's what impresses me."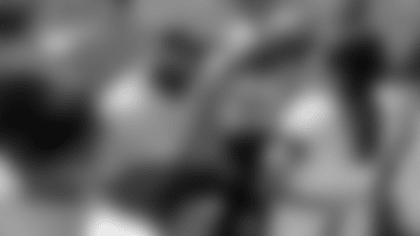 Partnering with Muñoz and hosting these Character Camps is part of the NFL and the Chargers' year-round Hispanic outreach initiative. Muñoz, a native of Southern California, relishes the chance to bring the camp to communities with high Latino populations like he did on Wednesday.
But he also brings the camps international, like to Mexico. Muñoz has been taking the Character Camps to Mexico over the last few years and this year, he's bringing four camps to Mexico City the week the Chargers take on the Kansas City Chiefs.
Having been there before, he knows what the excitement is like and can't wait for the AFC West showdown on Nov. 18.
"A lot of people think that maybe it's a spark in Mexico that they're now football fans," he mentioned. "But back in the late 80s, I was going back and doing clinics and doing camps. They're on fire for the NFL and they love it…. It's fun to go back to Mexico and teach them what we're learning here; not only football, but the character traits…. It's fun to get outside of the states and go somewhere where the excitement is just as big for our game. To go to Mexico and teach the game and then to see the excitement at the games, I tell people it's almost like a Super Bowl experience."
Have a question, comment or idea? Sound off below!