He's an NFL legend; a global icon adored by millions around the world.
But to whom it matters most, Philip Rivers is known simply as "dad."
And right now, like any good father, he's looking for his wife and kids.
It's Sunday, Nov. 4, and Rivers is about to make his 200th career start, a remarkable feat that only three other quarterbacks have accomplished. He's standing on the sideline at CenturyLink Field in Seattle, his hand over his heart as the Star-Spangled Banner is sung in front of nearly 69,000 frenzied fans.
Rivers knows where his wife and four oldest children are sitting, and suddenly he locks eyes on them.
We've seen Rivers fired up so many times over the years, but it's nothing compared to what he's feeling at this particular moment.
"I got emotional during that national anthem," he recalled days later while sitting at home surrounded by his wife and children. "They were sitting dead across from our sideline. I could see them up there, just looking at my four oldest and my wife, and I just thought, 'How awesome is this?!' I'm literally living out my childhood dream, we're playing in Seattle in that awesome atmosphere, the national anthem's playing and there are my oldest four of the eight we have watching me at 37 years old playing a game. It was kind of one of those surreal moments. You have those little snapshots of time that you're just like, 'Gosh, it doesn't get much better.'"
Philip Rivers is a surefire Hall of Famer, his bust certain to one day join the other legends immortalized in Canton. However, while football means so much to him, it's a distant second when compared to his family.
That's why in addition to the many responsibilities that come with being an NFL quarterback, he makes sure it never comes at the expense of his family.
Philip married his high school sweetheart, Tiffany Goodwin, back in 2001 following his freshman year of college. The couple has eight children (and expecting a ninth in March) – Halle (16), Caroline (13), Grace (12), Gunner (10), Sarah (8), Peter (7), Rebecca (5) and Clare (3) – and life in the Rivers' household is like most others.
"He always wants to be with us," said 10-year-old Gunner, the oldest of Philip's two sons. "Whenever he's home, he plays with us and he's with us all the time. Wherever we go out – we go all kinds of places – random people just come up and ask for his autograph and for pictures. It's cool. But he's always there for us. But when he's home, we like to throw the football in the yard. We like to putt on the putting green, watch football and do things like that."
"He's so selfless," added Halle, Rivers' firstborn. "He's an NFL quarterback; he's doing a million different things every day, but every day he comes home, and he wants to be with us. If he has one extra minute that he could do something else, he'll be with us."
For all those reasons and more, Philip's family wanted to do something special to celebrate his 200th start.
It's a milestone that clearly meant a lot to their father, so they threw their dad a surprise party complete with balloons and his favorite meal.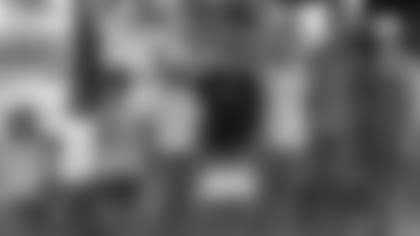 "He's not the type to toot his own horn or anything, but we just wanted to make it special for him because he does everything for everybody and doesn't really ever do anything for himself," Tiffany said. "So, the kids, of course, were super excited to throw a party for dad. We didn't do it right when he got back because he beat us home from Seattle, so we waited and did it on Wednesday. It was really fun. We had Reuben sandwiches, which is his favorite meal. And the kids decorated little signs. We tried to hide when he walked in, and then we popped out and surprised him."
"That was special," Rivers said. "They had a big thing of balloons and a two and a zero and a zero and they surprised (me). They did it in the living room and they had Chargers tablecloths down. It was meaningful to me just because they knew the 200 starts were special to me. It was meaningful to me that they wanted to make a big deal of it."
That party is something Philip will always cherish, but so are the family dinners he and Tiffany make sure they all enjoy throughout every week. They all sit around the table Tuesday, Wednesday and Thursday, talking about their days and what's going on in their lives. 
"Those family dinners are the best," Philip said. "That's something we make sure to do even though obviously it's harder in season. Tuesday, Wednesday and Thursday we'll have them for sure. When I come home it's about ready to go and the girls are all helping, and we all sit in there and eat and kind of tell school stories. I tell a little bit of what's going on if there is anything new."
"It means a lot to have those dinners and have him at home," said Halle. "It really does because we know how busy he could be, but he wants to be with us. It's fun. There's never a dull moment with eight kids, so it's fun with all of us at home. We usually sit down to dinner, all of us every night, we try to. It's awesome."
Monday night, however, is football night. 
They'll grab a plate and huddle around the TV to watch that night's primetime game.
"We call it ballgame food," Philip said. "We don't do a sit-down dinner Monday night. We have the game on and some people are sitting at the kitchen island, some people will sit in front of the TV and we watch it together."
While a small group of the Rivers bunch do travel to games throughout the year, most of the time they watch the Chargers' road games at home on TV. Those Sundays are a family affair, with everyone huddled together rooting on their dad from thousands of miles away.
"It's really fun," Halle said. "A lot of nerves, of course, but a lot of excitement, too. A lot of screaming at the TV and stuff, but it's really fun."
However, as you'd expect, Rivers' children prefer to watch their dad in person at StubHub Center.
"It's kind of crazy because we're wearing his jersey and sometimes people say 'Hi, Philip Rivers,' because I am wearing the jersey," Gunner said. "But they don't actually know that I'm actually Philip Rivers! Gunner is my middle name."
Those home games mean the world to Philip as well, who often looks up at his family after a big play.
"I love after we score a touchdown, looking up there and seeing how fired up they are," he said. "It's cool to see how excited they are when we score, and we make big plays and all those things."
Not many people have a father as famous as Philip Rivers, so it's hard to put yourself in the children's shoes. Thus, you may be surprised to learn that it was only recently that Halle realized just how much her father means to so many people. 
"He's been famous since before I was born," she said. "It's just been normal kind of my whole life. It's all I've known. But once I got older it was like, 'Oh wow, there's a lot of people watching him every Sunday.' I really only realized it the last couple years."
While Philip Rivers has produced countless memories that he and millions of Chargers fans hold dear to their heart, some of his favorite moments on the field come long after the clock strikes zero. After he's showered, changed and handled his media responsibilities, Rivers often still trots back out onto the field to throw the ball around with his kids.
Gunner likes to pretend he's a Charger, making those same exact plays his father's teammates made earlier that day.
"It's really cool when we do that," Gunner said. "Whoever makes that big play, sometimes I try to do the same thing there on the field. If someone has a pick, I try to do the same thing as them."
Like any professional athlete, Rivers' career has been filled with ups and downs. And during those lean years, it was his family that helped put things in perspective.
"When you have a bad day, or we have a tough loss, which thankfully we haven't had many this year, but you come home and there's sidewalk chalk and scooters and bicycles, all this stuff strewn out over your driveway, that for me was always that deep breath, 'Everything's going to be alright. Everything's OK.'"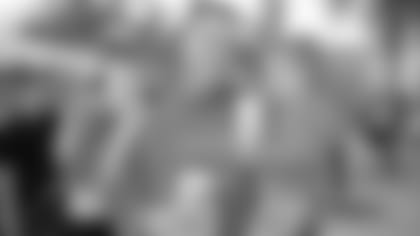 Of course, right now Philip and the Bolts are enjoying one of the best stretches in franchise history. Not only that, he authored one of the finest performances in league history, setting the NFL single-game record by completing 25-straight passes against the Arizona Cardinals. He also finished the game with the highest single-game completion percentage by a QB with at least 20 attempts (96.6).
While this is a special team in his career, it's even more meaningful for Philip to have all this professional success at this point when his children can really appreciate it.
"It's been really fun," he said. "Now that the kids are older, it's a little more where, shoot, we can sit there and talk about the season. Who beat who, and who won and, 'Oh, I can't believe they got beat.' So that's fun. I talk to Gunner about the opening plays of the game. I tell him what we're looking for, and he understands it. I explain if they play quarters we're going to do this and things like that. And now Pete's getting super into it, too. He's just seven, but he asked me a few minutes ago (if) we're going to throw routes today. It's turning into where he's starting to like it more and more, too. Gunner also plays fantasy football. He plays with my brother. They have a little family league and one with the families from the beach back when we go in the summer, some of those kids play. The girls are young, but they know players' names. They know all the quarterbacks' names, this and that. So, it's been really fun."
As Philip noted, these days he likes to go over the game plan with Gunner, which is something his son looks forward to each week.
"Before the games, we talk about are there going to be any trick plays," Gunner said. "We'll talk about who is going to get the ball more this game. And then after the game we'll talk about all the big plays. Who had picks and who had touchdowns. It's really cool."
Family obviously means the world to Philip Rivers, and he doesn't pretend to have all the answers to fatherhood.
Still, he's clearly well versed in what it takes to be there for your children despite juggling tons of other responsibilities.
So, what advice does he have for all the other dads out there?
"I think it's a challenge, and I'm by no means perfect at it, nor is anybody, but I think what I would always tell other dads is to try to be present. Just try to be there. Sometimes you have long work days. Sometimes you have to be on the road a lot. But when you're home, be home. When you're present, be present the best you can. Like I said, we all fail. But I think from a dad standpoint, children want our time. Sometimes it might just be five minutes, and sometimes it can be a lot more, but I think they want our time and to be engaged with them and present."
Of course, it also helps having someone like Tiffany by your side.
"We're best friends," Philip said of his wife. "That to me has been the key. Whenever it gets kind of crazy, we'll figure it out together. She's awesome. Our family wouldn't be what it is without her. She provides a great steadiness for all of us. She's great for me also from a football standpoint as far as balancing my energy and passion I have for football. And she's the same with our family. She's very steady, and she very much lives in the moment. She's very present. Through all the ups and downs that comes with football, and all the commitments that I obviously have, I can't imagine doing this without her. There's no way I could do it without her."
Likewise, Tiffany couldn't be prouder of the man she married and the type of father he's been over the years.
"What it boils down to is he's the most selfless person I know," she said. "He still surprises me. Obviously, wives know their husbands best, but he's just really selfless. He comes home and when he's home, he's home. That's it. He'll look at film or whatever he needs to, but he's very intuitive, too. He knows kind of who needs what at what time. I guess one thing that we love to do is just talk to our kids a lot so we kind of know where they're at and what's going on in all their lives. (It's) a really constant thing that he's really good at keeping up with, and not just keeping up with it but he seems to really enjoy it and I've really learned from him in that aspect. I think that was definitely a trait in his family where they spent time together not because they had to, (but) because they really wanted to. They're a really close family so that's definitely how we are, too."
By the time their ninth child (seventh daughter) is old enough to know her dad is a NFL quarterback, Philip may have already hung up his cleats. But she'll enjoy countless stories with dad at the dinner table.