In the next installment of our Backstage: Chargers "24 Hours" feature, we give you a day in the life of Tight Ends Coach Rip Scherer. Join the longtime coach as he conducts interviews in the top-secret Combine scouting suite, shares rare stories involving Peyton Manning, Mike Tomlin and others from his four-plus decades in coaching, rubs elbows with some of the biggest names in the NFL and much more.
It's Friday, March 1, and we join Scherer in the early hours at the team hotel as he prepares for another day at the NFL Scouting Combine.
6:17am – Rip Scherer is the Kevin Bacon of the NFL. While movie aficionados challenge each other to find the shortest path between a random actor and Bacon based on the 'six degrees of separation' concept, the same holds true for Scherer in the NFL. You'll be hard pressed to find someone at the Combine who doesn't have a Rip Scherer story, a fact that becomes more and more apparent as the day unfolds. But right now, he's all alone, walking the empty halls of the Indianapolis Convention Center. It's still pitch black outside with the only hint of light coming from the lampposts reflecting a dusting of frost from last night's snow. Dressed in a navy blue Chargers pullover and black pants, the 66-year old Scherer has the energy of a man half his age. With 45 years of coaching experience, his passion for the game burns as bright as ever. How is this possible? Well, as you'll soon find out, Scherer is the ultimate storyteller. And the best way he knows to describe it includes one he recently learned from Clint Eastwood:
"I saw this Clint Eastwood movie, 'The Mule', and I went back after, looked (it up) and I found this interview. Right before he was about to start filming the movie, he was at a golf tournament and Toby Keith was there. He asked (Eastwood) how he's able to direct and act and do everything at 88 years old, and his answer was, 'Don't let the old man in.' And he wrote the song and it plays over the credits; 'Don't let the old man in.' And that's kind of where I'm at. It's how old would you be if you didn't know the day you were born. And that's how I feel."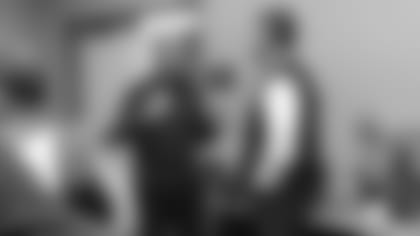 6:29am – Scherer weaves his way through a maze of hallways until he finds the room he's looking for. A religious man, he attends mass several times a week, including whenever he is on the road. Today is no different. He takes his seat in the second row as three priests get ready to conduct the service. There are a dozen other NFL luminaries in attendance, including Minnesota Vikings General Manager Rick Spielman. The service is put on by Catholic Athletes for Christ, which is used by most teams in professional sports looking for Catholic ministry assistance. After the sermon, Spielman gets up and addresses those in attendance about how beneficial the organization has been for those in the NFL. That certainly resonates with Scherer:
"It's the same organization we use when we travel on the road. They do a great job. It's usually about a 20-25 minute service. I usually go Saturday nights, and there will be a group of us there. Philip (Rivers), Gus (Bradley) and, Richard (Smith) are always there. Last year Kyle (Emanuel) and Donnie (Jones) were there. So it's an important part of my life."
7:21am – The service has been over for a good 20 minutes, but Scherer has barely traveled 30 feet from the room. That's because he's been stopped several times by coaches and scouts now roaming the hallways in the convention center. From players he coached while serving as the head coach at the University of Memphis and James Madison University who now work in the NFL, to former coworkers from every stage of his career, it seems everyone wants to chat up the Bolts' tight ends coach:
"It's just a byproduct of years around the game. I've worked hard to try to build relationships and do things the right way. To do things to try to help people. I like to think it's a little bit a reflection of that, not to pat myself on the back. I think a lot of it is being around for going on 45 years. Building those relationships."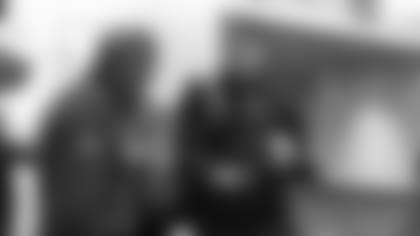 7:27am – Right now, Scherer is huddled up with a group headlined by current Giants offensive coordinator Mike Shula. The two have a relationship going back decades as Shula was an outgoing senior when Scherer was named offensive coordinator for Alabama in 1987. Scherer shares a story about how that year, when they played at Notre Dame and he went to confession the day before the game, the father said, 'God bless you, except between 1:00 and 4:00pm tomorrow.' The group lets out a hearty laugh as they continue to swap stories. Eventually, Lou Holtz's name comes up. The legendary coach was a transformative figure in his life as Scherer played quarterback for him at William & Mary:
"I still YouTube some of his talks and speeches even today. A lot of them (focus on) the same message, which is good because he carries a consistent message. He's such an eloquent speaker and a sought-after speaker ev en in his 80s. It was his first head job when I was there, and he really could sell ice to an Eskimo, as they say. He was very demanding, in a positive way. He was a hard guy to quarterback for though."
7:51am –Scherer swipes his key card giving him access into the State Room inside the Westin. The room is filled with more prominent NFL figures as he makes his way down the breakfast line. He grabs a container of plain yogurt and some blackberries before taking his seat at a table near the back. For nearly an hour, Scherer sets up shop at the table as a seemingly endless parade of people stop by to chat. There's Darrell Bevell, the Detroit Lions' new offensive coordinator who sat out the 2018 season after being let go by the Seattle Seahawks after 11 memorable years. As Rip explains, there are two types of coaches in the NFL, those who have been fired and those who will be. Scherer then tells a funny story about a former player of his who ended up beating him out for a job right after. It's a story every Chargers fan needs to hear:
"It was 2000, and I had just gotten fired as the head coach of Memphis. I talked to Bill Cowher about the tight end job for the Steelers, and he told me, he goes, 'I've talked to one guy, and I've offered him the job. I don't know if he's going to take it because he's just gone from one NFL team to another. He's only been with the other one for a year. I don't know if he'll take it or not.' I was thinking maybe he won't because he doesn't want to move again. And it turns out he took it, and it turns out that guy was Ken Whisenhunt.
"I coached Kenny at Georgia Tech his freshman year. I was the quarterbacks coach, and he was a walk-on from Augusta who was a really good, big athlete. We actually played Notre Dame late in the year, and they were number one in the country. We were 1-8. Early in the game our quarterback got hurt, and we had lost several other quarterbacks over the year. Well, we were trying to redshirt Whiz, but we ended up having to play him. And we knocked Notre Dame out from being number one. They were undefeated, and we tied them, 3-3. It was not a pretty offensive game, but Whiz was the quarterback of record. And then after that season we moved him to tight end, and he wouldn't speak to me for a year!"
8:22am – A half dozen individuals and counting have made their way over to Scherer as he drinks his second cup of coffee that morning. Truth be told, he hates coffee. He vastly prefers hot chocolate, which he drinks during the season at Hoag Performance Center. But with no hot chocolate to be found, he pours countless sugar packets and cream into his cup before taking a sip. The next person to make her way over to Rip is Jenny Vrentas, a highly-regarded writer for Sports Illustrated's MMQB. She introduces herself, and the conversation quickly turns to Penn State. It's Vrentas' alma mater, but also a school near and dear to Scherer's heart – he began his career there back in 1974 as a Graduate Assistant while his youngest son, Ryan, played receiver for the Nittany Lions. And, in true Rip Scherer fashion, he has one hell of a story about how he ended up at the school:
"I was all set to go to Austin Peay State University in Clarksville, Tennessee as a GA. I was getting married that summer. They had flown me in. The head coach had come in and taken my wife out to dinner. They had a job for me lined up. Then I came home for graduation, and I get a phone call the Monday after I'm home, and it's Coach Paterno. And he goes, 'Ripper, I have a graduate assistant spot for you at Penn State.' I said, 'Coach, I already accepted one.' He goes, 'Oh yeah, where?' And I told him, and there was a long pause. Then he said, 'Ripper, this is Penn State.'"
9:24am – Remember how Scherer mentioned he'll periodically watch Lou Holtz videos? Well, back in his room after chatting with his wife on the phone and making some notes for tonight's interviews, he pulls up one of his favorites:
10:15am – Saturday is a big day for tight ends as they'll work out at Lucas Oil Stadium. However, there is still plenty Scherer has to do today with the group set to do the bench press at 4:00 pm and prospect interviews later in the night. Right now, though, Scherer wants to check out the offensive linemen working out. The coach takes a quick shower and changes into a powder blue pullover and dark pair of jeans. He takes a few steps into the convention center before running into an old friend – Keith Butler. The Steelers' current defensive coordinator served as the linebackers coach under Scherer when he was head coach at Memphis. The pair reminisce and catch up over the course of the 20-minute walk to Lucas Oil Stadium. As we'll learn over the course of the day, while Scherer is well-connected in league circles, no team's connections to him compare to those of the Pittsburgh Steelers. After all, their head coach, Mike Tomlin, may likely have never been a coach if not for Scherer, whose cousin also just happens to be Steelers General Manager Kevin Colbert.
10:40am – Scherer takes the elevator up two floors to the lower level suite, walks halfway around the concourse and then walks into a room. It's the Chargers viewing suite. Head Coach Anthony Lynn, General Manager Tom Telesco and Director of College Scouting Kevin Kelly are on their usual perch eyeing the action. In the seats below are several scouts jotting down notes. One of those scouts, James McPherson, vividly recalls one of the greatest moments of Scherer's career. Back in 1996, Peyton Manning and the sixth-ranked Tennessee Volunteers were 26-point favorites over Memphis. The Vols were in contention for a national championship, and never in their history had they lost to the intrastate rivals. However, that was all about to change. Spearheaded by a ridiculous 95-yard kickoff return that was later voted college football's play of the year, Memphis beat Tennessee, 21-17, in one of college football's biggest upsets. It's a moment that Peyton Manning has never been able to overcome as Scherer talks about their interactions over the years:
"We beat Tennessee for the first time ever at the school. The goal posts came down. The whole thing. It was a big deal. The next day I was at mass at the back of church, and at the end of the sermon (the priest) said he was hoarse from the Memphis game last night. And then he said as a matter of fact, Coach Scherer is in the back of the church. So spontaneously, the whole congregation stood up and gave me a standing ovation. I was in tears."
"Years later in 2007 when I was with Cleveland, Derek Anderson made the Pro Bowl and my wife and I flew out to Hawaii. Well, after practice one day I was walking by Peyton, and I'd known Peyton and seen him at different banquets a bit over the years before he became (legendary) Peyton Manning. So now he is big-name Peyton, and I passed Chris Mortenson who was talking to him, and he goes, 'Peyton, do you know Coach Scherer?' And he goes, 'I hate Coach Scherer.' And he laughed 'cause it was that game. And I told him about my email address, which included the score of the game, 21-17, and he goes, 'That's really bad that you did that!' He was laughing.
"Fast forward five years later, and I'm coaching at Colorado and he's in his first year with the Broncos. One day during a break in practice during training I was talking with (then Broncos' head coach) John Fox, who I coached with in Carolina, and Peyton came over and said, 'Do you still have that dadgum email address?!' And I said, 'Yeah, I do.' And he just walked away shaking his head saying, 'That's wrong.'
"And then also, the night before we played Tennessee, my son had a high school playoff game, and he had a good game. After our game, Peyton was doing a press conference – and I just really respect him for this – after our game, my son Scott, who was a big Peyton Manning fan, he was listening to him talk to the media. And then he kind of looked at Scott afterwards, and Scott had a Memphis pullover on. He asked, 'What do you do at Memphis?' He said, 'My dad's the head coach.' And Peyton obviously was watching the sports news the night before and said, 'You had a great game last night.' My son just elevated about three feet off the ground."
12:01pm – It's time to find his cousin. Unfortunately, Colbert is tending to other business and not in the Steelers viewing suite. There are, however, several members of Pittsburgh's front office eager to catch up with "Ripper." Right now, he's chatting with Randy Fichtner and Tom Bradley over by the catering section. Back in 2000, despite being fired, Scherer helped Fichtner land a job at Memphis, going to bat for him on multiple occasions. As for Bradley, Scherer coached him at Penn State back in 1974 and the two were also on the UCLA coaching staff together from 2016-17. Rip is lost in conversation, but finally looks down at his watch, realizing he's running late for lunch with another former colleague.
12:30pm – It's a cold, brisk day in the low 30s as Scherer navigates through the bustling streets. He turns left onto Illinois Street and walks another three minutes before arriving at his destination. He proceeds under a black awning, through the glass doors and takes a seat next to Jedd Fisch. The two worked together at UCLA for one year, Fisch serving as offensive coordinator and quarterbacks coach in 2017 before ending as the interim head coach. Scherer orders a salad with grilled chicken, and he steals bites during pauses in conversation as the two swap stories.
3:30pm – After some brief down time in which he called his wife of nearly 45 years, Michele, and worked out for nearly an hour on the elliptical, Scherer arrives at the bench press early in search of a former pupil of his – Brady Quinn. Scherer served as his QB coach in Cleveland, and the two had hoped to catch up while in Indy. He turns the corner and walks down to where the prospects are giving their press conferences. It's the same area that houses radio row, so Scherer heads toward the SiriusXM booth hoping to find Quinn. Unfortunately, the former QB turned radio analyst raced off to the airport mere minutes earlier to catch his flight.
3:37pm – The tight ends happen to be addressing the media at this moment, and Scherer lets out a chuckle seeing one player in particular at the podium. It's Caleb Wilson, who played for Rip when he was tight ends coach at UCLA. Scherer watches with a proud smile on his face a few feet away…but it's nothing compared to the one Wilson has when his eyes lock in on his former coach. Serendipitously, Wilson is asked a moment later what it would be like to stay in Los Angeles and get to play for the Chargers. The smile returns to his face as he talks about how a certain member of that team's staff coached him at UCLA. Ironically, no one in the room had any idea the man he was talking about was standing right there.
4:06pm – The bench press has begun, and Scherer is mighty impressed. Sitting in row F, he watches intently as each player lifts 225 pounds up and down in front of hundreds of raucous fans. One player catches his eye. Scherer points out how explosive he is with the weight, but he didn't play that physical on tape. He's showing impressive strength now, so Scherer makes a note to go back and do more research on his physicality. Truth be told, however, Scherer isn't paying much attention to the number of reps right now. What he's looking for is the manner in which the prospect competes. Is he giving it his all, even at the end? Does he quit when it gets tough? Is he pushing himself? How much does it mean to him to muster one more rep? These are the qualities Scherer wants to see, and it's something he learned at an early age from his father, who also went by Rip. A legendary high school coach, the elder Scherer is well known by those in the league. And, despite playing for and coaching under some of the biggest names in football history, it was his father that had the single greatest impact on Rip as a coach. So, as Scherer watches the young men in front of him lift the heavy bar up and down, he knows there's far more to glean about the prospect and the person than just his pure strength:
"A lot of this is body language. It's effort. It's how they handle themselves after they're done. Are they satisfied? Are they full of themselves? Do they still want to do more? All that's probably more important than talent. Now, talent's important. You've got to have some level of talent, but there are a lot of guys with great talent that don't make it because they don't compete. I learned that at a young age just because my dad was a coach. Always sitting there watching old film – 16-millimeter film with him – and just talking. I've played for Lou Holtz. I started coaching under Joe Paterno. But my dad had the number one influence on me because I was able to build a foundation at a very young age."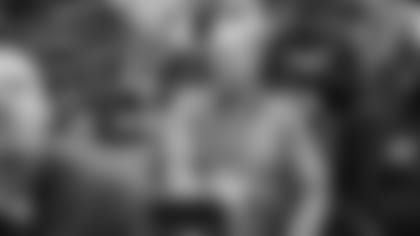 5:06pm – There's one hour to go before Scherer heads over to the Crowne Plaza for a pair of formal interviews with top tight end prospects. His preparations are all complete and have been for quite some time. He knows which plays he wants to test each prospect with on the white board, and he already has cutups of several plays from that prospect's collegiate career. Each player requires a different plan of attack catered to his particular strengths and weaknesses. Right now, Scherer is in his hotel room giving one last look over what he wants to discuss. The interviews last exactly 15 minutes, and he'll have only half that amount of time to go over everything he wants:
"I like to read the scouts' reports. I go through and highlight words and things that stick out that are negative and positive. I like to get a feel for the player. I watch a little bit of tape on each guy before we get there again so I don't go in with too much of a preconceived notion. And then I come back, write them up, and dig back into them."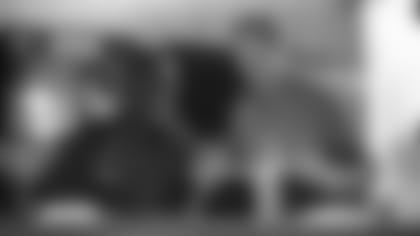 6:10pm – Scherer sits outside the Chargers interview room. He has 20 minutes until showtime. Well, the Pittsburgh Steelers suite is diagonally across from the Chargers', and the door is wide open as they are in a 15-minute break window. Scherer cuts through a crowded lobby to catch up with an old friend – Mike Tomlin. He walks into the room, which is packed to the brim with coaches and scouts, gazing upon a dozen smiling faces giving him a warm greeting. Still, there is one he's looking for in particular. It's the highly regarded head coach who may not have pursued a coaching career in the NFL if not for Scherer:
"I knew Mike from when he was a player at William & Mary. I was the head coach at James Madison. He had a lot of friends from the tidewater Virginia area that were high school friends of his. He would come up on weekends in the offseason. So I got to know him, and then I ran into him at a convention. He had just been at VMI (Virginia Military Institute) in a very entry level position that fall. I met with him and we talked, and he told me he was thinking of going to law school. And I said to him, 'Why don't you come be a GA at Memphis with me. I promise you that you'll be in the NFL one day.' Not that I had anything to do with it; I just knew he was a rising star. So I said, 'I bet you that you'll be in the NFL by the time you're 35.' Now, I didn't mean as the head coach of the Super Bowl champion Steelers! But you could tell he was going to go fast, and he did. He was with me for one year, and then kept climbing the ladder. He went with one of my assistants to UT Martin, and then a month later to Arkansas State. And there he got connected to Keith Butler, who's now actually his defensive coordinator at Pittsburgh."
6:17pm – Of course, there's another member of the Steelers front office Scherer had to go over to. That's General Manager Kevin Colbert. Scherer's aunt (his father's sister) is Colbert's mom, and the pair were close growing up together in Pittsburgh. The two stand talking for a while outside the interview room, and while they touch upon what's going on in the football world, the conversation mainly revolves around family. While football is near and dear to Scherer's heart, it still comes in second when compared to his family:
"Kevin and I always talk about family. He always asks about my mom. My dad's side of the family are all so into football, and all of my aunts and uncles were into football. My uncle played at Pitt. My dad played at Penn State. Kevin lost his mom and dad at a very young age. He was the youngest of five boys, so my dad was kind of a surrogate dad to his family. And my dad was a high school coach, and he and the rest of the family would come to the games. So we've always been relatively close. Not buddy-buddy close because he was so much younger than me, but as he (rose) professionally, he started scouting and coming to games. He would come to games at Memphis and come out to the house, and we grew closer. And obviously being in the NFL, it's helped us stay connected. But we've always talked. And I really respect him for the way he's handled himself as a GM. It was good to talk with him about family and catch up."
6:30pm – Scherer and Area Scout Donovan Beidelschies are comparing notes as a horn blows, leaving a booming echo that lingers for a few seconds. Everyone inside the Crowne Plaza knows exactly what that means. One 15-minute window has ended. Another is set to begin. The door to room 129 swings open and out walks a top quarterback who just finished his meeting with the Bolts. In walks Scherer, taking a spot behind a computer across from a projection screen. To his left are General Manager Tom Telesco, Director of Player Personnel JoJo Wooden, President of Football Operations John Spanos and Beidelschies. A few feet in front of Scherer is Director of College Scouting Kevin Kelly, who leads the first part of each interview. Directly to his right are Head Coach Anthony Lynn, Offensive Coordinator Ken Whisenhunt and National Crosschecker Justin Sheridan. A second later, the door opens up and in walks a tight end prospect most experts have going in the first few rounds of the draft.
6:34pm – Similar to Combine interviews the Chargers have let us witness in the past, Kelly prods the prospect with questions about his background. Where he's from. How he got into football. Why he attended the school he did. Any injury issues they should know about. Scherer is listening to all this while taking notes and getting his cut up ready. Then Kelly says something that stops Scherer in his tracks. His ears perk up as he looks directly at the player. What Kelly uttered is simple – give us a self-scouting report on you. The prospects pauses for a beat before talking about his hands. He stresses how good they are, how he can naturally pluck the ball out of the air and how few drops he's had over his career.
6:37pm – Kevin Kelly turns the floor over to Scherer, who immediately diagrams a play on the screen. It's one the Bolts use quite often, and he tells the prospect all the different parts that go into it. Rip is meticulous as he runs through the different route concepts.
6:39pm – A big catch from the prospect's career is now projected for all to see. Scherer asks the player to recall what play it is. He does. Scherer asks him to name all the different responsibilities for the other positions, and the prospect does so with aplomb. Next up, the tight ends coach wants to know what the player saw in his pre-snap read that led him to throttle his route. He explains he saw the safety rotation and knew it was zone. Scherer than asks what he would have done if it was man. Whisenhunt reads exactly where Scherer is going with his line of questioning, asking the prospect what kind of coverage he was facing. The prospect seems hesitant at first but gathers himself to explain how it was a confusing look and one they didn't see often.
6:41pm – The next play on the screen is the exact opposite from the previous one. Instead of a clear passing situation in the middle of the field, this one is in tight near the goal line. Scherer asks what the run scheme was. The prospect immediately answers inside zone. Scherer then asks the player to critique himself. To his credit, the prospect is brutally honest, calling it a "terrible" block. He says his feet were too narrow and he got crossed up, causing him to lose balance. He also explained that he didn't lock up the player well enough, which also led to poor execution. This is clearly what Scherer wanted to hear. An honest assessment without any excuses. The same is true of the next play, a long catch that while effective, had plenty of holes to dissect. Coach Lynn asks him about ball security. The answer comes quick – "Horrible." Scherer asks what he would do differently, and the prospect says he would be subtler at the top of the route. As he delves into another explanation, two horns blast in the Crowne Plaza. The two-minute warning.
6:43pm – 120 seconds. That's all that's left for the Chargers to interview the prospect, and Scherer wants to put him back on the white board. Basically, he wants him to regurgitate the play that they went through six minutes prior. It's not easy, but the prospect does a decent job. There are some confusing parts as he is inaccurate with the running back's location as well as the depth on one of the routes, but overall, Scherer and company are satisfied with his recall and understanding. The horn blows, and the 15 minutes ends. That is not the end, however, for Scherer, who now transitions to his second interview of the day. He removes any trace of the previous prospect's film and whiteboard work as the Bolts welcome another highly touted prospect into the room.
8:04pm – Scherer's conducted six total formal interviews over the last three days in Indianapolis. However, there are more prospects he'd like to meet with…and that's where the Grand Hall comes in. Every team has a table in the expansive room that was once a train station, serving as the hub of transportation for the Circle City. Now, it's where the informal interviews take place. Players make their way through the room and meet with a handful of teams. Tonight, Scherer has two players he wants to briefly meet with. He eventually finds both men and brief conversations ensue that revolve around all things football, including each prospect's playing days and questions that test both route concepts and football acumen.
9:45pm – Before heading back to the hotel, Scherer swings by Kilroy's to meet up with a former pupil of his, Lou Esposito. He orders smoked chicken wings, a salad and a cold beer to wash it all down with. In between the late dinner and drink, he yuks it up with Esposito, who played for him at Memphis and currently serves as the defensive coordinator at Western Michigan. While the long day has come to an end, Scherer has an even longer one ahead tomorrow when the tight ends take the field. He heads back to his room at the team hotel and quickly gets to sleep, ready for what's to come at Lucas Oil Stadium in the morning.