The Situation:First Quarter (3:32); 2nd-and-11 from SD 46
What You Saw:Dexter McCluster couldn't haul in Philip Rivers' pass as it deflected off his hands into the arms of the Falcons' Deion Jones.  The linebacker caught it at the Atlanta 48 and raced 42 yards up field before being brought down at the Chargers' 10-yard line.
What You Missed:The results could have been disastrous if not for Tyrell Williams.  While the wideout had a memorable game catching the ball, his hustle to race back and bring down Jones when it looked like he'd have a pick- six was just as impactful.  Williams was closer to the Falcons' sideline and up near their 40-yard line when the ball was picked off, but still managed to track Jones down as the last line of defense before he found pay dirt. San Diego's defense then held Atlanta to a field goal, keeping an additional four points off the board which proved pivotal late in the game when the Bolts only needed a field goal of their own to tie it in regulation.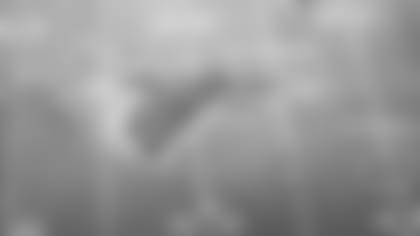 The Situation:Second Quarter (0:34); 2nd-and-10 from ATL 31
What You Saw:After the Chargers cut Atlanta's lead to 10 with 1:06 left in the first half, the defense prevented the Falcons from scoring any more points as Melvin Ingram cut inside and sacked Matt Ryan for a loss of seven.
What You Missed:Ingram lined up just outside Joey Bosa when the ball was snapped.  The Falcons paid so much attention to Bosa with a triple team that they weren't able to switch off in time when Ingram wrapped inside the guard to bring down Ryan.
The Situation:Overtime (12:16); 4th-and-1 from ATL 45
What You Saw:Atlanta decided to roll the dice in overtime, only to see Denzel Perryman knife through the line of scrimmage and drop Devonta Freeman for a loss of one.  It gave the Bolts possession in Falcons' territory, setting up the game winning field goal six plays later.
What You Missed:While Perryman made a fantastic play, his teammates up front did as well.  Damion Square held his ground and was not pushed into the space where the inside linebacker was cutting through.  Meanwhile, Kyle Emanuel helped set the edge with Steve Williams coming around as well, not allowing Freeman any room to even think about bouncing it outside as Perryman dropped him for a loss.