The San Diego Chargers kickoff at Qualcomm Stadium for the first time in 2016 when they host the Arizona Cardinals Friday night at 6:00pm PT.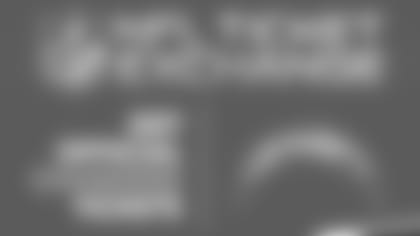 The Bolts dropped the preseason opener 27-10 to the Tennessee Titans, but were encouraged by the play of the first team offense and defense.  Philip Rivers finished 2-for-3 for 64 yards, one touchdown and a 149.3 passer rating.  Melvin Gordon scored San Diego's lone touchdown on a 44-yard catch-and-run.  Meanwhile, the starting defense limited the Titans to only three points.
On Offense for the Chargers
Watch for the Bolts to continue to establish the ground attack against Arizona.  Each running back that carried the ball against the Titans averaged at least 3.8 yards per carry, including Kenneth Farrow (3.8) Melvin Gordon (4.0), Chris Swain (5.5), Branden Oliver (6.3) and Danny Woodhead 9.0.).  The competition at backup QB will also take center stage as Kellen Clemens, Zach Mettenberger and Mike Bercovici look to stake their claim.
On Offense for the Cardinals
Arizona boasts one of the most balanced offenses in the NFL, which is why they were the number one overall unit in 2015. Carson Palmer, Larry Fitzgerald and John Brown spearhead an aerial assault that ranked second while David Johnson and Chris Johnson lead the eighth ranked rushing attack.  
On Defense for the Chargers
Stopping the Cardinals on the ground will be top of mind after the Chargers gave up 288 rushing yards last week to the Titans.  The Bolts have spoken all week about taking better angles and staying in their run fits, but it won't be easy going against Johnson and Johnson.
On Defense for the Cardinals
Patrick Peterson leads a dangerous Arizona secondary that will look to slow down Keenan Allen and company. While linebacker Donald Butler makes his return to the Q, it is unknown if first round pick Robert Nkemdiche will take the field as he recovers from an ankle injury.
This marks the 22nd time the Chargers and Cardinals have met in the preseason. San Diego holds a 12-9 series edge, and has won seven straight dating back to 2004.
In 2015, the Chargers ranked ninth in total offense (371.8 yards per game), fourth in passing (286.9 ypg), 31st in rushing (84.9 ypg) and 26th in points (24.6). The Cardinals ranked first in total offense (408.3 ypg), second in passing (288.5 ypg), eighth in rushing (119.8 ypg) and second in points (31.2)
Defensively, the Bolts ranked 20th in total defense (361.9 ypg), 14th in passing (236.6 ypg), 27th in rushing (125.3 ypg) and 21st in points allowed ().  Arizona ranked  fifth in total defense (321.7 ypg),eighth in passing (230.4 ypg), sixth in rushing (91.2 ypg) and seventh in points allowed (19.6).
For the first time in the Tom Telesco/Mike McCoy era, the Bolts are holding joint practices this week with the Cardinals.  The teams square off at Qualcomm Stadium Tuesday night before another session at Chargers Park on Wednesday.
Defensive tackle Bruce Gaston originally came to the NFL as an undrafted free agent with the Cardinals in 2014. He spent time in 2014 on both their active roster and practice squad.
Wide receiver Rico Richardson spent time with Arizona during the 2016 offseason.
Defensive tackle Tenny Palepoi's brother, Anton, played for Arizona in 2005.
Quarterback Mike Bercovici played collegiately at Arizona State.
Tackle Tyler Johnstone is a native of Chandler, Arizona.
Guard Vi Teofi lo is a native of Phoenix. He attended Moon Valley High School and Arizona State.
Offensive Coordinator Ken Whisenhunt spent the 2007-12 seasons as Arizona's head coach. He won a franchise-record 49 games, and went 4-2 in the postseason including an appearance in Super Bowl XLIII.
Linebackers Coach Bob Babich played two seasons at Mesa (Arizona) Community College.
Tight Ends Coach John McNulty spent four years (2009-12) as an assistant coach in Arizona.
Defensive Backs Coach Ron Milus was a Cardinals assistant in 2003.
Director of Player Personnel JoJo Wooden went to training camp with Arizona in 1993.
Cardinals inside linebacker Donald Butler played for the Chargers from 2011-15.
Safety Tony Jefferson is a native of Chula Vista.
Cardinals Assistant Special Teams and Assistant Tight Ends Coach Steve Heiden played for the Chargers from 1999-01.
Cornerbacks Coach Kevin Ross played in San Diego in 1996 and he was a coach for the Bolts from 2007-08.
CBS (KFMB, Channel 8 in San Diego and KCAL-TV, Channel 9 in Los Angeles and Orange County) – Spero Dedes (play-by-play), Dan Fouts (analyst) and Heather Myers (reporter)
Rock 105.3 FM, XTRA Sports 1360 (San Diego) and AM 570 KLAC (Los Angeles & Orange County) – Josh Lewin (play-by-play), Nick Hardwick (analyst) and Mike Costa (reporter)
Spanish Radio –XHFG 107.3 (San Diego)– Jorge Villanueva (play-by-play) and Tony Alvarez (analyst)
All Chargers radio broadcasts are now being streamed live on the team's official website, www.chargers.com. XTRA Sports 1360 Broadcasts with Josh Lewin (play-by-play) and Nick Hardwick (analyst) will begin two hours before kickoff and continue for 90 minutes of postgame coverage.
Download the Chargers Official Mobile App for live game coverage, stats, and game day news.