Former Chargers great Keith Lincoln passed away Saturday at the age of 80.
Lincoln, a five-time AFL All-Star and two-time All-Pro, was drafted by the Chargers in the second round of the 1961 AFL Draft. The running back spent seven seasons with the team (1961-66, 1968).
His signature performance – a postseason-record 329 yards from scrimmage and two total touchdowns – came in a 51-10 Chargers win over the Boston Patriots in the 1963 AFL Championship game.
Lincoln finished his Chargers career with 4,387 yards from scrimmage and 29 total touchdowns.
"My family and the entire Chargers family are saddened to learn of the passing of Chargers great Keith Lincoln," Controlling Owner and Chairman of the Board Dean Spanos said. "Everyone is aware of Keith's many accomplishments on the field – including being named Most Outstanding Player of the 1963 AFL Championship game – but of all his football successes, he would tell you his biggest achievement was the near 60-year marriage to the love of his life, Bonnie Jo. We will miss Keith's infectious laugh and welcoming smile. Our thoughts and prayers are with the Lincoln family."
"Keith was my roommate," said Hall of Fame wide receiver Lance Alworth. "He and I were pretty close. … I love him, gonna miss him. He was a great player, great teammate and I can't say enough good [things] about him."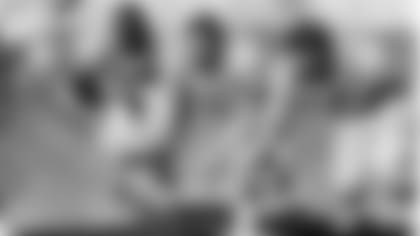 Alworth's memories of Lincoln
Alworth and Lincoln were teammates for six of the running back's seven seasons with the Chargers. One of their career highlights together came in a 41-point blowout win of the Patriots in the 1963 AFC Championship.
Boston had the best rushing defense in the league that season (3.6 yards allowed per rush) and second-best scoring defense behind the Chargers. Alworth described the importance of Lincoln's role entering the team's biggest game of the year.
"The whole game plan was built around him because of the defense that Boston had," Alworth said. "They were keeping us from running wide with Paul Lowe, so we were running right up the middle on them and faking wide – going up the middle –  and it was working, and he had a hell of a day."
Lincoln gashed the Patriots for 206 rushing yards and a touchdown on 13 carries (15.8 yards per carry). He also added seven receptions for 123 yards and a touchdown.
Lowe started all 14 regular-season games at running back that year, but Alworth said Lincoln was too selfless to worry about things like that.
"He would do anything for the team," Alworth said. "It didn't make any difference whether it was good for him or not. I believe that we all did at that time, but he was one of them that really stood out from that standpoint because we had some great athletes and he didn't mind sitting back and taking second place sometimes."
Alworth's Hall of Fame career would have taken off a year earlier had it not been for a field goal competition gone wrong with Lincoln during Alworth's rookie season.
At practice one day in 1962, the two competitors went toe-to-toe, starting with extra points. After each made kick, they'd move back five yards.
"At the 30-yard line he missed," Alworth said of Lincoln. "And so I was getting ready to kick and as I kicked, he pulled the ball on me. I tore my quadriceps and missed the rest of the year."
Alworth recalled the memory with a hearty laugh. After his injury-shortened rookie year, he went on to be an All-Pro for six consecutive seasons.
The early setback also earned him a lifelong friend in Lincoln.
"It brought us even closer," Alworth said. "He was a great man and a great person – a great teammate. The world's gonna miss him."