Sergeant Cynthia Garcia was born on October 3, 1991 in West Covina, California and raised in the city of La Puente. In the summer of 2014, she joined the Marine Corps and participated in the Delayed Entry Program. On September 8, 2014 she departed to Recruit Training at Parris Island, South Carolina. Private First Class Garcia completed recruit training on December 05, 2014 and was assigned to Marine Combat Training, Camp Johnson, N.C. In February 2015, PFC was assigned to Fort Leonard Wood, M.O. to attend Basic Motor Transportation School where she earned the MOS of 3531. After completion, PFC Garcia was sent to Combat Logistics Battalion 13 in Camp Pendleton, CA as her first duty station. In February 2016, Lance Corporal Garcia deployed with the 13th Marine Expeditionary Unit in a West Pacific Tour as a Motor Transportation Operator. LCpl Garcia conducted numerous amounts of security and re-supply convoys all supporting the Air Combat Element and Infantry battalions. Appointed as the Convoy Commander for different missions in Djibouti, Africa and Abu Dhabi, U.A.E being responsible for the re-supply of Ground Combat Elements personnel and different supply classes across the 13th MEU. For her hard work and desire to seek additional responsibilities outside her MOS she was recognized as Marine of the Quarter and earned a Meritorious Mast. On March 17, 2017 Corporal Garcia was hand selected to be part of the 1st MLG G-3 Current Operations section. On November 2018, Corporal Garcia earned the rank of Sergeant and acquired a new billet as the G-3 Platoon Sergeant. On June 2018, Sergeant Garcia graduated Basic Recruiters School and is now the new recruiter for Recruiting Sub Station Montebello.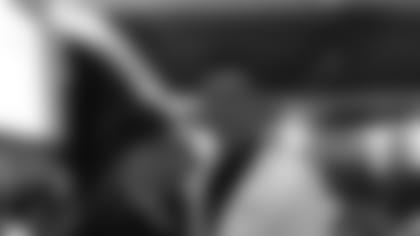 The Military Hero of the Week presented by California Resources Corporation was created to acknowledge the heroic efforts and sacrifices made by our U.S. service members, veterans and their families. Each week of the Regular Season the Los Angeles Chargers will honor a Military Hero. The honored service member will receive four tickets to a Chargers home game where he or she will be recognized on-field.
Do you know a current or retired service member? Click here to nominate them to be our next Military Hero of the Week!