Hospital Corpsmen 3rd Class (HM3) Danielle Fender has served in the Navy since 2015. She completed bootcamp with an advance rate for her intellect and leadership throughout training. In 2016, she was deployed with the West Coast's medical ship USNS Mercy for a Pacific Partnership mission. This mission provided medical support and education to 5 pacific countries; Timur Leste, Philippines, Vietnam, Malaysia, and Indonesia. In 2017, HM3 Fender was stationed at Naval Medical Center San Diego, one of the Navy's largest medical homeports. Currently, she is in the Emergency Department helping provide quality care to more than 78,000 patients annually, to include active duty, veterans, and their families. Serving as a work center representative she is the productive liaison to over 65 physicians and providers.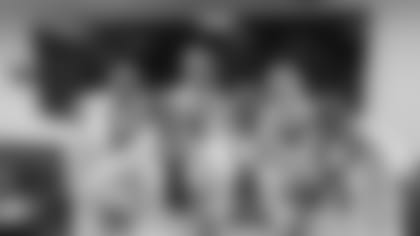 The Military Hero of the Week presented by California Resources Corporation was created to acknowledge the heroic efforts and sacrifices made by our U.S. service members, veterans and their families. Each week of the Regular Season the Los Angeles Chargers will honor a Military Hero. The honored service member will receive four tickets to a Chargers home game where he or she will be recognized on-field.
Do you know a current or retired service member? Click here to nominate them to be our next Military Hero of the Week!