This week the Los Angeles Chargers honor Master Sergeant Rodrigo Roman who has proudly served in the United States Marine Corps for 17 years. Rodrigo enlisted in the Marines directly out of high school in June 2001. He has served multiple deployments to Iraq and Afghanistan. While deployed to Afghanistan in 2008 he served as an Embedded Training Team Adviser to the Afghan National Army. During a firefight in June 2009 he received a gunshot wound to the leg that left him badly injured. He returned from deployment in 2009 and has since covered his scars with tattoos.
Rodrigo is the recipient of a Bronze Star, the Purple Heart, and a Combat Action Ribbon. He is an active duty Marine currently stationed at Camp Pendleton. He is happily married to his wife, Julia, and they have two children, Matt and Cain.
We thank Master Sergeant Rodrigo Roman for his commitment and service to our great nation.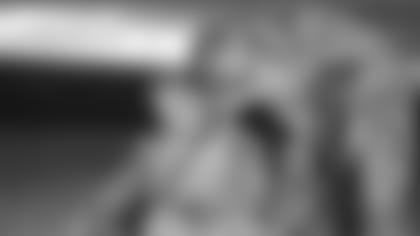 The Military Hero of the Week presented by **California Resources Corporation** was created to acknowledge the heroic efforts and sacrifices made by our U.S. service members, veterans and their families. Each week of the Regular Season the Los Angeles Chargers will honor a Military Hero. The honored service member will receive four tickets to a Chargers home game where he or she will be recognized on-field.
Do you know a current or retired service member? Click here to nominate them to be our next Military Hero of the Week!