Corey Liuget is the Chargers' nominee for the 2018 Walter Payton Man of the Year Award. Presented by Nationwide, the award recognizes a player's excellence both on and off the field.
Liuget earned the nomination for his dedication to participating in various community events and initiatives as well as continuing his working relationship with the American Heart Association (AHA). 
An eight-year veteran, Liuget's season has not come without adversity as he was suspended the first four games of 2018. But instead of wallowing, he took responsibility for his transgression and chose to act. 
"I was blown away to be the team's nominee to be completely honest," Liuget said. "I wasn't expecting the nomination for it, so when it happened, it was definitely a joyful moment because (of) all the work I put in this offseason. It felt very good. For me, the nomination means that I'm a guy who's dedicated to always giving back and making sure that if I can influence to change anyone's life or help them get that little sense of hope to change their life, I'm that guy for them."
Chargers President of Football Operations John Spanos broke the news to Liuget just days after the defensive tackle had season-ending surgery on his quad.
"It was awesome being able to surprise Corey with the exciting news of his nomination, especially when you consider the fact that he was just coming off surgery for a season-ending injury," Spanos mentioned. "This is Corey's eighth season with the team now, and over that time he's been one of our most philanthropically active players. Even when dealing with adversity earlier this year, he remained committed to making a positive impact on the community. We're fortunate to have so many quality Walter Payton Man of the Year candidates on this team, but Corey truly distinguished himself and earned this honor. We could not be more proud of him."
As Spanos attested, Liuget has been one of the most active Chargers in the community from the day he was drafted, but what he accomplished in 2018 is truly extraordinary.
Along with participating in Chargers events like TeamSmile, speaking to high school football players in the Orange County All-Star Classic and donating personally purchased tickets to the team's Community Corner, he also did several things on his own accord. 
A South Florida native, Liuget visited Marjory Stoneman Douglas High School in March, spoke with the football team and created a scholarship fund in memory of Stoneman Douglas Football Coach Aaron Feis. He visited children's hospitals and spoke to kids in juvenile hall about the importance of second chances in life.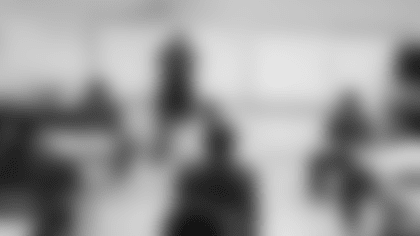 But above all, Liuget's ultimate passion is spreading the message of heart health wellness that stems from his son, Corey Jr., being born with multiple heart defects. Although Corey Jr. is now healthy, Liuget hasn't given up on working with the American Heart Association to help others. He has donated CPR and Heart Health testing kids to local high schools, and is an ambassador for the Los Angeles American Heart Association's Community S.T.E.P.S. Program, which aims to bring law enforcement and families together to create a safe space for dialogue and physical activity.
"I paired up with American Heart Association because there were parents at that time that were going through the same thing as me with my son, but they weren't able to proceed with the procedures and get the surgery done as I was fortunate enough to," Liuget explained. "It kind of broke me down, and I wanted people to know that there are other resources such as the American Heart Association that will give you comfort and help you find the best solution."
Although he is sidelined for the remainder of the 2018 season, Liuget hasn't let his injury stop his drive to give back. He recently held his third-annual Shop with A Charger event this past week, and will continue to leave an indelible mark on the Chargers' community.
"Being the Chargers' nominee speaks to me because every year we have a guy that gets this award, and our team has taken a step up in the community. For me, it's an honor to work for the Spanos Family, and I'm very thankful because they changed my life. I'm an inner-city kid from Miami that they took a chance on and a leap of faith in to do right and represent them."
As for the award, all 32 team winners will be highlighted as finalists and recognized for their important work during the weekend leading up to Super Bowl LIII. The 2018 Walter Payton NFL Man of the Year will be announced during the NFL Honors ceremony at Fox Theatre in Atlanta the night before Super Bowl LIII. NFL Honors will be televised on CBS.
For being a nominee, the NFL Foundation will be making a $50,000 donation to Liuget's charity of his choice. He chose to split his donation between AHA and a non-profit founded in his hometown of Miami called S.W.A.G (Students with a Goal). S.W.A.G.'s mission is to uplift youth by implementing life skills, educating them and motivating them to be the best they can be for their community.
Fans are encouraged to participate in Nationwide's Charity Challenge, a social media campaign by using #WPMOYChallenge Liuget on Twitter between December 6 and January 13. The player whose unique hashtag is used the most will receive an additional $25,000 contribution to their charity of choice, courtesy of Nationwide.