Take a look at what Jaguars Head Coach Doug Pederson, quarterback Trevor Lawrence and others said throughout the week about the Bolts ahead of their Week 3 matchup: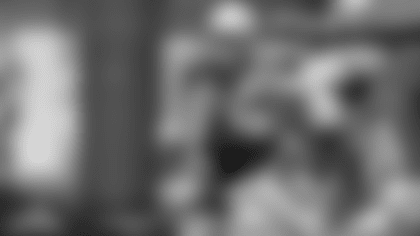 Head Coach Doug Pederson
On the impact of Khalil Mack, Joey Bosa and Derwin James, Jr.:
"Where do you want me to start? A lot of respect for the way these guys play the game of football. They play it fast and ferocious, that's the way it's meant to be played. I appreciate that just watching them on tape. I've gone against all three of these guys over my coaching career. Starting with Khalil and Joey up front, two guys on the edge that can get after the passer on any down. Teams spend a lot of resources trying to block these two, and it's not easy. Our guys have got a challenge. Derwin is a guy who is all over the place. They line him up as an outside rusher, or as a secondary safety position, potentially a nickel guy. He's all over the field. It's a credit to him and his knowledge and understanding of the defense and how Coach Staley wants to use him."
On Mike Williams' skillset:
"Unbelievable talent. He's big and physical, and a lot of the 50/50 contested balls are going to go his way because he can elevate and get that football. That's what you want from a big, tall receiver like that. It gives your quarterback some confidence — a comfort zone there — where you know you can put it in the area and he's going to find it. He's playing extremely well and playing fast. I'll tell you this, our work is cut out for us."
On quarterback Chase Daniel:
"Chase has been on a couple of teams here, and I'm familiar with Chase, obviously I coached him in Kansas City and Philadelphia. A lot of respect for him, he's been a solid backup wherever he's been. And listen, the times he's come in, he's played well in times of need. I know Chase is going to be prepared whether he plays or not, which means we have to be prepared for him."
On the Chargers improved run defense:
"It's a stingy group. They don't give up a lot. They'll put five bigs on the field, they'll play their nickel 4-2 and slide the front and put one of their 'backers on the end of the line of scrimmage. They'll put Derwin down. Multiple personnel groups, multiple fronts. That's hard on an offense because if you are trying to establish the run, you might get an even front on one down and might get five bigs on the next. It's a matter of executing your assignment and executing your job. But they do a great job of it and it's hard to run against them guys."
Quarterback Trevor Lawrence
On what kind of player safety Derwin James, Jr. is:
"First of all, he's a great player. Just the way he flies around, how many different things that he does for their team. I mean he's a great pass rusher you look at a safety doing all of that. Then just his cover skills, just his football IQ he just sees the play before it happens, I think he does a great job. Just having a guy like that and they run so many different personnel [groups] and move him all over the place. You've got to be really aware of him and a few other players on their defense, so they've got some great players."
One what threat the Chargers defense poses:
"They just have a bunch of great players really at every position. You look at those two guys on the edges they're just playmakers, they're great. I mean Joey [Bosa] and Khalil [Mack], both those guys are great players. You've got to be able to manage that, you gotta have a plan. Obviously they are going to make plays, that's just the type of players they are, but we gotta manage that and figure out a way to best attack those guys and the whole defense.
Then you got Derwin, [cornerback] J.C. Jackson, [cornerback] Asante Samuel [Jr.], you got their linebackers Kenneth Murray [Jr.], Kyle Van Noy, a bunch of those guys. Their nickel [cornerback] is a great player, [Bryce] Callahan. I mean really just talented all over the board."
Outside Linebacker Josh Allen
On quarterback Justin Herbert:
"He's now considered one of the best young quarterbacks in the whole league. I mean, I don't know what they consider young, I guess first three years. But he hasn't looked like a young quarterback. He's put his team in a lot of situations to win so much respect for him and hopefully he continues to grow and does what he needs to do, after this week, and we get it going."
On how Herbert is different than the other QBs they've faced:
"Much respect for him. As a scheme offense, they set him up for success on every level. He has guys on the outside, Mike Williams and Keenan Allen that make big plays, who are matchup problems for some DBs. That makes the rush even more detailed, even more 'We have to get to him'. So that's the challenge that we're looking forward to is just winning one-on-ones where we get an opportunity to and make sure he feels us as much as we can if we don't get the sack because he has a quick trigger or quick release. He does a good job on reading out personnel from one side to another, so for us, it's those opportunities we want to live off of and get home."
On how Ekeler is different than Jonathan Taylor:
"He's another good back. Someone that can sneak away at any moment. He has good hands out of the backfield, he's explosive, he's a smaller guy but he gets under his pads pretty well so it's another challenge that we have to do, stop the run, to rush the passer. We're up for that challenge as well, every week, our main goal is to dominate the line of scrimmage and with, it's to stop the run."
On what makes Joey Bosa and Khalil Mack elite:
"Khalil was one of the best players in the National Football League at one point and Joey was damn near right next to him. When you have those two types of caliber players on one team, it makes them a threat. We're up for the challenge. When you have two guys like that, everybody has to be sounded football players, it's jus where's that weak point at. For our offense, I think we do a good job on finding those weaknesses and attacking those weaknesses so I'm excited to see how our offense plays against this team, but you know, not only is it a challenge for them, I feel like as a defense we can take this as a challenge. They have one of the defenses by names, so for us, it's to out play them. That's a challenge by itself and that's something that we can get work on right now to prepare for Sunday. Like I said, I'm up for the challenge, we all are. We're ready to play Sunday."
Offensive Coordinator Press Taylor
On what they are expecting from the Chargers pass rush:
"Really, when you come up against two great edge players [Chargers OLB Joey Bosa and Chargers OLB Khalil Mack] like this or really any defensive line or significant defensive player, it's kind of a situation where it's going to take everybody. That's going to take [everything] from the way we install the plan to the way we execute the plan to the tight ends helping, the receivers helping, the running backs helping, the tackles obviously winning their matchups, and then the quarterback being on time, in rhythm. So, all of it kind of goes together to try to contain dynamic edge players like they have."
On what he has seen from the Chargers defense so far this season:
"There's a lot of variety in the coverages they play, the presentation they present to the defense up until the ball's snapped, and then the way things kind of manifest themselves based on what you're running really. It evolves as the down goes on a lot of times, so it's just kind of tough to get a beat on what they're doing, who's the force player, who's the support player, where's he coming from. They've done a good job of it. They make the game difficult as an offense to identify things and communicate and that's one of the biggest tests. We have to get 11 guys on the same page to execute whatever assignment is called at the time."
On Chargers S Derwin James, Jr.'s position:
"Defense. You just say defense. He could line up as an edge player, he could be a linebacker, a safety, a nickel, a corner. He can do everything. He's kind of one of those chess pieces that they have. You're seeing more and more guys like that come into the league that have that versatility and that's something as an offensive coach we want with our guys. We want guys that can line up all over the field and do a lot of different things. That's always a valuable piece to have regardless if you're offense or defense".
Defensive Coordinator Mike Caldwell
On challenge of Chargers offense:
"Big challenge because outside they're big, nice tight end, running back, offensive line. Then they got a signal caller that's controlling and running everything. It'll be a big challenge for us."
On backup quarterback Chase Daniel:
"Anytime you're an NFL quarterback with the weapons that they have, you're going to have a chance to be successful. He's made all the throws in his career; he's seen all the reads. If he has to play, I'm more than sure he's capable of being able to go out there and be successful for them. We just have to understand that and have our game plan to go out there, execute, and stop it."
Wide Receiver Zay Jones
On what stands out about the Chargers defense:
"I think they're a well-rounded team. Great athletes up front as we know. I won't harp on it, I'm pretty sure everybody knows who they have. The secondary is young, but still very good. They acquired J.C. Jackson; I think he's a phenomenal player. Derwin James, I mean his game speaks for himself. The back end is just a well-rounded group. From the looks of it, they play very well together. It's going to be a hard matchup. They're a really good football team. Coached well also."
Bolt Up for 2022!
Secure your 2022 Season Ticket Memberships today! Click here to learn more.