Chargers.com is chatting with every Bolts assistant coach this offseason. Up next? Tom Arth.
Tom, you were hired during the 2022 offseason. How was Year 1 with the Bolts?
"It was great. The opportunity that Brandon [Staley] presented to me and my family in a time of transition really meant a lot to me on so many levels. There's the personal side of it with someone being there for you in tough times. And then there's the chance to certainly live out a dream. Growing up, all I thought about was playing in the NFL. I never knew I wanted to be a coach and didn't know I wanted to coach until I started coaching. But I knew where I always wanted to be, and that was the NFL. I was fortunate in my young coaching career that I became a head coach so early so I never got to pursue that. But I had a few opportunities to explore in the NFL and my relationship with Brandon and Tom Telesco — people that I know so well and believe wholeheartedly in — I feel this organization is on the verge of accomplishing some really special things."
Your title is Passing Game Specialist. What's the gist of what your role entails?
"Really just being a support element for all of our coaches, particularly on the offensive side of the ball. Certainly anywhere that I can lend my experience or contribute in any way is what I try to do. I've been really fortunate to work in the quarterback room and get a chance to learn from our coaches. It's such a great group of guys, with Justin [Herbert] and Easton [Stick]. Justin just has so much potential and has already had so much success, so I've learned how you coach the elite of the elite and it's just been really beneficial for me. I've just enjoyed having an opportunity to learn and grow. For the last 10 years I was leading and out in front [as a head coach], so I've loved getting a chance to be more in the background and absorb and serve and help any way I can."
You and Kellen Moore are both former NFL quarterbacks. What have you learned from him in recent months and what are your conversations like?
"It's been awesome. Kellen has had a really great approach coming in. The Chargers have had a lot of success on offense under Justin, so Kellen has done a really good job of all the things that have been so successful here and really trying to integrate that into what his philosophy is. He does bring a different philosophy and a different approach but I think it's going to be really good for us. I feel he's gotten our offense off to a really great start. He puts our concepts into families and has just helped everybody come together and learn the system together. The other side that he's spent just as much time on is building relationships and camaraderie and the connection we all have together. When you get everyone working in the same direction for the same goal, great things can happen."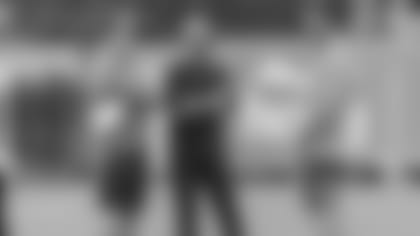 That approach sounds like one of a former quarterback. You're also a former quarterback, too. How does your experience there affect how you see and approach the game?
"I think from a mindset standpoint, you have to be a really competitive person. You have to be someone who is willing to serve and bring the best out of people around you. But you also have to have a big-picture outlook on the game itself and understand what every situation is and understand what we're really trying to get accomplished with each play. Those are some of the things I enjoy most about the game. I do think playing quarterback helped me become a good coach and there's certainly a lot that I've learned coaching that I wish I knew when I was playing. But with the way Brandon has created the culture here, we all have the opportunity to learn the game from each other and become the best we can be. In turn, that helps our players become the best that they can be."
You spent two seasons in NFL Europe back in 2004 (Scottish Claymores) and 2005 (Hamburg Sea Devils). What was that experience like?
"It was awesome. I really enjoyed my time there both personally and professionally. The opportunity to go over there and continue to work on your game, to practice and to play for an extra four months, it really helped me as a player. I had some great coaches but then you also meet these players from all over the country, from different teams in the NFL that were allocated there and you build some pretty special relationships. Then you go back to your team and try to use that development.
"It was a great time. My time in Scotland was probably my favorite. One of my best friends was able to come over and spend a month with us. He was a college golfer so we got to go and play Turnberry and St. Andrews and Kingsbarns. It was a once-in-a-lifetime thing so it was just really cool."
You were with the Colts organization for three years and overlapped with Tom Telesco there. Did you know him before you got to Indianapolis?
"Tom is also a John Carroll grad, but that's really where we developed a relationship. He was the one that called me after the draft and told me they wanted to bring me in and sign me as a free agent. That's a moment I will always cherish and will never forget that. It was special then and it's special now being able to work here with him."
Anything you learned from being around Peyton Manning?
"Such an amazing experience, a unique experience. Peyton is one of the all-time greats to ever play the game, let alone the quarterback position. And I don't know if anyone has ever played the quarterback position as well as he did. Truly like what it takes, Peyton embodies every single one of those things on a daily basis. He kind of brought me in and showed me how he watches tape so that I could help him and his preparation … if I had known I wanted to coach at that point it would have made it that much sweeter. But I truly feel I just learned so much about the game with his approach and mindset. It's just so rare."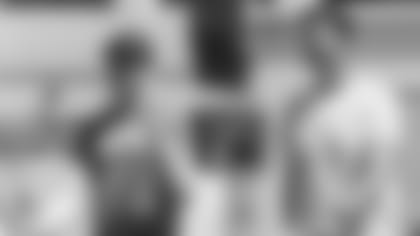 You work with a star quarterback here in Justin Herbert. I'm not asking you to compare the two, but any similarities with Justin and Peyton?
"I think there are. They're both big guys, 6-foot-6 and string quarterbacks. I think Justin is more athletic but Peyton was more athletic than people give him credit for, especially early in his career. Justin is rare with that combination in size, speed and athleticism. But where I really see similarities is how they operate in the pocket. Peyton had this ability to play in the pocket when things got tight and things got around his feet, keep his eyes downfield and navigate the pocket … I see that in Justin's game. It's much less common than in today's NFL than it was 20 years ago. You see it less today but it does remind me of Peyton. Justin has a rocket arm, as strong an arm as I've ever seen. Both are just really smart players and people. Peyton is a good guy to have some traits in common with."
You were a head coach in college for nine years at John Carroll, UT-Chattanooga and Akron. What did you learn about yourself being in those roles?
"I learned a lot, but really what is most important in this profession and that's making an impact on people's lives who you have the opportunity to coach. Just how much they're counting on you and how much their families are counting on you. You have to be at your best every single day. It's such an incredible opportunity to have that responsibility and know that every single day when you wake up, that there are hundreds of people counting in you to do your job as well as you can possibly do it. That was something I really cherished and enjoyed. You go through it — I certainly had a lot of highs and certainly had some lows — but what I learned is that I'm going to be the same guy no matter what the situation and circumstances are. I'm going to treat people the same way, coach them the same way and that's something I'm proud of. I'm not going to change if we win or lose or depending on how our season is going. Just be consistent every day for the people I have the opportunity to coach and lead. I learned a lot about the game and how to handle players, but mainly it's how to be at your best at all times."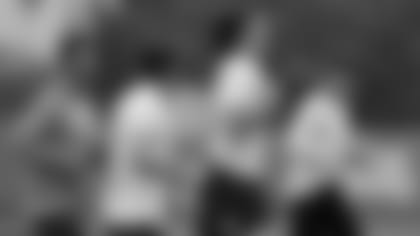 You are from Cleveland, which is about 35 miles from Brandon Staley's hometown. You two are only two years apart, did you know him growing up?
"I didn't know him when we were growing up. I didn't meet him until just after I became the head coach at John Carroll. We had hired a defensive coordinator but two or three practices in, he got hired by the New England Patriots. I had actually reached out to Jonathan Gannon, the current head coach of the Cardinals, who I went to high school with. I asked if he had interest in the job but he wanted to stay in the NFL, but he told me to call Brandon. He said, 'He's a rock star and it will be a no-brainer.' We bring Brandon in for an interview and I knew instantaneously that this was our guy. That's really where our relationship started. It was really special and I learned so much from Brandon. We really built a program together and did some special things at John Carroll."
Did you know back then he had head-coaching material?
"Without question. I knew what his goals were. You could have asked me the day we hired him, 'Do you think this guy will coach in the NFL someday? Will he be a head coach in the NFL someday?' I probably would have said yes, and that it was going to happen sooner than we think. A few years later, there he was. He's one of those rare people who has all the traits. It's how he leads and deals with people and how he communicates and his knowledge and expertise and passion. He's got it all."
A bit of a curveball here, but what is your biggest accomplishment in life so far?
"Boy … in life? I would have to say my family. My wife and I have been married 19 years in July and we've been together nearly 30 years, since we were juniors in high school. We have five kids together and I think just seeing how our family is grown and the type of kids we've raised, that is by far my greatest accomplishment. It's what I'm most proud of and they are what I'm most proud of.
"If you look at football, my dream was always to play in the NFL and I had that opportunity. Now I get a chance to coach in the NFL. There's all these great things, coaching at John Carroll and beating Mount Union [to end its 112-game conference win streak and snap a 22-year conference title run]. But really what always meant the most to me was the first time I ever started at quarterback at Saint Ignatius High School. Outside of my family, that was the biggest moment in my life and a dream since I was 5 years old. If you don't know about Saint Ignatius and who they were at the time and what it meant to be the starting quarterback there, you probably don't understand that. But it was everything to me at that point in my life. And it took until the fifth game my senior year to do that. I was 11th out of 13 quarterbacks my freshman year and most of those guys quit. Next thing you know, there's only a couple left. About midway through the season, I got to go start at quarterback. That was such a big moment in my life. I remember running out onto the field knowing I was going to realize a lifelong dream at that point. That was a big one for me."
Bolt Up!
Secure your 2023 Season Ticket Memberships today! Click here to learn more.