Chargers.com is chatting with every Bolts assistant coach this offseason. Up first? Outside linebackers coach Giff Smith.
Giff, thanks for the time. How's your offseason been? What do you do to re-charge the batteries?
"Family time is big. I try to spend as much time as I can with my wife and kids because I know this job takes a lot of time away from them. I always try to be the best husband and father I can, and I want my kids to know that you have to get up and go to work and earn a living. But when the offseason is here, just spending time with them."
I have to ask … did you go to WrestleMania in April at SoFi Stadium?
"I did. I saw … I guess I should call him Roman Reigns. But yes, we went down there and the atmosphere was just incredible. I had never been to WrestleMania before and it was great. Took the family and just had a great time.
Editor's Note: Smith coached Leati Joseph "Joe" Anoaʻi when the two were at Georgia Tech, with Anoaʻi earning First-Team All-ACC honors in 2006. He's now known as WWE superstar Roman Reigns.
Is it wild to you to see him as such a superstar now?
"It is, but Joe still so grounded and a great person. A great husband and father. I love how his career has taken off. And he is a superstar. With the tribal stuff and all that, he's just very well-known. I couldn't ask for anything more for him. He deserves it."
Football-wise, how do you look at your group at OLB?
"I think the biggest thing right now is that both Khalil and Joey are healthy together. They didn't get that last year, whether it was the offseason or in the season. Having both those guys heathy together is going to be great."
How do you approach the offseason in terms of balancing looking at last year and looking ahead?
"I wouldn't say it's a balanced as much as it's intertwined. You always look back at the year before and how it ended and ask how we can be better. But you're also looking at college guys and seeing who can come in and help you."
What stood out about Tuli Tuipulotu when evaluating him?
"Well first of all, his production. He's still young, he's 20 years old, doesn't turn 21 until September. But he's a pure football player, very smart. I liked him on tape, he was a little bit of a hard read knowing exactly what you wanted to do with him. But then when he came down for our local pro day, he didn't work out which wasn't that big of a deal, but we got to spend time together and his football knowledge and team spirit was tremendous. And then, his body looked a little different in person, made me feel more comfortable with him as an edge guy.
We did another Zoom with him before the draft and he was definitely a guy we had pinpointed we wanted to make a Charger. I just think to be able to go into this room, be a sponge, absorb Joey and Khalil and all the guys' knowledge. I think he can do a lot of things that we want to do with that position, especially on third down like we did last year. Great family, great kid and really, really good football player."
Does he come in with a solid baseline and not much of a project player?
"No, I think they do a great job at [USC] since [USC Head Coach] Lincoln [Riley] has gone there and the previous staff. He's been well-coached. There's some little things in the league that are a little bit different, but he'll pick up on it quickly and I think he'll be a productive player that's going to be a rotational guy that's going to help us win a lot of games this year."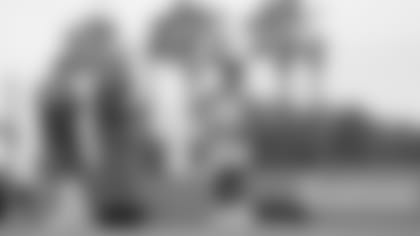 What was your first year with Khalil like?
"Well, Khalil is the easiest superstar I've ever coached. First of all, he's a tremendous man but you can coach him hard, he's a hard worker. He didn't have the year that he probably thought he was going to have last year and we spoke about this at the end of the season. He still had 8.5 sacks and played really well with Joey being out and all the attention is on him. And he had no offseason lifting, running, coming off the foot [injury]. I think the fans will be really excited with what they see out of 52 this year."
It may be underrated, but how big is having a full offseason?
"Yeah, you have to have it. Everybody is in unbelievable shape, the training, the nutrition, the stretching, the core strength has all become a premium now. When you lose that time you're catching up, more so when you get older in the profession you need that. I mean, he's in Pilates, he's a worker. I'm really excited to see him this year. I think we're going to see the real Khalil this year."
Joey is here for OTAs and said he feels great. How tough was last year on him?
"It was one of those where he tore the groin off the bone and then went in, the other side was about to pop, so he had both of them done which is crazy that he was able to make it back. I think that shows what kind of competitor he is. I was talking to Joey ... this is his first offseason where he's not having any pain. He says he feels like he did when he came into the league. You're sitting as good as you can with two unbelievable players that can be gold jacket guys that are finally healthy, so we're looking forward to it."
What does a healthy Joey Bosa look like?
"When Joey's healthy, he's a dominant three-down player. I think what people will see is a dominant three-down player that not only dominates in the 1-on-1 pass rush, we know how gifted Joey is in that, but what he does in the run game, too. With those two out there, I think you'll see the run game [defense] really shoot up the charts."
How do you see Chris Rumph going into Year 3?
"Chris is a guy that we've talked about this is the year. He needs to make his stride this year and he's really put in [work]. He's a solid 245 [pounds], feels good, looks good out there running right now. Chris has got to finish plays, he missed too many sacks, he should've walked out of the year easily with five or six sacks. Nothing different other than just finishing the play. I really think Chris is good enough to be a starter in this league and it's been a slow process for him a little bit, but he's been able to learn from guys. I'll tell you what Chris is, he's a very smart player and he has natural leadership ability. He's worked on his strength and hand strength to finish plays, once he has that I think you're going to see a heck of a player. I really like where he's progressing to."
How important is the edge position in Brandon Staley's defense?
"I think he would tell you that it's definitely the premium spot that you have. I don't necessarily think it's the hardest position mentally, but I think it's the hardest position physically. You've got to be able to dominate run game versus the tight end or offensive tackle, so you're playing gap and a half off of both of those play-in and play-out. Third down or play-action pass, you've got to win the 1-on-1, you've got to be able to run with receivers, you've got to be able to jam guys. Physically, it's a challenging deal and anytime you're in a 3-4 defense, edge defense. Your great 3-4 teams even from way back when [Bill] Parcells was coordinating, they've to be dominant players like he had with [Carl] Banks and Lawrence Taylor. Brandon had in Chicago with [Leonard] Floyd and Khalil. Brandon had LA with Leonard and [Samson Ebukam]. When he was in Denver he had Von Miller and Bradley Chubb. They've got to be elite players and give credit to Brandon and Tom Telesco bringing these guys in. We have the players and we need to dominate."
Last one, what mentality do you wants from your group in 2023?
"I think the mentality of our group is dominating every play. I don't want what we call "ride the rollercoaster". Can't be up and down right there, we want to steadily gain right there. When we're put in run or pass with one-on-one block, we should dominate. That's non-negotiable in there,"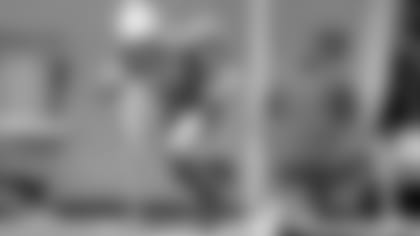 Bolt Up for 2023!
Secure your 2023 Season Ticket Memberships today! Click here to learn more.