Chargers.com is chatting with every Bolts assistant coach this offseason. Up next? Chandler Whitmer.
Chandler, thank you for your time. For fans who don't know, what's the job of the Offensive Quality Control coach?
"It probably would be easier to list what I don't do. Just kind of a little bit of everything, whatever is needed. Anywhere from cleaning up scripts or drawing passes or finding certain plays, assisting Kellen [Moore] in organizing things all the way to helping the QBs and coaching those guys up. There's a lot of things that are involved in it, just trying to help wherever I can. No one specific thing for sure, so many different things, I could go through a list but just a lot of stuff."
What is your role during the season?
"Most of the season it's spent breaking down the film. I'll be watching the defense that we're playing and just kind of organizing. Trying to clip everything together whatever it may be, their system of calls and putting that together like, "Okay, when we're in this formation, this is what they're doing, these are the fronts, coverages, etc.' Kind of organizing that all out so that when we come in here and say. 'What to we like against all their stuff?' and see 'Okay, these are some of the things that can pop up,' it's all organized out."
I heard you played against a Brandon Staley-led defense in junior college? Let's hear that story.
"Yeah, so my playing days, I kind of had a pretty long path. My freshman year I went to the University of Illinois and redshirted there, played quarterback. I sat behind a guy names Nate Scheelhaase and that was before the transfer portal, so I couldn't just get up and leave and go wherever I wanted. I had already used my redshirt, I decided I was going to go the JuCo route so I gave up my scholarship, went to JuCo to try and get re-recruited that was I didn't have to sit out a year. I ended up going to Butler Community College in Kansas and that was in 2011 when Brandon was the defensive coordinator at Hutchinson Community College. Both were in the same conference ... played them twice, beat them twice. I give him a hard time, not too many people know about it. But anyways, it's kind of funny how the football world works, it's a small network. Pretty cool story but then finished my career at UConn, played my last three years there."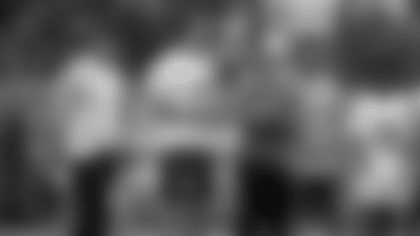 What was the experience at UConn like?
"It was a good experience and some big-time games, but up-and-down career. Would've liked to been in more bowl games, win more games, all that deal but good experience. Some lifelong friends, learned a lot of ball. Another connection is [former quarterbacks coach] Shane Day, he was my quarterbacks coach at UConn. But it was a good deal."
You finished at UConn in 2015, but what were your next steps in the game?
"In 2015 actually, I had a cup of coffee with the Eagles, went to rookie minicamp there and that's where I met [Ohio State Head Coach] Ryan Day. Ryan Day was the quarterbacks coach at the time. Fast forward, once I got done with football in 2015, I was trying to get away from it. I had done it my whole life so I was like, 'Let me see what else is out there'. Quickly realized that there's nothing else I love and enjoy as much. Got into it about two years later, first job was at Yale and that was in 2018, then Ryan called and he had an opportunity as a [Graduate Assistant] spot at Ohio State and went there in 2019."
What did working at programs like Ohio State and Clemson teach you?
"A lot. I think the structure and organization of it, just how a well-oiled machine works, what's all necessary, what all goes in to a successful program, the amount of people that it takes and then just the high level of competition. You're competing at the highest level against the best, with the best guys on your team. It's just high standards and being able to see how that's operated and how people work in those environments was probably the biggest thing. Just for me personally as a coach, it was me learning that side of it, all the things you have to do as a coach to be self-sufficient whether it be just pulling up film and stuff like that, I had never done it. I know football, I know how you're supposed to take a drop, how to throw it, what you're looking at as a quarterback but this side I didn't know. That's kind of where I got my feet wet in that area. Obviously around some other young coaches that were successful and had done it and grew up wanting to do it, so that was cool to be around those high level people as well."
So you got to experience some big-time College Football Playoff games?
"We played in the playoffs in 2019, so I guess I'm kind of bad luck. We went in '19 and played Clemson in the Fiesta Bowl, we lost to Clemson then they ended up losing to LSU that year. Then the next year when I was at Clemson, we lost to Ohio State in the playoffs. Then they ended up losing to Alabama that year."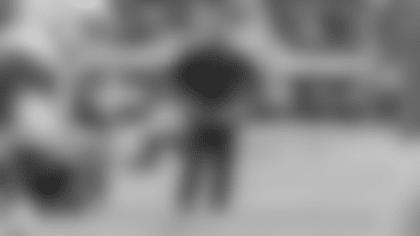 How did working with talented college quarterbacks like Justin Fields and Trevor Lawrence help you as you grow in coaching?
"It was actually pretty cool because I knew those guys from a young age being from Georgia. We were all from Georgia and so I had a relationship with those guys going back to like their freshman high school days. Their private quarterback coach was also my quarterback coaching growing up in Georgia and so once I got done playing, that's kind of how I got introduced to coaching was going and spending some time with those guys, sharing my experiences, teaching them about what it takes for them to get to where they want to be. Both of them were really talented. Trevor was kind of the golden boy from the jump. But it was cool to see their whole career and development from that age all the way to the time they were getting ready for the draft. Obviously being around two talented guys makes our job as coaches easier, but still kind of cool to see how they work and their process. You're really learning from them at the end of day. You're sharing tidbits but you're also learning from them, seeing what they like because I think the quarterback position is pretty unique, and the fact you can't put them all in a box. Seeing those guys and saying, 'That works for them, but it doesn't work for this guy'. Those two guys were both really successful in unique styles in a way that they operated so it was cool to see."
What do you appreciate about Justin Herbert and the chance to work with him on a daily basis?
"I got a lot of respect for him. I love him. He's obviously super talented but even beyond that, I don't think people see the amount of work he puts in. He's a perfectionist, he's really detailed in his craft and what he does. He takes a lot of pride in being who he is. You see the off-the-field nice guy that he is, but he's a relentless competitor when it comes to on the field. He goes into dark mode and he's a killer. I think he loves to just play football, compete and win. There is no prima donna in him at all, and I think that's really cool to see. He takes care of the guys, he's one of the guys. I think that's another cool thing about him is in that same lane, he doesn't believe he's bigger than anybody else on the team and I think the guys know that, respect it and you can kind of see with the way they interact with him."
You mentioned earlier about how not all quarterbacks fit in the same box, where do you view the progression he still has in front of him?
"I think if you built somebody in a lab it would be him on paper for sure, but he'll tell you he still has room to grow and continue to get better and I think we've seen that these last couple of years already. I think he can just continue to take it to the next level mentally. He's a super smart guy and I think he wants to continue to learn how to have that ability on the field to make the decisions that we're looking for as coaches and put him in that spot so that he can execute it."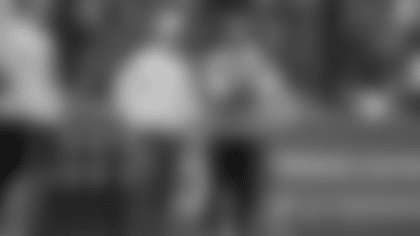 Not a lot of people know about Easton Stick because he hasn't played much, but what do you guys see from him?
"I'm a little biased because I spend a lot of time with him. I love him to death, I think he's obviously a phenomenal guy but super talented, athletic, smart, he's phenomenal in the room with Justin and the rest of the guys. He's as good as it gets when it comes to what you're looking for in that position. I think this will be a big year for him to kind of take that next step and being that number two guy. Obviously we've had Chase [Daniel] the last two years, a veteran presence that's been in that role, but now it's Easton's turn to take that next jump. I know he's been working hard at it and I'm excited to see how this preseason goes. I think he'll be ready as soon as his number is called if it is."
You mentioned earlier part of your job is helping Kellen and what he needs, what's it been like working with him these past couple of months? Did you know him before?
"I did not. I knew people that know him through connections in the football world, but everybody spoke really highly of him. Obviously, he's really smart, played the position so he understands it from a 10,000-foot view as well. He's extremely detailed and organized, he's a clear communicator which is huge and I think the best thing about him is he's open. He's not stuck in it's got to be this way or that way. When he decides that's what he wants it to be he is, but I think he's been awesome in coming in here and taking what we've done well, taking what Dallas well and even blending what we wanted to do from what we've studied outside here and Dallas and making it best fit what we do. I think that will continue to evolve as we go throughout the season. I think that's something he'll have and continue to use and for us to be successful throughout the year. I think it's been great and I've really enjoyed it so far. Looking forward to camp and the season."
Speaking of that, what gets you excited thinking about what the offense can be this season?
"Yeah, I mean you're always optimistic, but I think you also have to be present in the moment in this business because it changes so quickly. Situationally, injuries, health, all those things that can factor into the success of the organization and the offense specifically. So yeah, you're excited and optimistic because you know what we have, but also I think the most exciting thing is the opportunity and as it comes and we play it out and see how it goes, take it one day at a time and try not to get too far ahead of yourself. I know it's a cliché answer but it's real and just how you have to operate."
Bolt Up!
Secure your 2023 Season Ticket Memberships today! Click here to learn more.