Chargers.com is chatting with every Bolts assistant coach this offseason. Up next? Brendan Nugent.
Always appreciate your time, 'Nuge.' You've got four kids … how's dad life?
"Great! It keeps me young, keeps my honest. I come from a bigger family, I'm the oldest of four brothers. I've got girl-boy-girl-boy. But they keep me young. You have a bad day or a bad loss … you go home and they don't care. I love it. My oldest is 10 and in the fall they will all be in school full time."
We're a week or so away from camp. Do you have to flip a switch at all or how do you get into that mindset?
"It's a hard thing to do but I've gotten better at in in these 20-something years of doing this. It used to take me a long time in the off time to relax, and then by the time I'd get to that we'd be starting back up again. It always felt like a short break. I've gotten better now, especially after having kids, that it's all about them. Maybe a week or two before we come back, the itch gets here and it's time to go. I enjoy the family time and then it's time to go to work."
What do you love about being an O-line coach?
"Oh, the room. The position. It's one of the few, and might be the only one, where we have our guys and we handle our business. We solve our own problems. We have issues that are different from a lot of other positions but we handle them and solve them and it's a lot more, maybe teamwork. Our five works as one, so the more dialogue you have in meeting rooms and what they're expecting … that's what I love about it. There's five of us on the field at a time but we have to work collectively to solve problems and be on the same page."
How difficult is it to find that groove for a O-line unit?
"It probably sounds harder than it is. These guys have been playing it and doing it for a long time. The better O-lines I've been around are the ones that communicate in the room. We want them talking and talking to each other. Maybe it's, 'Hey, this is what I'm thinking when I hit this block.' We work the issues out together. Now, coaches can't be on the field so our job is to five them a toolbox so they can solve the problems. We have to get them the tools and they pick which ones to use to solve it."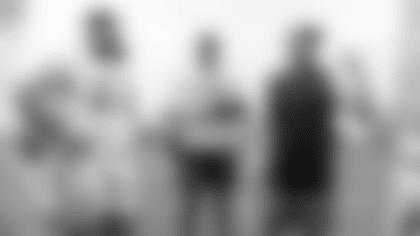 You played linebacker in college at Catholic University of America. What was your college career like?
"Yeah, that's a real school, Division III school in Washington D.C. Coming out of high school, I had some interest in I-AA schools but I was a realist and knew this would be it, so I decided to go that route so I could play while I could and get the most out of it. Great experience, a lot of guys I still keep in touch with. It was college football in its purest form … no scholarships, no money. You're splitting pizzas the night before the game. But it was fun stuff."
How did playing linebacker affect what you do now? You essentially played a position you're trying to defeat now.
"It's a good question. It's a lot of seeing things from a different perspective, especially early on in my coaching career. I played quarterback in high school but just being able to see it from every side and understand how things fit together and what would give us issues on the defensive side vs. the offensive side. I think it's good having an overall understanding of both sides of the line of scrimmage."
You coached at William & Mary for a bit and coached three different position groups. What did you learn there?
"Spent five years there, coached running backs, wide receivers and tight ends but not at the same time. What I learned is that it's just football. It actually helped me and gave me perspective on how different position groups see things. You learn that guys see things from a different lens and helped me realize the lens a player might see it through."
You then coached in the Canadian Football League for one season. How did that help your career?
"I joke that I did my six-month tour in Montreal. But it was an experience, a good experience. A completely different game. You can watch it and feel the similarities. But some of the rules, the kicking rules and on defense, it's a different game. It was unique but a cool experience."
You landed with the Bears and then went to the Saints under Sean Payton. What did you learn about culture during that successful run in New Orleans?
"You know, it all starts at the top. I'm talking about ownership. It's so competitive but the teams that are successful have great organizational structure. That started down there with ownership and then Mickey Loomis and Sean Payton. He was as good of a culture builder and enhancer … everything we did was with a purpose. And there was evidence to back up why we were doing it."
I'm sure you're excited to see him twice a year now with the Broncos?
"Yeah, it will be good. I know a couple guys on the staff so it will be good to see them."
Brandon Staley is a big believer in culture, too. Do you see the same vibe here with the Bolts?
"Oh, yeah. Every place goes about it their own way, but the base level in how we go about things is very similar. Really, you can tell how your culture is by the locker room. It's how guys prepare and practice, and that is happening here."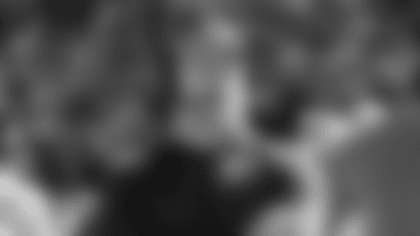 What impact does Corey Linsley have your room?
"It's incredible, and not even just a football standpoint. Whether it's being a rookie or a young guy, getting a second contract, taking care of your body, when and how to lift, recovery stuff … he's just great with sharing that. Then he brings the leadership aspect because he's been there and done it. It's hard to not buy in because he's been doing it for so long. He's a great part of the room and what we do. And like we talked about earlier, he stimulates a lot of that conversation and isn't afraid to share how he sees it. He's a huge part of that, especially for the young guys."
How big was it to bring Trey Pipkins III back in free agency?
"Very big. I thought Trey had a heck of a year last year, even with the injuries nicking him up a little bit. When I got here, I told the guys they all had a blank slate because I didn't know them and they didn't know me. But he just got better every day and kept working at it and never settled. Having him back is big for the room. Quietly, he's a leader in that room and was last year as well. But getting him back solidifies the group and I'm excited to see him keep getting better."
Moving to left tackle, I'm sure you're fired up to have Rashawn Slater back in the lineup. Was he at the All-Pro level we saw as a rookie before he got hurt last year? And can he get even better?
"Yes and yes. He was improving from what he was as a rookie. And then from what I saw from him this offseason, his work ethic is second to none. There's no doubt in my mind he'll come back and get even better as the season goes on."
What does having a franchise left tackle mean for your room and the offense?
"It just brings that stability and calming effect. We had it in New Orleans for a long time with Terron Armstead. It's almost like, 'OK, whew, we can breathe.' Not that you worry about one side, but when you have a guy like that out there that you know is as talented as he is, it allows you to do a few more things without figuring out help or things like that."
Do you feel Zion Johnson is going to be more comfortable moving to left guard from the right side?
"Yep. I think it will be good for him. He played there in college. But putting him and Rashawn next to each other will be a big benefit for us. You have two guys that are similar athletically, and it's the same on the right side with Trey and Jamaree [Salyer]. Zion, from a comfort standpoint, will feel better on that side. And I think he and Rashawn will work really well together."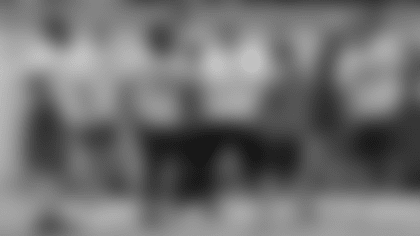 Was Zion as expected given he was a first-round pick?
"Oh yeah, he was as advertised. Everything we saw on tape, he brought it here. Anytime you draft a guard in the first round it's, 'Can he block the 3-technique 1-on-1?' That's usually the defense's best interior player. And he did it and did it consistently. There were some ups and down for him but he got better as he went along. And he's looked good this offseason, too."
The final starter here is Jamaree Salyer. Did anything surprise you about him last year? And what was behind the move to right guard?
"Really, nothing fazes him. He's got a ton of football sense and stuff makes sense to him as it moves. As a play starts and unfolds, it makes sense to him. But not a lot fazes him. Part of that is him coming from Georgia, but he's just a calm player out there. He understands his game and how he has to play and what he has to do. The thought of moving him to right is similar to what we said about Zion, where it's getting the two guys together who are similar athletically. Now we have two bigger, heavier players on the right that I think will work really well together. It's just finding matches on each side. It's all about working together, especially a guard and a tackle. I think that match is going to be really good."
As training camp looms, what are your 2023 expectations with your group, particularly with the run game?
"We can sit here and talk about what it was and what it wasn't. Obviously we'd like it to be better than what it was last year. A lot of factors go into that but nobody cares about them at the end of the day. We couldn't run the ball effectively as we wanted to so it's just about getting all five working as one and getting everybody on the same page, whether it's tight ends, receivers, running backs, the quarterback. If we can all do that and play fast, the rest will take care of itself because it is a talented group up front."
Building off that, what is the potential of your group? Could it be one of the league's best lines?
"Expectations are great for everybody that's not in the trenches. We can talk about it all we want, but you have to show actions. We have to show that we can do it and we will do it and we will do it consistently. I always have the expectation that we're going to play really well every time we go out there. I've never gone into a game in my life thinking we didn't have the best plan to win. I guess the one expectation I could say is about responding to adversity. At some point in every NFL game, something is going to hit the fan. Whichever team responds the best is usually the team that wins. At some point, it's not going to go right. But it's about the next play and being successful there. And in our room, there's no such thing as ugly or bas production. We're always striving to be in the perfect position or have perfect technique, but at the end of the day, did my guy make the tackle? No. Did I keep him in front of me long enough? Yes. There's no such thing as ugly production. We can work on the technique and all that in practice, but it's all about being productive on a Sunday and giving us a chance."
Bolt Up!
Secure your 2023 Season Ticket Memberships today! Click here to learn more.