Chargers.com is chatting with every Bolts assistant coach this offseason. Up next? Jeff Howard.
Welcome to the Bolts, Jeff. You've been here for a couple months, what's its been like so far?
"It's been fast and furious really coming in, meeting the staff, meeting the players, learning the scheme, putting together teach tapes, all those resources that you use during OTAs and all parts of the offseason. Just to be able to teach our guys what we do and how we do it at the highest level. Then from there, it's build the relationships with them just on the day to day. Personally, and professionally, just kind of developing that relationship and then with our core group, just kind of connecting them to one another. We have some new faces, new people in the room."
What about personally? How has that move been?
"It was great. We really enjoy it out here. My kids were homeschooled so they were able to get out here pretty quickly. They get adjusted and involved with sports teams of their age, heavy into soccer so pretty much playing that every weekend. We're outside a lot with the sunshine."
This isn't the first time you've gone to a new team. You went from the Viking to the Browns in 2020. How do you come in and put your stamp on it and get adjusted?
"I think being authentic is really important to me and trying to show people that. Something I talk about with the guys in the room is establishing trust daily and trying to do the best you possibly can in every situation that you can so people can see that you're reliable and trustworthy. I think that's a big part of that. Then the authentic piece is I love football and love being a part of a team and want to do it at the highest level. Words are one thing, but I think actions are another, so really trying to come in and do that at a high level."
Did you come in already familiar with Coach Staley?
"Yeah, I've known Coach Staley for a long time. When I was back at Minnesota and he was at John Carroll is when I first met him, so I was familiar with what he was doing schematically. Then obviously, when he went to the Bears, kept taps on what they were doing and had a good professional relationship. There're similarities in scheme in what we're trying to do. from what I've done. It's just kind of seeing the details of it and making sure we're all on the same page."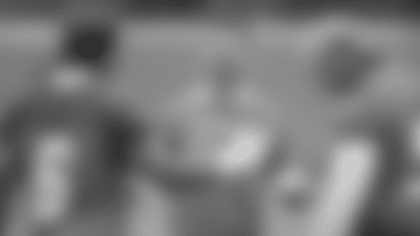 Let's go back in time a bit. Your No. 3 jersey is retired at Eastern New Mexico as a linebacker. What does that honor mean to you?
"Yeah, it was a great honor, and it was put into the ring of honor for the school, and it just meant a lot. I always put so much into football and just being recognized for your play is something that I think that all players really aspire to. That was kind of a big thing."
Your wife is also in their Hall of Honor. Did she go in before or after you?
"She was actually the same year, it was pretty cool. Our story is she played basketball and she was a point guard. We actually have been together since juniors in high school, and we were both recruited at different places. We had some other things, probably bigger schools that recruited us, but I think I kind of knew that she was the one probably when I was a senior in high school. So, we ended up going to the same school, both studied pre-med so we both got our degree in biology and chemistry, took a lot of classes together and then obviously watched each other in sports."
Your first coaching job was at Odessa Permian High School, which is obviously a famed high school in Texas. How was that experience like?
"It was awesome. Coaching in my blood, my dad coached at the Division II level his whole career, and I was always around with him. So traveling on Fridays with the team, practice, I filmed practice, filmed games, was on the sidelines helping out with the equipment staff, so I was always around the team. When I was studying in college, I thought I was going to push away from it, but when I got done playing, not being a part of a team, not being a part of football was tough. I ended up taking a different direction and ended up taking that job at Permian and I was teaching chemistry and coaching football. It's awesome, anybody that knows Texas high school football knows it's just some small college environment. There's 15,000 people at a game, it's very important to the kids that play, they're coming in early in the morning and staying late in the evening. It was a great experience, something that I really enjoyed and there were some really great coaches that I was under that I learned a lot from."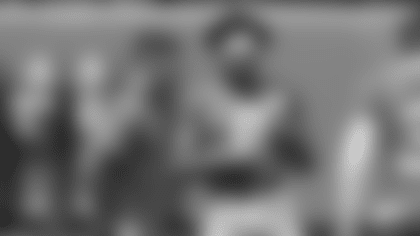 Did being a chemistry teacher during those days help you at all?
"I feel like it helped me a lot because even what we do at this level is like teaching. Can you teach? I feel like that situation helped me a lot, just being able to teach kids. Some of them were super interested in it and others weren't and it was kind of like, 'Can you reach the kids that weren't, and can you also help the kids that had a high interest in the subject?' Reaching your audience. My wife taught physics and then biology, and I taught biology, so she was right down the hall. From there, I went to Texas Tech for two years, did my last year coaching safeties and then from there I went to Minnesota, where I was for eight years."
What did it mean to get your first NFL job?
"It was awesome. Leslie Frazier hired me with the Vikings back in 2013 and it was awesome. I would do anything to get my foot in the door and when he gave me that opportunity, it meant the world to me because I knew I didn't have a whole lot of connections within the NFL and I wanted to make sure to do a great job for him and the organization. It was a positive situation. All three kids were born in Minnesota, we have a lot of great memories there being there for eight years."
From Minnesota you went to Cleveland, but there you were coaching DBs. Now you're back to coaching linebackers, what's that transition like?
"It's been good, I played linebacker. I tell the guys I probably identify as a linebacker playing it my whole life. I really gravitated towards the position ever since I was little and I see the old NFL Films clips of Lawrence Taylor, Mike Singletary and so many great linebackers. I just watched how they behaved and acted and I was like, 'Man, I want to be that'. I aspire to that leadership role on a defense and just to be in that role on the team, being able to connect the front with the backend, it was like quarterbacking the defense. And I love defense because of the physicality of it, so it was kind of the best of both worlds. You get to be a leader and you get to hit people. I played quarterback and linebacker in high school, but I always loved linebacker just because of the physicality of it. The transition was different, guys are different, personalities are different, different job requirements, but I enjoy all parts of coaching. I have some good memories of being in Cleveland as well, a lot of good guys out there and a lot of guys that played at a high level."
You mentioned the linebacker being the quarterback of the defense, a big guy for the team this year is going to be Eric Kendricks. You have a previous relationship with him, what can fans expect from him because a lot of Chargers fans don't know him that well yet?
"Eric Kendricks to me really embodies the energy and focus. What strikes me about Eric is he is a football player, he's not a celebrity first, he's a football player. He's a great teammate and he plays the game the way that I think you should."
What have been your early interactions with Kenneth Murray, Jr., been like?
"He's very gifted, obviously being drafted as high as he was, there's a lot of physical talent there. He's also very effortful both on the field and off the field. In the meeting room, intelligent guy and great communicator. I'm really excited to be able to work with Kenneth."
As for Daiyan Henley, who was drafted in the third round, what are your thoughts about him so far?
"I was very high on Daiyan, he was one of my favorite linebackers in the draft and really surprised that he was available when we drafted him. The things that stand out with me when I watch his tape is how physical he was, that was the first thing that came up. I think he goes out of his way to play with the physical mentality and then when you see his movement skills, I'm just like, 'This guys doesn't really move like a linebacker'. His history is he was a former receiver, played high school quarterback, and you can kind of see that in his moving skills so that was really intriguing. When I met with him, I think the best word to describe him is very intentional. When he was describing his time of where he was at, the different schools he was at, going to the Senior Bowl and what he wanted to accomplish, he was very intentional and had set goals of what he wanted from his situation. He's actually come in here and established the same thing. It's kind of a combination of the skillset and the character about him. I'm really excited about Daiyan as well."
Last one, what do you expect from your linebacker crew in 2023?
"I think the thing that I talk to them about the most is we want to establish ourselves as leaders of the defense because the nature of the position, connecting the front end and the back end, you have to have leadership skills and trying to establish themselves as those leaders is important. We want to play with relentless effort, inspiring-type effort, when people watch us play and do it at the highest level. I talk to them all the time about you think about all the great defenses in the NFL, there's normally two linebackers on those defenses that are highly established players. You think of San Francisco last year, the Bears back in 2018-19, Minnesota with [Anthony] Barr and Kendricks when I was there. So many of the great defenses, which is what we talk about that we want to be, have two great linebackers and that's kind of how we want to establish here."
Bolt Up!
Secure your 2023 Season Ticket Memberships today! Click here to learn more.