Chargers.com is chatting with every Bolts assistant coach this offseason. Up next? Jay Rodgers.
Thanks for your time, Jay. How's your offseason been?
"It's been good. A lot of family time, a lot of activities just hanging around here in Southern California. Did some trips earlier in the year, went to Florida a couple times, and Montana. But mostly just hung out around here."
Are you a big outdoorsy guy?
"I do enjoy. I wouldn't say I'm an expert on any of it but I do enjoy being outside. I'm an avid mountain biker, so that kind of fuels my outdoor world. I just enjoy being outside."
Let's get into football. I doubt there are many NFL defensive line coaches who played quarterback at the Division 1 level, but you're one of them. How did that path shake out for you?
"Yeah, so I played the quarterback position and coached the quarterback position, and wide receivers, for awhile. When I transitioned to the NFL, I went to the defensive side of the ball and had a great mentor in Wayne Nunnely. He was the Chargers defensive line coach for 12 years before he went to Denver, which is where we connected. He was at a point in his career where he was getting ready to retire and he basically mentored me for an entire year. When he retired, I was fortunate enough to be offered the D-line job in Denver. We had a really good run for the three years and the rest is history. I've now been a D-line coach since 2012 and never really looked back to the offensive side after that."
Were you a good quarterback at Indiana?
"If you want to look at it in terms of statistics, no. If you want to look at it in terms of wins and losses, no. I was probably a a better high school quarterback than I was a college quarterback."
How does being a former QB affect how you see the game now?
"I think you always view the game from the eyes of what you played. I still see the game a little bit more globally than some coaches in my position. They're so used to seeing defensive lines and offensive lines, that sometimes I can see outside the box through my own experiences and having to do that as a player. And it also helps the learning process because I can maybe teach it a different way and with a different perspective by having eyes open rather than having blinders on. My feedback from players I've coached is that the more they understand the game of football, the more aggressive I can play. Those little tips and tricks, I hope, can help each guy lengthen their football career."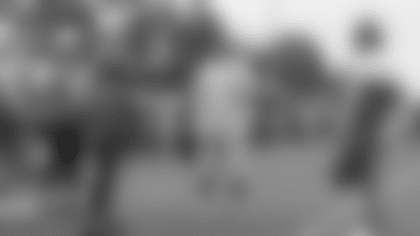 You come from a football family. Your brother, Jeff, is the Cardinals Special Teams Coordinator and your dad was in the college coaching ranks for a long time. What does football mean to your family?
"It's been very important. Both my brothers played in high schools and Jeff played in college. My dad coached in college so it's kind of been the cornerstone of our entire family for my entire life. Most people would go to the park on a Saturday where I'd be going to a football game. During the week, when my dad worked at smaller colleges earlier in his career, we'd hang out in the sand pits by the track. My mom was a coach's wife and had three boys when my dad was working long hours. It's just the way it was and I didn't know any different growing up. When I decided to go on the path I went, then you see it from a father's standpoint. It's just been a big part of my entire life."
What's your relationship like with Jeff being brothers who both coach in the NFL? You were fortunate enough to work together in Denver (2011-2014) and in Chicago (2015-2017).
"He got into it in 2003, so he has a few years on me. I was working in college at that time, but as the years went by, I realized I might have an opportunity to do that, too. Through my own connections, and his, I made it to the NFL. Ironically, earlier in my career, we were on the same staff. That just doesn't really happen. We were two assistant coaches on the same staff with John Fox. We spent seven years together in Denver and Chicago and it was pretty cool to see. He was single at the time and watching me and my wife raise our kids, so he got to be a part of that for seven years. It was pretty unique and doesn't happen often. I think we've now played each other twice in the NFL so that's always a stressful situation for our parents because they both win and they both lose. But it's fun."
Your dad, Randy, eventually worked at Illinois and Texas. What did you learn about coaching from him?
"Everything. The time commitment, the loyalty, doing things right and not taking shortcuts. You're never in the same room as your father when he's coaching, so you look at it from the outside and never know what he's necessarily telling his players at the time. You mostly try to just observe. When it came time for me and my brothers to play football, he would work with us in the backyard, especially when you first get your pads at 8 or 9 years old. All you want to do is put the pads on and he's teaching us how to do it the right way. As we got older, he allowed our coaches to coach and he was more of a dad. He wouldn't interfere with what the coaches said. He was asked, he'd give answers. If he wasn't he'd just be a dad."
You won the 2018 John Teerlinck Award as the best defensive line coach in the NFL. Was there any validation in that for you?
"We were a good team defensively that year so there were a lot of awards presented. I happened to be one of them. We had really good players and they played well, so anytime you win games then things like that happen. Our GM was the Executive of the Year, we had the Coach of the Year … so it was a collective group effort from the top down. It was cool to see that and also to have players earn Pro Bowl honors for the first time. But at the end of the day, it's a year-to-year thing and you can never relax on what you did the year before, whether it was good or bad."
You would have been with Brandon Staley in Chicago. What have you learned from him over the years?
"Our relationship started in 2017 and I remember his interview. He came in and interviewed with Vic Fangio and I was a part of it. He came in and we talked about pass rush, talked about fit. So when he was hired, we were close together since he had the edge rushers and I had the interior defensive linemen. We worked well together for two years in 2017 and 2018. When he moved on and eventually became a head coach, I was in a position where I could come with him. He asked me to come here and we picked up where we left off. Some of the things we're doing now are things we talked about in Chicago. He was able to do some of that when he was with the Rams, but here we've been able to work together to design the best things for the players to fit the defense."
We'll get into some of your players now. What does Sebastian Joseph-Day bring to your room?
"Experience, energy, winning. A lot of the intangible things, aside from his physical tools, are important. It's hard to teach that because you always want a mix of guys who know what it takes to win in the NFL. When 'Bash' decided to come here, he was coming off a Super Bowl and that's what we all want to do here. There's several different ways you can get to that point and he's been able to show us and give us experiences that helped that team he was with win a Super Bowl. We're trying to build that room to be Super Bowl-caliber, but we're one part of the defense and one part of the team. Coach Staley leads that direction but he leans on experienced guys."
Do you feel Morgan Fox is underrated around the league?
"Very underrated. He's a good player in the NFL. For his role that he has, he's an elite pass rusher from an interior perspective and he doesn't get the credit he deserves. I can think of a couple guys in the NFL who have signed big contracts who he has more production than. He's a valuable piece to this organization. You saw the production he had in 2020, the role he had in 2021 and how we got him back into a really good role in 2022. His production went up again. If you put guys in the right spots and they can do what they do best, it's going to work out in the right way.
"On top of that, he really took his run-game defense to another level than what he had in previous seasons. Part of that was him being put in different positions because of injuries last year, but he excelled at it. He's now developed his total game rather than just one aspect of it. For a guy who doesn't way 300 pounds, he's pretty stout in there."
You referenced injuries from a year ago. How do you look at Austin Johnson and Otito Ogbonnia ahead of camp?
"They were in all the meetings and were asking questions. With where they are at in their rehabs, that's all you can do. The mental part of it is huge, but the physical part of it will take care of itself once they've been cleared. I don't want to give any expectations. I just want them to get healed and ready for the season. When they're able to perform and practice, we'll get them ready to go physically. Right now their focus is getting back on the field."
There's been a big focus this offseason on improving the run game. What's your view on how to get that done?
"I have gone into every season thinking the same way, and that means there is a standard you have to set and you can't deviate from it. It doesn't matter if it's 2023 or 2013, there's a way to play defense and you constantly have to evaluate if you're playing up to the standard we believe in. It could be schematics, physical attributes, combination of guys, it could be a lot of different things. But at the end of the day, when you turn on the film, are you kicking ass? And it's not just up front, it'd the entire defense. There's not one aspect of our defense that relies on one position to get things done. Whether it's the run game and the D-line, or the pass game and the secondary, it all works together. That's why we have 11 guys out there and everybody has a role to play. Our job is to stuff and shed blocks and to get after the quarterback."
What do you want the mindset of your group to be in 2023?
"We pride ourselves on being tough and rugged..."
Is that your phrase? We hear it a lot in press conferences. Did you come up with that?
"I say it a lot and have said it for years but I don't know where I got it from. I think that's a term that shows you're willing to do what it takes to get the job done. 'Rugged' is a word we throw around here at the Chargers but it's also an important word because not everybody can be rugged. I want the mentality to be that every time we go on the field, the other team has to feel our presence whether it's in the run game or the pass game. And when they flip on the tape, you need to be able to feel our presence and know what we're all about. The tape doesn't need to happen overnight. You have to have enough depth, which we do, to handle substitutions. When we go out there on the field, we just want to kick ass."
Bolt Up!
Secure your 2023 Season Ticket Memberships today! Click here to learn more.