Chargers.com is chatting with every Bolts assistant coach this offseason. Up next? Will Harris.
Welcome to the Bolts, Will. What's the last couple of weeks been like for you?
"It's been awesome just to come in and learn off of [Chargers Head Coach Brandon] Staley and DA [Chargers Defensive Coordinator Derrick Ansley] and TD [Tom Donatell] and just pick up on what we're doing. Some special stuff that we've got so it's opened my mind up a lot."
I'm guessing you're loving being back in SoCal?
"It's awesome. I went to college here, grew up here. I'm from Pasadena so just to come back home, be closer to family, have home cooked meals. It's been good so I'm not too far away from where I grew up in Covina so it's been good."
Was it your goal to be an NFL coach?
"It's really interesting because at first I got into it because I was a college athlete who had a really great coach who helped me get through a lot of things. As I started progressing into this career, I was like 'I kind of want to go to the NFL and just see what it's like'. It's been awesome so far, I've been working with some great guys."
What was it like for you USC? Those were the glory days.
"We'll probably never see anything like that again. It was great. SC was rolling, hopefully they get that thing rolling back over there again. Now I can say that because I'm out of college, but it was really cool. Obviously you know who our head coach [Pere Carroll] was, it was a special time and just great memories."
What were your emotions like when you coached with Washington against USC?
"It's funny you ask that one because a lot of people asked that one when we first played them. Going into that week it was kind of emotions everywhere, first time I went against my former team but not only that, I couldn't sleep and they had some really good receivers. We came out with the win so I felt really good."
What was the experience playing in Canada and the CFL like?
"It's just different. Different country, different rules, but I thought it was a great experience for me personally because I spent a little bit of time in Seattle and went into the CFL after that. I never really been away from home playing college here, so I thought it was a great experience for me to just kind of venture out a little bit and it helped me as I got into coaching."
How soon after the CFL did you get into coaching?
"It's so funny, I didn't really want to go coach because I wanted to have a family and all that good stuff. I was like, 'I get how it is, long hours' all that good stuff in college. And then did the firefighter thing and everybody knows this story, Snoop called me because I was training kids and I started to training Cordell [Broadus] and couple other guys he had. He was like 'Man you need to coach' and I was like 'Ah I don't know'. Then he was like 'Then he was like 'Just take it, try for a year, go to college' and then fell in love with it."
How was the firefighter experience?
"I was in Stage 3 in the LA Fire Department and that's a long process so at the time, I'm like running out of money so I'm like,'What am I going to do?' Started training and then next thing you know that training turned into coaching and then it took off."
Explain the Snoop Dogg background for people who don't know...
"Snoop used to come to SC a lot and he was just an awesome dude. We call him 'Unc', everybody knows that and he spent a lot of time there. Once I built that relationship with him at the end when I was coming back home from playing and all that other good stuff I just started training guys. Word got out and he was like. 'Come train these guys at Diamond Bar'. Went to go train a couple guys with him at Diamond Bar and I coached at the high school there and he helped me out. He was like, 'Use me as a reference' and literally that's how I got my first job. They called Snoop and were like anybody that can have Snoop call me back, you've got a job."
Was that first job in his league or in college?
"No it was in college. It was a Division II school, Northwestern Oklahoma State [University]. Long ways away from home but it was a good experience."
Going from SC to Oklahoma was probably a change, no?
"It helped me because at SC, you've got everything right there, it's LA. There, the resources weren't what you want them to be and it makes you appreciate the work that you put in. I will never do what some of these guys do for granted as [Graduate Assistants] or [Quality Control] because I had to do that and be a position coach. I look and see the grind of it and appreciate it."
What did you learn about yourself as you kept going through the college ranks?
"Man, you learn so much. It's just like anything else in life, you've got to learn from some of the mistakes you make. I think the most important thing is, I'll say this and I tell all our guys this, this game is all about relationships. I think one of the biggest things that I did and I learned as I went was to connect with our guys no matter what. It doesn't matter, the more you can connect with your guys that's when you build that love and trust and you guys run through walls for one another. I think another thing our sport has gotten away from, especially in college, is not building confidence within the guys. I'm all about building confidence. Some guys say, 'Break them down, build them up'. Well, I'm always building confidence in my guys because I believe confidence is cash."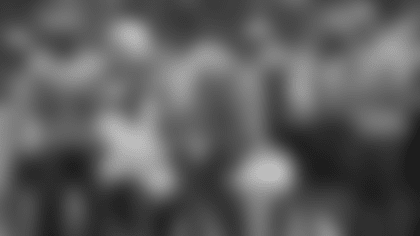 You mentioned Tom Donatell earlier. What it's been like working with him?
"Great. I mean just coming in and seeing how he's energetic every day, I just learn so much every single day, I take so many notes. It's been great. He's taking me under his wing and teaching me everything he's learned. It's been awesome. Can't wait to continue to keep learning."
What's your main role with the Chargers?
"I'm here for whatever they need me to do. For me, it was a dream of mine and at the end of the day whatever their task is for me I'm going to do whether that's coaching whatever. But right now I'm working with DA and the corners."
Any of the corners stand out to you?
"Man, we've got some special guys. I mean as you know we got J.C. [Jackson], we got [Michael] Davis and then we got [Asante Samuel, Jr.] and then we got Deane [Leonard]. We got a bunch of guys in our room that I feel like are going to be special. I really do. I was telling DA that when I first got here like man I was watching their tape and I'm like, 'You can see every single rep they're getting better, and better and better.'"
You sound pretty jacked up right now. Is anyone more fired up for the season than you?
"I'm geeked up right now. It's kind of almost like honeymoon stage for me. It's been pretty cool man just to come out here every single day and thank the Lord because it's a blessing to be here."
Bolt Up!
Secure your 2023 Season Ticket Memberships today! Click here to learn more.