Chargers.com is chatting with every Bolts assistant coach this offseason. Up next? Kevin Koger.
Thanks for your time, Kevin. We're almost to training camp. I'm guessing you've spent most of the offseason with your family?
"Yep, I've got three boys … all under 4 years old. It's a lot and it definitely keeps us busy. I feel like the hardest part is protecting the youngest one [11 months] from the oldest two because they play a certain way. They try to play with the youngest and I'm like, 'He's not there yet!' But football-wise, it's been good. We're learning a new offense and that's what I've told the guys, that we're all in it together. But the guys have handled the volume well and they coach each other up. They're a great group to coach and that makes my job easier."
How do you go about learning a new offense with the players? Did you have previous experience with Kellen's system?
"No. I had watched the Cowboys a little bit in crossover, but the biggest thing has just been terminology. People understand plays, but it's all about terminology and it's pretty much like learning a new language. The biggest thing is that you have to just take it as it comes. You're so ready to dive in and learn a new offense but you need to wait until things are really solidified. In the early stages, I just worked on tight end stuff that wasn't necessarily terminology-based, moreso technique and blocking and all that. Then when it starts to get pieced together, our focused shifted to the terminology and that aspect."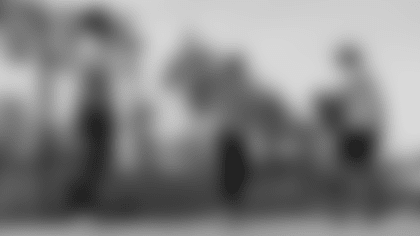 Let's talk about your playing career. You were a highly-touted recruit out of Ohio.
"I don't know about that…"
Your bio says you were an All-American in high school so we'll go with that! But you went to Michigan growing up in Ohio. How did that all work out?
"I'm from Toledo so it's on the border of Ohio and Michigan. But I tell people that Toledo is actually closer to Ann Arbor than Columbus, even though it's in Ohio. My dad is from Detroit so we grew up Michigan fans, so the decision wasn't hard to make. It wasn't like I was from Cleveland or Columbus. But I actually almost went to Ohio State. That's when Jim Tressel was there and his brother recruited me. I just felt like Michigan was the right place for me. Went there and started four years, pretty much did just a good job of doing what the coaches told me. I wasn't even better than the guys in front of me, but I knew what to do and played hard. Had an awesome career, captain my senior year, just had a great time. I saw it all there."
You had your sights set on the draft but got hurt, right?
"Yeah, played in the East-West Shrine Game in Florida but then a month before the draft I ended up tearing my Achilles. That kind of halted my playing career. You know how people say, 'Oh, I would have made it to the NFL but I got hurt?' I'm really one of those people."
How did you transition to coaching after that?
"Well I went undrafted and the plan was to get healthy and then sign to an offseason roster. It just so happened that my high school head coach was the head coach at a school outside of Ann Arbor called Saline. I reached out to him and said that I was rehabbing but that I'd love to help out if they needed it. He texted me back five minutes later and said I could coach the tight ends and receivers. I wasn't expecting that, but I needed a job. I ended up being the in-school suspension teacher at the middle school. So I'd work there all day and then run over to the high school and coach. Then I'd go rehab and I wouldn't get home until 9 p.m. sometimes. But it was awesome and I had a lot of fun, both at the middle school and the high school. I remember halfway through the season thinking, 'Man, I'm really enjoying coaching these guys and that I'd love to be a grad assistant after my playing career if I ever got the chance.' That just so happened to be the following year."
A little bit of a big-picture question here. Has the tight end position changed since you played it at Michigan a little over a decade ago? What's the evolution been there?
"It really all depends on what scheme or system you're in. In college, my time under Rich Rodriguez and time under Brady Hoke were different in terms of my job description. Rich Rod had the spread offense and Brady had a pro system. So I wasn't in-line blocking with Rich Rod but then was asked to do that a lot more when Brady came in. It's all about the system and your skillset and what you bring to the table. For us right now, look at Stone Smartt. He's a converted quarterback learning how to play tight end. So it's not fair to Stone for us to say, 'OK, go out there and block Khalil Mack every down.' That's not where his strength lies right now and that's fine. Tre' [McKitty] is going to do a lot more blocking than Stone can, that's just reality. Everybody wants to be able to do it all but that's tough. To have to block Khalil Mack on a run and then beat Derwin James, Jr., on a route and then pass block against Joey Bosa, that's tough. Being proficient at all three is tough and you work to do that. But guys are always going to have different skillsets but you also have to be realistic with where your value lies."
Kellen Moore talked earlier this offseason that he's not just going to necessarily bring the Dallas offense, which was tight-end heavy, and implement the whole thing here. It's more than he's going to focus on the skillset you mentioned and highlight those features. Have you seen that from him?
"Oh, yeah. Kellen's biggest thing is, 'Who's going to be in this spot?' He's so matchup-conscious and matchup-based, with the way his brain works and the way he sees football, that he wants to put guys in certain positions. Here's how he sees them getting used and what their skillsets are."
We'll get into your room a bit here. How do you see Gerald Everett in this offense? He obviously ended the year on a personal high note in the playoffs.
"He was on one that night. With G, I feel like a lot of his career he's been doing things like that. What makes him special is his ability to run after the catch and use his agility to make people miss with the ball in his hands. It was just on full display that night but he was doing that all year. He's special with the ball in his hands and we're always trying to find more ways to get him the ball in space. Gerald is almost 250 pounds so he's not the easiest person to tackle. He may not be 6-foot-6 but he's hard to bring down for a tight end. We just want him to get the ball in space and so what makes him special."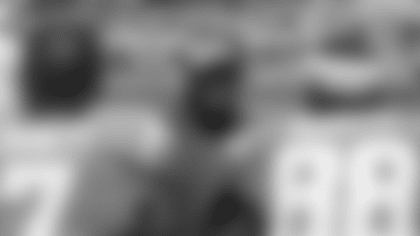 Donald Parham, Jr., just oozes with potential and I know he's a had a tough past two season with injuries. Has he scratched the surface yet?
"With DP, he's still learning the tight end position. He was a tight end in college but he basically played receiver. Going into Year 4, he's still developing but the ability is there. You see flashes in the passing game but for him, staying healthy is going to be big for him. A lot of it is really out of his control because he prepares the right way, but some of the things that have happened have been out of his control. But the talent and skillset are there. The body type is there and he has real size being 6-foot-8. And being able to run the way he can for a big that big is pretty impressive. We're high on DP."
You mentioned Tre' McKitty earlier. What do you expect out of him entering Year 3?
"It's a big year for Tre'. Coming off of last year, him and I talked about it, but probably not the year he expected to have and not a year that met his own standard. His standard is high but we didn't achieve what we thought Year 2 was going to bring. That's the humbling thing about the NFL. He had a decent rookie year and the you have high expectations for Year 2 and it didn't materialize. It's a humbling game but he's attacked this offseason the right way. His value lies in the run game because he's bigger and stronger and a guy that's able to move people at the point of attack. His biggest thing is doing those things on a consistent basis. He knows that and works at them on a consistent basis. It's a big year for him but he's ready for it. I have no doubt he'll rise to the occasion."
We're getting close to training camp and then the season. What's the mindset you want you group to take on?
"I want the guys to play hard and tough. That's all I care about. The other stuff will take care of itself. We don't control the play calls, progressions, any of that. We can control how hard we play and how tough we play. I want people to turn the film on and see that from our tight ends. If we can achieve those two things, the other stuff will take care of itself."
Bolt Up!
Secure your 2023 Season Ticket Memberships today! Click here to learn more.