Chargers.com is chatting with every Bolts assistant coach this offseason. Our final coach is Doug Nussmeier.
Doug, you're our final coach in this series. Did you enjoy the summer break?
"I think in a transition year it's always big, especially with a family and spend a lot of time making sure everything is in line and organized. Obviously the summer time is a good time to spend with the family and the kids. Enjoyed it."
Your son Garrett is a quarterback at LSU. What's it been like for you to watch his career and be a proud dad?
"I'm proud of him and the way he's worked. It hasn't always been easy, as for anybody, and the amount of time and effort he's put in to getting himself to where he is, I'm very proud of him for that. Obviously you enjoy watching his process and what comes next for him from the time he started playing as a little guy to then you get into the middle school, then the high school level, now he's fortunate enough to get an opportunity to play at a place like LSU. It's been cool."
Do you guys talk ball at all?
"We do, we spend a lot of time and I have a son that will be a freshman this year so he's in the conversations, too. As a parent you have to spend time, too, because I also have a daughter so it can't always be about football, but there's a lot of dinnertime conversations and a lot of conversations around the house. As you know, having a young one, as they grow, finding their passion and what they're excited about. I never really cared that he played football, that's not important to me it's that all the kids find their passion and what they enjoy and then dive into it and go achieve as much as you can, put yourself out there a little bit. His happened to be football and I think with every kid they kind of find what their passions are. My wife's done a phenomenal job and we've always just tried to support what their passions were and help them achieve the best that they can."
Let's go back to your college playing career. You won the Walter Payton Award at Idaho in 1993. Do you have that trophy around?
"I've got to be honest, it's been so long ago. It was a great experience, I'll never forget it. Just having the opportunity to meet and interact with Walter Payton, not only him but Eddie Robinson was there because it was the Eddie Robinson Coach of the Year Award banquet. To spend some time with both those great men and their accomplishments and listen to them talk and interact with them, that's one thing. I played on some really good teams and played with a lot of really good players so it was as much their award as it was mine. But to get to meet the guy who's award it is and understand what he stands for was just an outstanding experience, something I'll never forget. Trophies are trophies but those interactions and having the opportunity to spend some time around a true legend and one of the greatest to ever play our game was cool."
You mentioned a transition year, what excites you in your first camp with the Chargers?
"Well obviously just excited about the opportunity to be here. You look at where this team was last year, a playoff caliber team that has explosive weapons on offense, I think it's an exciting opportunity and situation to come in to. Obviously have an opportunity to work with Justin [Herbert], Easton [Stick] and now Max [Duggan], really excited and just looking forward to the opportunity."
You were a longtime college coach. What did it mean to you and what was the difference once you came to the NFL?
"First off, football has been very good to our family and to me. I was fortunate enough to have an opportunity to play at this level and then really started my coaching career in pro football up in the Canadian League, then I went to college for a few years, then I came back to the NFL, then went back to college. Had a good stretch where I stayed in the college game and now have an opportunity to come back to the NFL. I think I never really focused on, 'Well, I need to coach on this level, on this team'. I think the thing I've taken from my experience is the relationships and the opportunities. I love the game, I love the opportunity to work with the guys. Obviously there's a difference when you're working with a pro player than there is when you're working with a college freshman that just came out of high school and you're building at different levels. But to have those relationships, and obviously you have a common goal and that's to every week whether it's Saturday or Sunday to perform the best you can. It's just been a wonderful 20 whatever years it's been and I don't feel like there's been a day where it's been work so to say. It's always been a passion of mine and I feel blessed to have an opportunity to do it."
You mentioned relationships, you have a good one with Kellen. Have you leaned on him since you guys came in here together?
"Yeah, obviously our working relationship in Dallas and we were there together for five years, it was fun to watch him get an opportunity to become a coordinator and to watch the system grow there and the things we were able to accomplish. The opportunity here when it arose obviously one of the benefits was Kellen I believe had played for [former Chargers Offensive Coordinator] Joe [Lombardi] in Detroit, so him having some familiarity with what had been done here, how they had done things here. That helps the transition tremendously, so that's been a big part of it and then knowing our system and how we did things in Dallas and then looking at the big picture and how do we mesh everything and how does it all come together to make it the best system for our players."
You mentioned you were fortunate to play in the NFL. You're one of 32 left-handed quarterbacks to play in the NFL. There are three on this staff, Kellen is one of them and Pat White is the other.
"It's funny though, you see around the league and are like, 'Where are the lefties?'. There's not many of them. That's interesting."
We'll get into Justin, what's the first couple of months been like and what have you learned about him?
"The first thing you see is his detail and how locked in he is to getting it perfect and getting it right. He's a perfectionist, he approaches the game that way every day. Obviously him dealing with him dealing with his injuries in the offseason, getting healthy so going through that process. Watching his approach, his work ethic and the way he's worked to get his body to where he wants to be to start camp and he's done an outstanding job. Obviously his resume speaks for itself, you've seen the things he's done. Really excited to get an opportunity to collaborate and work in the same setting. We have high goals of what we can do."
Do you put a ceiling on what it could be? Or do you just take it day by day?
"I think as in anything, you're goal-oriented. You set goals, you set things you want to accomplish but you also have to understand that this level doesn't always go in a straight-line path. So staying in the day-to-day and dealing with what's in front of us right now at this moment in time and let's get better at this and let's master that and then we'll move to that. You don't know where the foxholes may be or where the road may turn one way or the other. That's what makes it so fun, everyday is going to be different in this league, every day is going to be a different challenge. To go through that and then when you have the success that's what I think makes the chase of that success so great."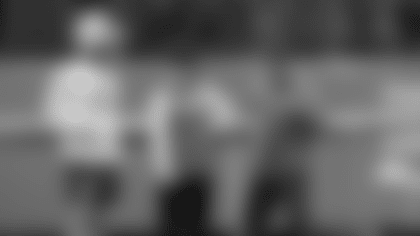 With Easton Stick, what have your interactions been like with him?
"Really good. He got a ton of work this offseason because of Justin's limitations, which was great for him. Obviously really bright guy, young player who works extremely hard, hasn't really had an opportunity yet to put out there what he's capable of so really looking forward to his camp and him being prepared and being ready."
And then Max, you mentioned the high school freshman coming in. Is it similar with him coming in, an NFL freshman?
"Sure, the learning curve is obviously steep for him right now. As you look at young quarterbacks he's coming into this league, had a high-level of success at TCU and now you almost have to start over a little bit and you have to try and break things down, simplify so that he can play fast. And then he's got outstanding physical traits that he wanted to rely on. Really, it's a process where it's a lot fast and so trying to simplify that for him so that he can grasp the main concepts that he needs to grasp to be successful so that he can build off of that. As you see at this position and guys in this league, the longer that they play the better they get as they start to master these little techniques, these little nuances that at first you're not going to touch that level yet."
Final question, what do you like about this coaching staff. There's lot of focus on the players but you're new to this staff. How have you kind of engrained yourself here?
"The journey you go through and the way things turn and twist, all of a sudden I go from one of the middle-age coaches on a staff in Dallas to now I'm the oldest member on the offensive staff, so that's been something new to me. Little blow to your ego so to say. Love Coach Staley and his vision of what he wants this football team to be. Obviously having the background I have with Kellen and then you're watching [Derrick Ansley] and the coaching structure within our organization. Brandon does an excellent job of our coaching structure within our organization and there's a lot of younger coaches on this staff that bring a lot of energy everyday and a lot of new ideas. One thing I've learned throughout my career is there's so many different ways to look at the game and approach it. You're always looking to evolve and learn new things as much as you can learn from people who have had a lot of experience, you can learn just as much from younger coaches who may have seen the game through a different lens. Because the game is always evolving, this game is always changing so you're always in that pursuit of that competitive advantage. It's been a great experience so far, obviously looking forward to the season."
Bolt Up!
Secure your 2023 Season Ticket Memberships today! Click here to learn more.