Chargers.com is chatting with various Bolts players throughout training camp. Zion Johnson is up next.
We appreciate your time, Zion. How has camp been so far?
"It's been good getting back into it, been good to shake the rust off. You know, it's been a while since we really been out here with pads on full speed. Things are starting to come together and we feel really good about what we have with this team."
Are the offensive linemen the most excited group to put the pads on?
"Absolutely. I think, for us, it makes it more game-like. When you're out here with T-shirts on it's really hard to get a grip on the pads and strike an actual surface like you would in the game. So when we have that ability to get real live reps, like what we're use to really, it enhances our skillset and gets us better along the offensive line."
How was your offseason? Did you do anything fun?
"Not much really. I went back home to Maryland for a little bit, was out here. Mostly for me it was about getting better and trying to become better version of myself. I'm looking forward to in the future and maybe next offseason getting around California and see what there is to see around here."
Are you a big travel guy? Or food guy? Or anything like that?
"I'm a homebody. I like being at home and enjoying my hometown and stuff like that. But everybody changes and I think in the future I'll have some good opportunities to go and travel and see stuff."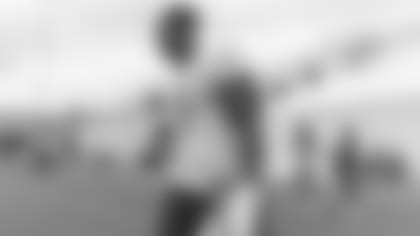 You said your main focus this offseason was on getting better. How do you look back at your rookie season?
"I think there was some good, there were some bad. But I think a key thing for me was trying to learn from my mistakes. Try to, you know, make sure that I only make the same mistake once. I think if even now, if I continue to do that, I'll just get better and better every single game and every single day."
Who was the toughest defensive lineman you had to block last year?
"It was definitely Chris Jones. He just has a huge skill set. He's a guy that can really switch it up on you and can play the game in so many different areas. Like, he could be an elusive guy for one half and then a power guy for the other half. There's not too many guys that can do that and be successful."
You're obviously you're going to see him twice a year, so do you relish that challenge now and know what to expect?
"Absolutely. There's definitely some guys that you circle the calendar date for when you play them and you make sure to get a jump on their film a little earlier than other guys just so you're well prepared. Those are the guys who really test how good you are and test your ability."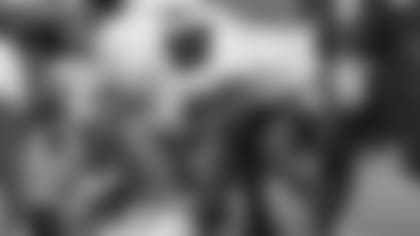 The big storyline with you this season is the move back to left guard, a spot you played in college. You said earlier this offseason that you're more comfortable there, but what's the why behind that comfort level?
"Left guard, I played there pretty much my whole career. Played left tackle for two seasons, played left guard for two seasons in college. I just have a lot of reps, practice reps, working at honing my craft on the left side more than the right so of course there's more things I'm more comfortable at on that side, more things that are muscle memory and whatnot."
Has the transition back there been like riding a bike? Is that a good way to describe it?
"I would say so. There's certain things particular to the offense that I have to learn for the left side because, of course, the offense you run in college is way different than the one we have here. So, there's certain movements, certain things that I have to hone on that side. But a lot of the basic movements, the fundamentals, it is like riding a bike."
What was the biggest change you had to endure last year going to the right side? Was it footwork? Trying to pull a different direction?
"As an offensive lineman, when you flip sides, not only do you flip footwork but you kind of have to flip your brain. Because you think of play sometimes in terms in terms of like where you are. But now when you're on the other side, you can't do that, you have to abstract and think of the scheme, think about how everybody fits into the play and then you have to flip the foot, the footwork and that's something you may have never worked on before."
I chatted with your position coach, Brendan Nugent, this offseason. He said he was excited to see you and Rashawn Slater play next to each other. What do you like about that tandem?
"Rashawn is just a great leader. A great, talented offensive lineman. He's a guy who can recover really well and make things that … whether we're in a bad situation … he can recover and make things right. So, it's just great playing next to him. He just has like a hunger and a thirst to get better. Playing with Pip [Trey Pipkins III], he had those aspects as well. But Rashawn having that level of success and only wanting to get better, it kind of forces you to be at that level with him and try to be as good as he is."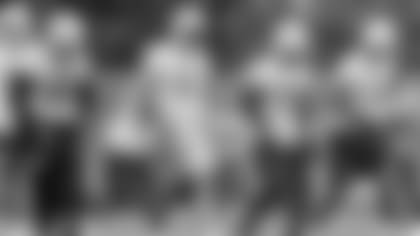 How about the impact Corey Linsley has? You're still playing next to him, only on the opposite side.
"I think playing with him really helped. He knows a lot of football, he's really great at simplifying things and explaining things in a way that, as a rookie and your head is spinning, you can really understand. He's a great leader and he gets us going and juiced for every game. Just a great guy to have around."
Any personal goals you have for the 2023 season?
"Yeah, they're very particular. I think it's more things in terms of like, what I want to do better with my game, like be a better striker and work on my hands. Being able to displace guys with my hands. Things like that are sort of my goals. Like, having like quicker two steps in the run game because I think if I can do things like that, it'll make the game to slow down for me mentally and physically. Then I'm not expending as much energy as I have to when you're straining and just kind of raw. You can just react to things and then mentally just master the playbook and try to know it like the back of my hand."
How about with the whole offense? What's the potential of this group?
"I think we have a great team and the sky is the limit. It's going to go as far as we can take it. We've talked about it a lot, but with how that last game went in the playoffs last season, I think we have an opportunity to rewrite our destiny. Just get back into that position and do a lot better."
Bolt Up!
Secure your 2023 Season Ticket Memberships today! Click here to learn more.