Chargers.com is chatting with various Bolts players throughout training camp. Morgan Fox is up first.
Welcome back to training camp, Morgan. How have the first few days been?
"It's been awesome. Guys have been communicating really well and it's great being back around everybody. Just hanging out and getting closer. And then there's obviously a lot of things you can get better at. A bit rusty getting back into it but I think we're in a great spot so far."
Year 8 for you is on deck. How is camp different for you now than earlier in your career?
"It changes every year. Coach Staley and the training staff does a really good job of taking care of us, just taking care of our bodies and managing the workload. They make it where we can go into practice days going full speed and be very intentional in getting better. The first couple of years was just go, go, go. So I'm enjoying that aspect."
I have to ask about your guy, Winston. How's our favorite show dog doing?
"He's doing good! He's coming back out here soon, he'll be back Sunday for a little bit but then he has a couple more shows. He'll be back for good after those."
Do you ever think about the fact that you have a celebrity dog?
"It's crazy, man. I get recognized for him a lot. I got recognized on a plane by a flight attendant. People in that community — the Frenchie owners — they're kind of crazy. They'll be like, 'I know your dog!' But it's cool."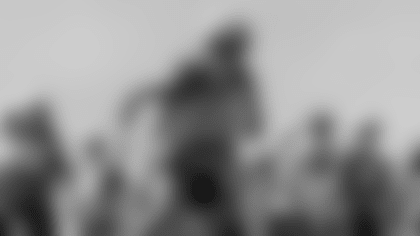 You had an eventful offseason which included getting married. How have the first few months of marriage been?
"Feels great but kind of the same as before. We've been together for 10 years so we just threw an expensive party. But it was awesome, the best weekend of my life."
How did you and Kay meet? Back in college?
"She played soccer at Colorado State-Pueblo so we met through some mutual friends. Been together ever since."
How much have you relied on her support through your NFL journey?
"Oh man, the entire time. I couldn't have gotten to where I am, or gotten through the things I've gotten through, without her. I've had some tough spots in my career and when I really needed someone to lean on, she was steadfast the entire time."
I saw that Sebastian Joseph-Day was one of your groomsmen. That probably added some fun to the group, no?
"It was awesome. Just really cool of him to be able to make it. He had his baby two days before the wedding and it was awesome he still made it out to be a part of everything. I love having a guy like him in your corner."
Two days before the wedding?? You got some good luck on that timing.
"We were definitely understanding. He was a new dad and we knew it was a huge moment. We were like, 'Go be a dad!' But it was awesome of him to step away real quick form his newborn son to come hang out with us. It meant the world to me and my wife."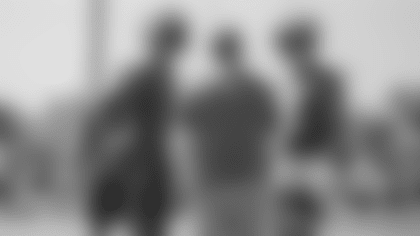 Speaking of 'Bash' … he was a team captain last year. What does he bring to the Bolts?
"Just great energy and great leadership. He's played a lot of really good football and he's just a good teammate to have around. Definitely makes plays but he's an even better person. Good for our room, good for the locker room and good for young guys to be around."
What's the mindset right now inside the D-line room?
"You know, definitely a lot of focus. We always have fun, it's hard not to have fun in there. But we're very focused and locked in on the fact that we have to improve from last year. We're not running from anything that happened last year. We know we've got to be better in the run game and that's a huge emphasis for us. We're not taking anything for granted and a huge focus for us is looking at those run stats from last year and making sure we do something to improve them."
This will be your third season playing for Brandon Staley. What's something people don't realize makes him a good coach?
"Just how much you can lean on him. Outside of being a coach, if you need anything, he's just one of the guys. He's always in your corner and is there for you. Everyone on this team would run through a wall for him. He's always got your back. Whether you play well or have an off game, he'll reach out and make sure you're doing alright. He always supports us and is always in our corner."
You set a career high with 6.5 sacks last year. Are you a guy who sets preseason goals on sacks or things like that?
"You know, I think everyone does. I try to set them really high so that if you get close then it's still a good year. But at the end of the day, the goal is to try to get to the last game and be the last team standing. That's the macro goal, but the micro goals are you personally and what you can do."
How much time do you spend around Joey Bosa and Khalil Mackl trying to pick up pass-rushing moves?
"I try to pick everyone's brain. I tell young guys all the time that the best thing to be in this league is Frankenstein because you can learn from everyone. I learn stuff from Khalil and Joey all the time. I still call Aaron [Donald] and see what I can get out of him. I watch a lot of guys every week, too. What is Cam Heyward doing? I'll watch Grady Jarrett, just anyone I can learn from. Just anything I can do to get better."
Your position coach, Jay Rodgers, had some praise for you this offseason. What do you like about him as your position coach?
"He does drills that work. Everything we do in practice is applicable to a game and it gets everyone better. He just knows football. You always feel so prepared going into games so having him to lean on is huge."
Final one, what is the potential of the 2023 Chargers defense?
"We can be as good as we want to be. This team has the talent and we showed at the end of last year that we can play the run and play it pretty well. We just need to focus on that and hone in on our ability to do that and make it a priority. We want to be that last team standing, but the big goal on the board is to be that No. 1 defense and stop the run. That's where it starts. If you want to be the best, you have to stop the run. We have rushers, we have guys that can cover … we just have to prove we can stop the run when it matters. If we do that, I think we'll have a pretty good team."
Bolt Up!
Secure your 2023 Season Ticket Memberships today! Click here to learn more.