Before Pro Football Hall of Fame member LaDainian Tomlinson teed off at the Chargers Invitational on Monday, the legendary running back talked about the Chargers selecting Isaiah Spiller in the 2022 NFL Draft.
Tomlinson and Spiller have a lot in common, as they both are Texas natives who played college ball in the state and eventually, went on to get drafted by the Chargers. Tomlinson explained Monday that he's had his eye on the fellow Texas native for some time.
"I've been a big fan of Isaiah," Tomlinson said. "Obviously being from Texas, went to Texas A&M, [and] obviously going to high school there. I've kept up with him...I've been a big fan for a while."
While Tomlinson hasn't had the chance to meet the Bolts' new running back, he said he looks forward to it, and also talked about what Spiller's game will bring to the Chargers next season.
"I think Isaiah with his size and his speed, his athletic ability I think he can add a different dimension to the offense," Tomlinson said. "Nowadays, guys like Isaiah, you know you have to have guys like him on your team for the clear fact that no one wants to tackle big backs anymore. I mean look what [Tennessee Titans running back] Derrick Henry has done for so long; you don't want to tackle those big guys. I think with his speed and power combination it's going to be interesting to watch how he develops in this offense."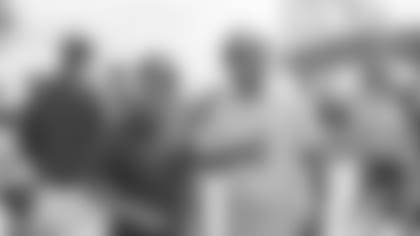 Tomlinson talked about finding a complement to starting running back Austin Ekeler and what a young running back like Spiller can do in order to earn the trust of his coaches during training camp and the preseason.
"Your mindset has to be focused on, 'I'm going to take the best six, seven carries that I can possibly have and make the best out of them and I'm going to do the little stuff,'" he said. "'I'm going to make sure that I'm on my P's and Q's with protection, that I'm protecting Justin Herbert, that I'm running the right routes.' All of those things, I think you earn the respect of the coaches so that they feel comfortable putting you on the field."
Tomlinson also gave high praise to Spiller on NFL Network just a few hours before Day 3 of the 2022 NFL Draft, calling him the best available back in the draft. A few hours later, Tomlinson's analysis became a reality when Spiller got the call he was going to be selected by the Bolts.
Bolt Up for 2022!
Secure your 2022 Season Ticket Memberships today! Click here to learn more.