This offseason, we want you to get to know our players a little more off the field.
While you may be aware center-guard Scott Quessenberry was selected in the fifth round of the 2018 NFL Draft, here are five fun facts you may not know about number 61.
1. 2nd Quessenberry in the NFL: When Scott Quessenberry was drafted by the Bolts, he became the second member of his family to play in the NFL. His brother, David, plays for the Texans. "It's really cool, and it's crazy because Derek (Watt) and I are together and David and J.J. (Watt) are together. It's great to be able to talk about everything that goes on in the league like different policies and rule changes. So to have somebody in my family to talk to is pretty sweet."
2. Big Fan of Carrie Underwood: When rattling off five fun facts, this one was at the top of Quessenberry's list. He said he enjoys Carrie Underwood's music, and lists "Undo It" and "Smoke Break" as his two favorite songs of hers. The self-proclaimed country music fan also enjoys the repertoires of Eric Church and John Pardi.
3. "Game of Thrones" is the GOAT: "No argument. No debate. It's the greatest TV show ever." So just how invested is Quessenberry in GoT? "I listen to two podcasts about it. I know everything there is to know under the sun about the TV show and the book." With the final season slated to premiere next year, Quessenberry isn't exactly buying the fact that the show will be over forever. "They're going to do more! They'll do spinoffs of Robert's rebellion and the long night and other stuff." He said he's also had many a discussion about the show with fellow "Game of Thrones" fan and teammate Joey Bosa.
4. Hits the Links: Quessenberry became a fan of golf after spending time watching The Masters when he was in college nursing an injury. "I watched The Masters when Jordan Spieth went wire-to-wire. I was like, I've got nothing to do because I wasn't playing (football) so I got into it." As it turned out, playing golf ended up helping Quessenberry in the long run, as he said it benefitted his shoulder mobility. As for his favorite courses? The Riviera – which he played in as part of the inaugural Chargers Invitational – and Torrey Pines.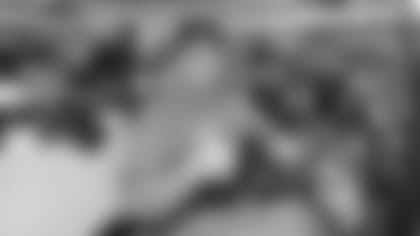 5. Loves Memes: Originally, this fun fact was going to be about the fact that Quessenberry exclusively shops at Target. But then, when talking about a meme about Target, he switched to how much he enjoys those humorous images. "I will sit in bed for hours looking up memes. I'll search 'dank memes' in the search bar on Twitter and I just go through them." Quessenberry loves how memes are universally hilarious because any sense of humor can find them funny.
The Chargers' 2018 training camp schedule is official, so mark your calendars to watch the Bolts prepare for the upcoming season! The team will hold 14 practices open to the public between July 28 and August 23. For more information, please visit www.chargers.com/camp.