The image is an unforgettable one forever emblazoned in the memory banks of all Chargers fans.
Dennis Gibson, his arms flailing above him as he runs off the field the embodiment of pure joy and ecstasy.
At home, millions of fans hear the legendary Dick Enberg's voice bellow from their television set.
"This is it. Incomplete and it was Dennis Gibson on the coverage! And the San Diego Chargers flood the field!"
Reaching the sideline, Gibson chest bumps his teammates, pumps his arms wildly, unstraps his helmet and lets out a primal screen. Fellow linebacker David Griggs wraps his arms around Gibson as he falls to the ground.
What better way to celebrate sending your team to the Super Bowl?
Gibson's fourth down breakup of Neil O'Donnell's pass intended for Barry Foster at the goal line of the AFC Championship game secured the Chargers' 17-13 win over the Steelers in Pittsburgh.  Just 1:04 later, the team officially punched their ticket to Super Bowl XXIX.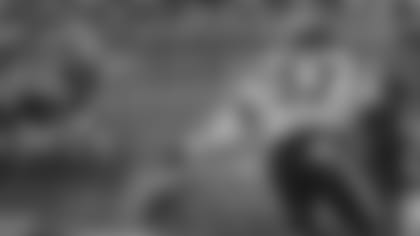 It is perhaps the signature play in San Diego history, with a framed painting hanging in the lobby of Chargers Park.
So where is the hero who made one of the most monumental plays in Chargers history now?
The 52-year old former linebacker resides in his hometown of Ankeny, Iowa where he owns a pizza joint.
"I've moved back to my hometown after I left the Chargers, got married, had four kids and opened my restaurant Encore Pizza," he said.  "My parents were in the restaurant business from the time I was in junior high until my first couple of years in college.  I worked for them a few years over that time, and had some history with it.  So long story short, that's how I got into that business."
Gibson is happily married to his wife, Melissa, with four kids Vance (17), Hayes (14), Eden (11) and Jenner (10).  Even though he is the proud owner of a popular pizza parlor, his kids are quick to bring up the famous image of their father.
"They show that play to me because we are in the YouTube age!" he laughed. "They'll pull it out and say, 'Dad, I can't believe that was you!'  So it's funny. It was such a dramatic ending to a huge game.  It was the last play for the Steelers and they needed to get into the end zone to win.  We were set on keeping them out with a goal line stand, and we created the berth for our Super Bowl.  It was so huge.  Anyone who has ever played the game plays to be in the Super Bowl, so it was a big deal and I really appreciated it because I knew how hard it was to make it to that game."
While some players reflect back on seminal moments and say it's all a blur, Gibson vividly recalls every moment.  In fact, he points out how most people forget he almost sealed the win a couple plays earlier but dropped the pick.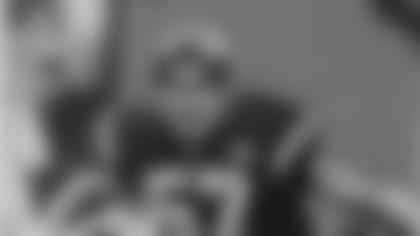 "They threw a ball for Eric Green, the big tight end, and I should have intercepted it.  I just let it slip through my hands and I remember saying to myself, 'I had my chance and I blew it. They are going to get in now.'  So many things go through your brain. Right before that (fourth down) play we were all hyped up in the huddle.  This was it.  It was all coming down to right now. I got another chance and made the play, and I was on the right side of history."
There was another moment before his memorable play that he remembers as clear as day.
"Something else stands out that I remember most was that drive where they were moving the ball pretty well.  There was a moment where Junior Seau was just going crazy. There were times where we felt this was all slipping away, and we had to get it done.  They were making some plays, and he was going wild and yelling.  I was trying to get him lined up for the next play, but he was on my side.  I finally had to grab hold of him and shove him into position on the other side to line him up right!  He was so caught up in the emotions, and that is why he was so special.  Junior was a great player and had the physical talent that few guys have.  He was emotional on the field and played with great intensity. So that is something else that stands out that you don't ever forget. "
Some credit Gibson as the man who got the Bolts to the Super Bowl, but the linebacker is quick to credit each of his teammates.
"It was such a big play, and every once in a while I'll run into someone who tells me they remember exactly where they were for it.  And occasionally I do hear people say I clinched the berth, but I tell them how there were 10 other people on the field at that time doing their job. So it wasn't just me.  It's one of those deals where I was the guy who made the play, and like I said, I was on the right side of history. It's crazy how it's been over 20 years, but people will still tell me about it."
Like every other Charger on that 1994 team, Gibson will never forget the raucous atmosphere at Qualcomm Stadium after the team returned home from Pittsburgh.
"I remember it like it was yesterday. It was such a great homecoming, and the fans were going crazy.  That and the parade after the Super Bowl, going through San Diego with the fans cheering for us and what we accomplished was really big for us. And it was big for the city. Chargers fans were as good as any fans I ever played in front of.  They always showed up and cheered us on. It was a great place to play and a great experience.  But that night, after coming home from almost all the way across the country from Pittsburgh, to have all those people waiting for us when we came home at the stadium felt so good.  Players play not only for themselves, but also for the fans.  We were able to give the fans a good gift that day."
In fact, asked what he would like to tell the fans in San Diego today, Gibson offered a simple, heartfelt message.
"Oh man, I love them.  I wish I could have stayed longer, but my body was worn out.  I have nothing but good memories there with those people and in that city.  I love those fans in San Diego. I look back on it now, and it was one of the best times of my life.  It is not something you can grasp while you are doing it, but something you recall in hindsight.  My wife pulls out pictures occasionally of the time we were there and we look back and say how it was one of the most fun times of our lives."
Gibson fondly recalls how not a week went by where a friend didn't want to visit.
"My first year out there, I rented a little house in Del Mar and I had visitors every weekend whether we were in town or not!" he laughed.  "I'd have people call up and say, 'Hey I am coming to town this week and check you out.' I'd say, 'Well, we're playing out of town this weekend,' and they'd say, 'That's fine, you don't have to be there!' That tells you how great of a place it is where people want to come stay at your place even if you are out of town.  The whole experience of living out there, I'd ride my Harley to work every day and the positive vibes that we got off of the city and fans, it was pretty impressive."
Initially an eighth round selection of the Detroit Lions in 1987, Gibson spent seven years in the Motor City before leaving for America's Finest City in 1994.  While he had a number of suitors lined up, his decision to sign with the Bolts was quite simple.
"That comes up occasionally with people, and the real reason I came was because of Bobby Beathard.  In 1991, when I was with the Lions and we lost to the Washington Redskins in the NFC Championship game, I don't know if Bobby was still there or had already left to come to San Diego, but I knew he was the guy who was in charge of player personnel for that team.  He had the reputation for putting players together to have successful teams.  I played against the Redskins a bunch of times, so when San Diego called and said that they were interested, I knew that Beathard was the guy putting the team together and knew he had the history. I had known what he had done in Washington with (Joe) Gibbs as head coach, and I wanted to be a part of that. I thought he was the guy who would give me the best chance of success."
While nobody will ever forget the image of Gibson wildly celebrating his clutch pass breakup, anyone passing through Iowa should stop by Encore Pizza for another memorable experience.
"Try the Encore Combination," he encourages.  "It's got sausage, pepperoni, capacolla, mushrooms and green peppers!"
MORE WHERE ARE THEY NOW? FEATURES