LaDainian Tomlinson provided countless memories on his way to a Hall of Fame career.
From memorable touchdown runs to some of the most famous plays in NFL history, number 21 is a true legend of the game. 
Still, there is one memory LT holds dear to his heart that has nothing to do with his achievements on the field. Instead, it has to do with his love for his country.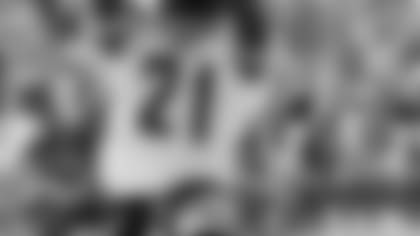 "There was nothing like those cheers running on the field with the American flag," he said while making an appearance at practice last week, referencing a famed photo of him proudly waving the flag on a nearby wall.  
As the United States celebrates Memorial Day, LT was feeling particularly patriotic as he pointed out what a special honor it was to waive the stars and stripes.
"It's the spirit of our country.  With it being Memorial Day weekend, when we celebrate our fallen heroes and those who protect our country to keep us safe, this is the time to reflect on what they've done for us. How special they have been to our country.  I had that same feeling whenever I carried the flag running out of the tunnel.  I was overwhelmed with that spirit of what they give to us."
LT pauses for a moment, overcome with emotion before flashing his trademark grin.
"It wasn't a regular thing, but I ran out with that flag a few times.  Every time I did it, it was such a great moment.  The fans, they'd get so excited.  They would get as loud as I'd ever hear them.  When I would run out there, with that flag, it was just so unbelievable.  It's some of my favorite memories."