It was a muggy afternoon in late August and Eric Kendricks was running post-practice sprints.
A veteran of nearly 125 total NFL games, the 31-year-old Chargers linebacker is simply prepping himself for the first month of the season.
"I have to keep up with these young boys," Kendricks said with a laugh. "But I've been doing that since my first year so why would I stop now?
"I know those first couple games are going to be tough, especially on your legs," Kendricks added. "That's what those runs were. Just getting my legs heavy to push me through that. My wind is there, but you have to get your legs ready."
Even as he catches his breath and the sweat drips off his brow, Kendricks has an extra pep in his step.
He is going into Year 9 in the NFL, but it's his first with the Chargers after spending the past eight seasons in Minnesota.
A California native, Kendricks is as content as ever off the field. He's got a wife and 4-month-old son at home. And he's back in Southern California, a short drive from where he starred in college at UCLA.
On the field, Kendricks has spent the past few months diving into all that comes with being on a new team: fresh faces in the locker room, a twist in schematics and getting used to different colors.
Ahead of his Bolts debut, Kendricks noted that he's done all he can do to this point with building new relationships while aligning himself smack in the middle of the Chargers defense.
"It still has room to grow. I need to take it to the next level but I'm almost there," Kendricks said of his place on defense. "I'm understanding concepts and personnel groups. But I need the next level where I'm not even thinking about it.
"That will come with games and more reps," Kendricks added.
Those who have interacted with and watched Kendricks closely the past few months have marveled at the way he's seamlessly fit in.
"He's just has such a good way in that huddle," Chargers Head Coach Brandon Staley said. "I think that we're able to connect like a veteran quarterback, like an offensive coordinator and a veteran quarterback, on those deeper chapters. We want to take this defense as far as we can take it."
Sebastian Joseph-Day added: "I think the truest measure of performance is consistency and that's what Eric is — very consistent. Does not sweat at all, being that vocal guy we need in the middle, a guy who gets the calls, gets the checks. Being able to communicate at a high level helps the secondary, helps the front. He's been great."
Perhaps it's no surprise that the linebacker was voted a captain by his teammates earlier this week.
"I think he has had a quick impact here. Any time you're a veteran player that has accomplished a lot someplace else, that transition, I think people minimize how tough it is," Staley said. "A lot of it is just going into a brand-new place and how you fit in. The person you were, can I be that person here?
"He's just very authentic, he's a very authentic player. I think that that is the type of leader that all of us respect. He has not changed who he is, but he has adapted and fit into this group," Staley added.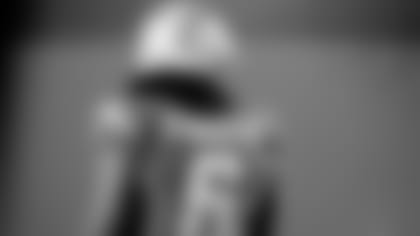 Kendricks will wear the green dot on the back of his helmet this season as the player Staley relays defensive calls into.
These will be the moments Kendricks spring into action. From the time he gets the play call to the time the ball is snapped, Kendricks will be the one responsible for getting the Bolts defense lined up and into the correct (or different) play call depending on what the offense is showing across the line of scrimmage.
Kendricks said constant communication with everyone around him has been his biggest focal point since signing as a free agent in mid-March.
"Sometimes I just check in with the guys," Kendricks said. "Like, 'Am I doing things right for you? Am I doing good? What do you need from me?'
"I try to repeat myself but also ask questions if I don't know it," Kendricks continued. "A lot of these guys have been playing this defense longer than me, so if I get something I don't know then I ask right away in the huddle.
"But it's just talking, man," Kendricks added. "You have to talk. You can't have an ego."
The goal, for both Kendricks and the Chargers, is that his presence helps improve a Chargers run defense that struggled at times in 2022.
The Bolts gave up the most yards per carry of any team in the entire league, which made it an easy decision to add a former All-Pro and Pro Bowl linebacker with more than 900 career tackles on his resumé.
Chargers linebackers coach Jeff Howard — who spent time with Kendricks in Minnesota — spoke in the offseason about what he wants to see from the linebackers when it comes to stopping the run.
"We want to play with relentless effort, inspiring-type effort, when people watch us play and do it at the highest level," Howard said.
Perhaps it's no surprise then that Kendricks gave a similar response when asked what makes a great run defender in the NFL.
"Effort, first of all. You have to have effort, you have to have want-to," Kendricks said. "It's a little bit of nastiness and tenacity.
"It's definitely knowing what you're going to get and beating the guy in front of you," Kendricks added. "A lot of it is mindset when you're stopping the run. We have to be locked in and communicating."
Kendricks knows what a good defense looks like. He helped the Vikings have the NFL's No. 1 defense back in 2017, and Minnesota also finished in the top 10 in points allowed per game four other times while he was there.
Part of that success, Kendricks said, is simply having experience in any and all types of game situations.
And it's also understanding that things aren't always going to be perfect all the time.
Think of it like having a calm mindset despite chaos going on all around you.
"There's too many good players on the field, man, bad things are going to happen," Kendricks said. "You're going to get hit in the mouth and you're going to get scored on, it's just the nature of the beast.
"Sometimes you open the game up and give up a touchdown," Kendricks continued. "It's about how you battle back from it, how you go to the sideline and make adjustments and communicate with the coaches and teammates.
"They can come out in the first 15 plays and draw something crazy up," Kendricks added. "But it's all about how you respond."
Staley said it's this mindset that made him a fan of Kendricks from afar over most of the past decade. And it's why the two had an hour-long phone call when Kendricks was on vacation in Hawaii that helped land him in powder blue.
"He's just the guy that I feel like, there's sometimes where you just feel like you've known someone a lot longer than you have, and he's one of those players that I had never coached, but I felt like I knew his game," Staley said.
He later added: "I just think that what he was looking for and what we were looking for was just the perfect fit. I think those stars aligned."
We'll soon find out what impact Kendricks makes on the Chargers, both on defense and the team overall.
He's a leader. A communicator. A playmaker. And he just might have something to prove, too.
"I don't want to feel like I'm the center of anything," Kendricks said of his expectations for 2023. "I just want to get in where I fit in.
"Just earn my stripes on Sundays," Kendricks continued. "I want people to see what I'm about. Make my plays and we'll talk about it then.
"Everything I've done in the past, I want to check it and put it aside," Kendricks added. "It's time to start new. Start fresh. This is a great opportunity for me."
Bolt Up!
Secure your Chargers Mini Plan today! Click here to learn more.