This season, Chargers.com will highlight a recipe that's been tried and tested by Chargers players to give you an experience to eat like a Charger.
Being a vegan professional athlete may seem like an oxymoron, but not for Griff Whalen.  In celebration of National Vegan day that occurred earlier this week, we felt it would be fitting to share of one the receiver's favorite dishes adapted from VegKitchen.
Whalen has been vegan for over two-and-a-half years.  After watching a documentary, he tried a vegan diet for a few weeks but felt "so much better" after a few days and decided to commit long term.
"It's the optimal diet for an athlete," he said.  "I think it's the best at reducing inflammation and gives you the quickest recovery after training and workouts.  It's helped me feel lighter (and) changed my body composition a little bit.  I've gotten stronger but lighter and leaner at the same time."
Whalen has many favorite San Diego vegan restaurants including Café Gratitude, Trilogy in La Jolla and Plumeria which offers vegetarian and vegan Thai dishes.  The recipe for vegan mac and "cheese" made with sweet potatoes and topped with mushrooms is a favorite and one he's made for Thanksgiving. 
"I like it because it's easy, but really hearty and filling.  People shouldn't be "scared" (of trying vegan mac and cheese) because it's all healthy, but still a tasty comfort food dish." – WR Griff Whalen
Vegan Sweet Potato Mac & "Cheese"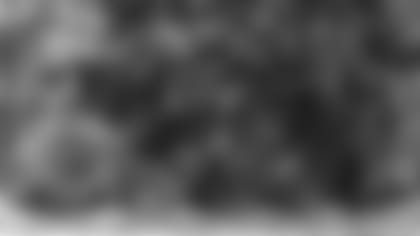 2 sweet potatoes, cut them into little cubes
16 ounces elbow macaroni noodles
Juice of ½ lemon
1 teaspoon Dijon mustard
1 teaspoon soy sauce
1 teaspoon garlic powder
1 teaspoon dried chili flakes
1 tablespoon nutritional yeast
1 tablespoon extra virgin olive oil, and more for drizzling
1 teaspoon sea salt & freshly ground pepper
2 cups unsweetened almond milk
A handful fresh parsley, roughly chopped
8 ounces mushrooms, washed and sliced
2 garlic cloves, peeled and minced
1 teaspoon extra virgin olive oil
Drizzle some olive oil on the sweet potato on a baking sheet and season with a little salt and pepper, then bake 40 minutes at 400° F, flipping once half way through.
Cook the pasta, drain, return to pot.
Mix lemon juice, mustard, garlic powder, chili flakes, nutritional yeast, olive oil, salt and pepper together in a bowl.
Sauté mushrooms and garlic in oil on medium heat for 5 minutes.
Remove sweet potatoes from oven, but leave the oven on. Add sweet potatoes and almond milk to the bowl with all your seasonings. Mash well, combining all ingredients. Don't worry if you have a few lumps. If the mixture is a little too thick, add another splash of almond milk.
Add macaroni noodles to the bowl, and fold all ingredients together. Spoon all into a casserole dish, add mushrooms on top and place in the oven for 10 minutes.
Remove from the oven, sprinkle freshly chopped parsley over the top, and serve.