A pair of key defensive players in franchise history have signed 1-day contracts to retire with the Chargers.
Cornerback Antonio Cromartie and defensive lineman Corey Liuget made the moves official Saturday at Hoag Performance Center, where the duo also took in a walk-through and met with the current Bolts.
Although Cromartie and Liuget didn't share the field together in Powder Blue — Cromartie spent 2006 to 2009 with the Bolts while Liuget was with the team from 2011 to 2018 — both played a key role for their respective teams.
And both couldn't be happier to retire as Chargers.
"Being there for eight years, some of the relationships I made and the people there, they impacted my life," Liuget said. "That was one of the greatest things that could have ever happened to me, playing for that organization.
"They changed my life and my family's life. I'm very thankful for them," Liuget added. "Me retiring as a Charger is a true honor."
Cromartie said: "Honestly for me, it's always [been] home. No matter how we split up, no matter what went on, Chargers have always been home. One, they gave me the opportunity to go after a dream that I had since a little kid. Chargers nation, Bolt nation and everything else will always be home to me. They hold dear to my heart."
Cromartie was the 19th overall pick in the 2006 NFL Draft out of Florida State. He played in 64 games with the Bolts (starting 39 of them) and developed into a ball hawking cornerback.
Cromartie's best season came in 2007 when he led the league with 10 interceptions on the way to First-Team All-Pro and Pro-Bowl honors. He also nearly won the NFL Defensive Player of the Year Award as he added a sack, 18 passes defensed, two fumble recoveries and a pick-six.
Cromartie recorded 15 total interceptions in his time with the Bolts, returning two of them back for touchdowns.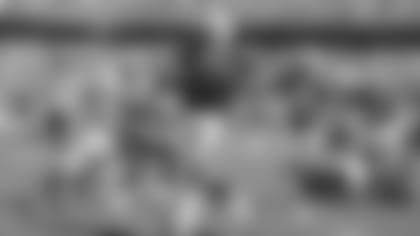 But his favorite memory doesn't involve his own game. Instead, he recalled his rookie season when running back LaDainian Tomlinson set the NFL single-season touchdown record with 31 total scores.
"I'm going to be honest with you, it's not even my memory. That's the crazy thing," said Cromartie, who was traded to the Jets after the 2009 season. "I think it was just my rookie year, being able to see LT break the touchdown record. As a young kid I grew up watching LT, so like to be on the same team with him … it was just like, 'Oh, okay then.'
"That was probably the best memory that I've had," Cromartie added. "I mean, I have some great memories but that one, being a part of something like that was truly amazing."
Liuget arrived to the Bolts in 2011 as the 18th overall pick out of Illinois.
He started 103 of his 108 career games for the Chargers, recording 274 total tackles with 59.0 tackles for loss. He also notched 24.0 sacks with five forced fumbles, six fumble recoveries and a defensive score.
Liuget didn't make a Pro Bowl during his career, but simply did the dirty work up front as the Bolts had a Top-10 run defense twice in his tenure.
Liuget quipped that his life is a little less stressful these days now that he's out of the trenches.
"For me, I'm hanging them up after 10 years," said Liuget, who played for the Bills, Raiders and Texans in his final two seasons. "I'm happy and spending time with my family. I love being with my kids and enjoy taking them to school every day.
"To get to this point and play football for 10 years was a blessing," Liuget added. "It was an honor and one of the great journeys of my life."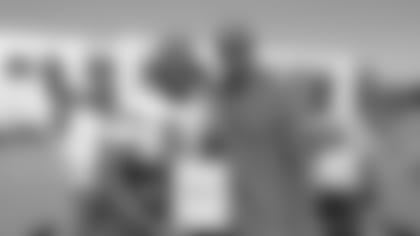 As for Liuget's favorite memory with the Bolts, he recalled a Week 15 road win in Denver on Thursday Night Football that helped the Chargers eventually make the playoffs.
The Chargers earned a 27-20 win in primetime as Liuget and the defense held a high-octane offense to their lowest point total of the regular season.
"It was in Denver and they were on this hot streak with Peyton Manning," Liuget said. "We went up there and upset them.
"Those were some good days," Liuget said. "We were stacked."
While Cromartie and Liuget's playing days might be over, both left a lasting mark on the Chargers franchise.
And both said the Bolts will always be near and dear to their hearts as they continue to root for the Powder Blues.
"Man, I love what I see," Cromartie said of the current Chargers team. "I think the guys are fighting hard, the guys are doing the things that they need to do.
"The biggest thing is just always finishing games and making the least amount of mistakes. That's all that football is about," Cromartie added. "Team that makes the least mistakes always wins. You want to play mistake-free football and be the best you can be on the football field."
Liuget added: "They're showing me true grit. They are always going to be in the ballgame and are going to perform no matter what. I'm loving it. I love the energy that's around that place and the organization."
Bolt Up for 2023!
Secure your 2023 Season Ticket Memberships today! Click here to learn more.