The Chargers are 3-2 after a Week 5 win over Cleveland.
Here are five Monday takeaways from Chargers Head Coach Brandon Staley, running back Austin Ekeler and defensive tackle Sebastian Joseph-Day:
1. Savoring back-to-back road wins
It's hard to win on the road in the NFL.
And it's even tougher to do it in back-to-back weeks.
But that's precisely what the Chargers accomplished in the past eight days, getting victories in Houston and Cleveland to get above .500 with a 3-2 record.
That's the first time the Chargers have notched back-to-back road wins since Weeks 1 and 3 of the 2021 season, something that wasn't lost on Staley, who got a win near his hometown.
"It was special to me because of the guys in the locker room. I had a lot of family at the game, but that win is about our football team; that's about the Chargers, that's about the Powder Blues," Stlaley said. "We had a lot of powder blues in that stadium, if you guys were there. That's what made me feel even extra special, that we have a fan base that will travel to Cleveland, Ohio, for a game at the beginning of October.
"I just know that when you go on the road in the NFL, especially in that environment, the Dawg Pound, against a really good football team, that it's hard to win, especially when you get down 14 to nothing," Staley added. "There were a whole bunch of things going on in that movie. We had to figure it out, as a team, and that's exactly what we did. To come back and to win that game the way that we did, I felt like it was a team win in every sense."
Running back Austin Ekeler also commented on getting back-to-back road wins for the first time in over a calendar year.
"It's been that long? I didn't even know that," Ekeler said. "I don't even pay attention to it because it's like, 'Hey, one week at a time.'
"The fact that, just in general, that we have two in a row in the win column, especially on the road, it feels really good, man. It feels really good," Ekeler added. "I try to ride the high of the win for like the day after, but then it's back to, 'All right, we have to do it again,' because next Sunday, no one cares what you did last Sunday. Everyone cares about what's upcoming."
Entering Monday Night Football between the Chiefs and Raiders, there are 19 teams that sit at either 3-2 or 2-3 through five games. The Bolts are among eight teams at 3-2.
With a dozen games to go, Staley said the goal is to keep stacking them up while correcting mistakes on the fly.
"To be 3-2 and not 2-3, you can't minimize that because if you take a look at the NFL and where it is right now," Staley said. "Every week is tough and every week it's a different matchup. These wins are so tough to come by, and so when you get them, you cherish them.
"Then you have to keep it moving and you have to make the improvements. That's what we're doing," Staley added. "Just because we won, we're not like, 'Wow, we feel so good, we feel so happy.' There are 60 minutes worth of tape that we need to correct, and that's what we've been doing this morning."
2. More chatter about 4th-quarter call
As expected, Staley fielded plenty of questions about his decision to go for it late in the fourth quarter Sunday.
The Chargers kept their offense on the field on fourth-and-1 at their own 45-yard line with 74 seconds left. A first down would have allowed the Bolts to run out the clock.
But a pass attempt was incomplete, which prompted plenty of outside second-guessing as Cleveland took over in Chargers territory.
On Monday, Staley once again explained his reasoning for the call.
"Where we were at in the game, and the way our offense was playing — the way that our offense was playing in that game gave me full confidence in the matchup," Staley said. "And the way our defense was defending the passing game, and their kicker.
"All of that good stuff, that factored into it," Staley added. "We trusted our offense to go make a play. That was the decision I made and I felt like it was the right one."
Staley even took it back a play, explaining his mindset as the Bolts faced third-and-3 just before.
That play call, Staley said, was an RPO [run-pass option] type of play, where Justin Herbert could hand it off or keep it and throw it. Ekeler carried for two yards on third down.
"Then, depending on what happened on that play, if it stayed the same, then we would throw it, targeting [WR] Mike [Williams]," Staley said. "We wanted to finish that game with our offense on the field. They had played a whale of a game.
"We liked our matchup on the outside," Staley added. "That's what I felt like was the best decision was for us at that time."
And what if the Chargers find themselves in a similar situation next week?
Staley said the Bolts were actually in that type of scenario against the Texans in Week 4, where the Chargers went for it in their own territory and converted.
"I think that you have to treat each decision like it has a life of its own. I think that you have to be transparent with your process," Staley said. "You know that each of these games are different. Last week, there was not a lot asked or said about what happened in Houston. That didn't happen to be something that was asked or, sort of, reported about.
"At the beginning of the season, against Las Vegas and Kansas City, probably a little bit more because those were more national-type games," Staley continued. "There were reasons in that game to do what we did.
"I think that that's what I've said since the beginning, since I've become the head coach, is that each of these games are different. They each have a different flow. There are different variables in play," Staley added. "At the same time, we're going to believe in what we do and how we do it. That's been my message to our team the whole time I've been here, and that's what I'm going to continue to do. I just think it's an easier way to live."
For what it's worth, a pair of Staley's players backed him Monday.
"This is no surprise. It's still Brandon Staley we're talking about here. We saw everything last year that we were doing," Ekeler said. "It showed up in this moment where he believed in us. He said we were having some pretty good success during the day and gave us an opportunity to go get one yard and we came up short."
Sebastian Joseph-Day added: "I'm going to ride with him, regardless of whatever the decision was or the reason behind it was. If I'm looking at it as him, I'm probably thinking, 'My offense is hot. Our offense has been hot all game. They've been doing whatever the heck they wanted.' Who they were trying to get the ball to, [WR] Mike Williams, he was going dummy the whole game. Moss'ing people the whole game. He was Mossing their No. 1 DB [Browns CB Denzel Ward], supposedly the best DB in the game right now, one of the best DBs in the game right now. In that regard, when I look at it like that, it's a no-brainer. If your offense is hot and they have the momentum and they're doing really well, and Mike Williams is playing as dominant as he has been this whole year, why not just give him the ball and give him a shot?"
3. Ekeler finds some space
Austin Ekeler had quite the performance Sunday, rushing for a career-high 173 yards and adding 26 receiving yards through the air.
That tally of 199 total yards and two total scores helped the Bolts offense put up 465 yards of total offense.
A key for the Chargers in Cleveland? Mixing up the play calls against a stout Browns defensive line.
"I think [Offensive Coordinator] Joe [Lombardi] does a good job, too, with scheme because if you're just sitting back, dropping back the entire time, then it's not going to be a good day," Ekeler said. "You're just going to let these people run up the field. What do we do? We do a ton of play actions. We do a ton of RPOs. We're moving the pocket. We do so many different things with so many different types of personnel. Some chips and things like that where it makes you have to react.
"You don't just get to sit there and put your hands on a guy and sprint up the field. You actually have to understand the surroundings and that's going to slow you down just enough for our guys to have the edge," Ekeler added. "If we can continue to do that, I think we'll have a pretty good chance of making a run."
One of the best examples of what Ekeler outlined above came with just under six minutes left in the second quarter. Facing second-and-goal at the 12, Lombardi dialed up a perfect play call with a screen to Ekeler.
Here is what the Chargers saw when they lined up: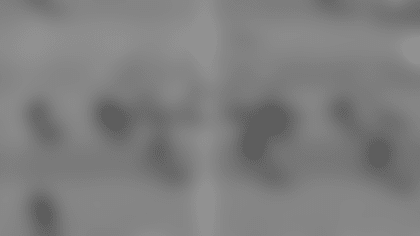 At the snap, Ekeler patiently waits for a lane to open up as Cleveland's edge rushers sprint up field trying to get to Justin Herbert.
Ekeler said he recognized the Browns were in zone, meaning there would be space near the line of scrimmage. He explained how he reacts to defensive linemen as the play develops.
"It's like, 'How can I get out without getting picked?' There was a 3-technique and then there was a 5-technique out there," Ekeler said. "With a 3-technique, I don't want to get over there too quick because I'm going across the formation, as opposed to if there was a 1-technique, which means he's right by the center, now I need to get all the way over there, so I don't get picked off by the guy that's inside."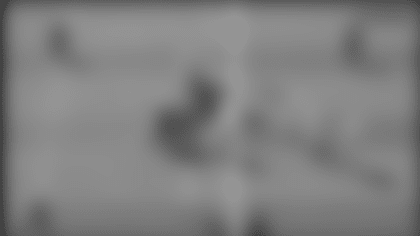 By this point, Ekeler has avoided traffic and has the pigskin as he turns up the field. Corey Linsley has pancaked a Browns defender and the Chargers two guards — Matt Fieler and Zion Johnson — are leading the way.
"I was a little bit more patient, stayed inside, released, perfect timing, Justin throws on time, catch it," Ekeler said. "Now, it's like, 'Okay, I know I'm going to have space.' Put a foot in the ground, but then it's like I kind of dissect the O-line is trying to outreach him to the sideline, press their angles, press their leverage and read out any type of flow from the defense and just try to get vertical.
"All of that basically in a split second," Ekeler added. "It's a bunch of reaction, basically."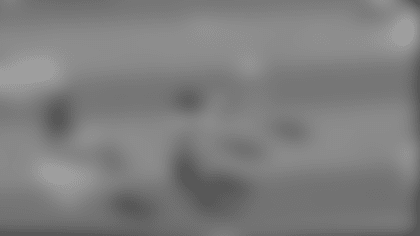 The end result? A 12-yard touchdown pass that gave the Chargers a 17-14 lead. Later in the game, Ekeler would score a 22-yard touchdown on the ground, the 50th of his career.
4. Defense a "work in progress"
Staley on Monday succinctly summed up the Chargers defense through five games. 
"We're a work in progress," Staley said.
As of Monday afternoon, the Chargers ranked 13th in yards allowed per pass play (6.61), but were 32nd in yards allowed per run play (5.82).
Some of the latter number has to do with the long runs the Bolts have allowed, which has been a rush of at least 40 yards in four straight games.
Joseph-Day laid out his assessment of the run defense.
"I think, honestly, it's more so on the players just being able to execute and just lock in when we need to and execute the things we need to as a team," Joseph-Day said. "We always have great practices. We do the things that we have to do, the small things in practice.
"Sometimes, when we go out there, things get miscommunicated and stuff like that," Joseph-Day added. "We just have to lock in a little bit better as a team on the defensive side of the ball."
Staley noted that there have been good stretches defensively, but simply not enough of them.
"Against Las Vegas and Kansas City, I thought we were outstanding in those games. I felt like, in the Jacksonville game, we were outstanding for a half, and then faded because we were on the field a lot. We just didn't have enough in the second half," Staley said. "I thought, in the Texans game, for three quarters, we were outstanding. The third quarter was not good enough.
"Then, in the Cleveland game, it was just up-and-down. There were some good moments in there, but it was inconsistent, for sure. Not good enough, overall," Staley continued. "We made some big plays yesterday, which was good, and we needed them in order to win. We showed some resilience, but I did not like the way that we started the football game. That was the first game that we've really started that way.
"When you start that way, you're fighting uphill to get yourself back, and we did that, to an extent. We're just a work-in-progress. We have a lot of pieces that I am very excited about. We just have to bring the group together," Staley added. "The more we play together, the better that we're going to get. I see a lot of potential for improvement. That's where we have to put our focus, moving forward, just bringing this group together and getting them playing team defense all the time."
Staley also provided a handful of injury updates on Monday, beginning with Keenan Allen.
The wide receiver is still considered day-to-day with his hamstring injury, even after not practicing last week. Allen was initially injured in Week 1, and was working his way back before he walked off the practice field Sept. 29 when he felt something was off.
"In terms of the period that you guys were all at practice, he just felt that tighten up on him," Staley said. "We didn't want to take one of those big steps backward, in terms of pushing it too fast.
"One of those frustrating, soft-tissue comebacks. It's in a spot that, I think, is different than what he had in the past," Staley added. "Just working through that. He made good progress over the weekend. He had a good session this morning. He's just day-to-day."
Right tackle Trey Pipkins II suffered a sprained MCL against the Browns, but Staley doesn't expect him to miss any games.
"We were fortunate to get good news on that. He made it out of the game OK. As you guys know, he showed a lot of toughness in that game. When I went out there, to the field, I didn't seem good," Staley said. "For him to go off, and then be able to come back on and play the way he did in that game, it just says so much about him.
"For you guys that have covered him for several years, just the progress that he's made as a competitor and just showing his stuff yesterday. Just an awesome performance by him," Staley added. "We're fortunate to get him out of that game. He's sore, but good news, overall."
As for kicker Dustin Hopkins, who missed Sunday's win with a quad injury, Staley said the team will know more this week.
Staley, who said he is also day-to-day, had praise for Taylor Bertolet. The 30-year old made his NFL debut and was perfect on three field goals and three extra points.
"Taylor was an example of what it took yesterday from our team," Staley said. "You join up with somebody on a Thursday, and I told you guys, he went like 12-for-12 in that practice, so it kind of had everybody's attention.
"He came in, he was steady, he was poised. Having that veteran deep snapper [LS Josh Harris], that poise, and then, the operation with [P] JK [Scott], I think that that is a big factor in it, just feeling comfortable and confident," Staley added. "A big story, to go perfect on your kicks. We needed all of those kicks, in order to get this job done. I was really proud of them, gave him a game ball. Definitely, definitely proud of him."
Finally, wide receiver Joshua Palmer is dealing with both ankle and knee injuries.
"Nothing that is going to prevent him from not being at practice," Staley said. "Just banged up."
Bolt Up for 2022!
Secure your 2022 Season Ticket Memberships today! Click here to learn more.