Welcome to After Further Review, where we'll dive into a day-after breakdown of key plays and trends from the most-recent Chargers game.
The Bolts are in the win column after Sunday's season opener against the Raiders, but now have a short week before Thursday night's Week 2 game in Kansas City.
Here are five notable moments from Week 1:
1. Samuel's brilliant interception
On a day where the Chargers defense made one timely play after another, a key development happened early in the fourth quarter.
With the Bolts leading 24-13, the Raiders had just crossed into Chargers territory and went for a big play — a deep shot from Derek Carr to Davante Adams.
A touchdown would have cut the lead to single digits, but Asante Samuel, Jr., was having none of that. He hauled in Carr's pass for a game-changing interception.
Here's how Samuel described the takeaway after the game:
"It was kind of a broken play," Samuel said. "But I saw the ball … see ball, get ball."
Samuel succinctly summed it up, but Chargers Head Coach Brandon Staley said postgame that it was one of the best interceptions he's ever seen.
Here's a deeper look at the play, beginning with a snapshot just after the ball is snapped.
Bryce Callahan had followed Hunter Renfrow to the left side of the formation, but with Adams lined up in the slot, Callahan took him. That left Samuel on Renfrow on the outside.
Yet as Callahan turned his head to relay the switch to Samuel, Carr snapped the ball and allowed Adams to get past Callahan at the top of the screen below.
Renfrow runs a route near the sideline about 15 yards deep, but Carr chooses to go for the home run to Adams.
Samuel, seeing Callahan trailing Adams, flipped his hips at the 30-yard line and sprinted toward the end zone. Carr's high, arcing throw gave Samuel enough time to chase it down.
Samuel corrals the pass and collides at the 2-yard line with Callahan, who also had caught up to Adams.
The Chargers would punt on their ensuing possession, but Samuel's first takeaway of the year showcased his range and instincts.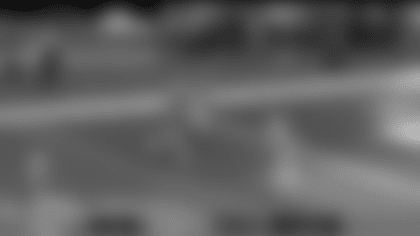 "With the deep ball, that's just showing Sant is just being a football player. He's competitive," said Chargers Defensive Coordinator Renaldo Hill. "When something pops off, he's able to erase it and make up for it. That was a great job of tracking the football.
"Even staying off of the receiver, he did a good job of just tracking and going up, high-pointing it," Hill added. "You have a collision with Bryce in the same spot, just that focus and concentration to come down with the ball when everything is happening at that speed."
2. James makes his presence felt
The box score from Sunday showed a solid if unspectacular stat line for Derwin James, Jr.
The safety registered six total tackles, including a sack, tackle for loss and quarterback hit.
But Staley cautioned about reading too much into those numbers, noting James' impact was felt each and every play he was on the field (which was all 58 defensive snaps).
"One of the rare matchup guys in the league. I felt like we needed all of that," Staley said. "We needed all of it yesterday, against a team like that, that has so many different weapons, both run and pass.
"On a stat sheet, you may not see the impact that he has on a stat sheet, but what you do, when you've watched the game, you'll see the impact that he makes. If you're watching the game live, you feel the impact that he makes, too," Staley continued. "The amount of energy that is required for him in a game plan like that, you can't minimize; physical energy, mental energy.
"It's one thing to have the versatility to play all of those different places, but can your mind allow you to do that? Can you play all those places and do those jobs well?," Staley added. "That's why he's that rare combination, and rare leader. He played fantastic yesterday. He played a beautiful game for us. Really proud of him."
The final defensive play of the game featured a strip-sack from Khalil Mack, who finished off a three-sack game in style.
But Mack credited the play to the defensive coverage, which included James on Adams no matter where he lined up.
On the final play, that meant James trailing Adams from one side of the field to the other, with safety Nasir Adderley over the top with help.
Carr never got the throw away as Mack barreled down on him, but credit James for helping make the play happen.
"We were going to make sure that the guy who was covering Davante was one of our premium guys," Staley said.
3. Herbert, Carter connect on unlikely plays
Justin Herbert completed 26 of 34 passes for 279 yards with three touchdowns and no interceptions Sunday. His passer rating was 129.4.
Wide receiver DeAndre Carter had three catches for 64 yards in the game, including a 23-yard touchdown catch.
According to NFL's Next Gen Stats, both of Herbert's most improbable completions from Week 1 landed in the hands of Carter.
The first, a 30-yard completion late in the second quarter, had just a 27.7-percent chance of being completed.
"I think it's one that we've practiced a couple of times," Herbert said. "The protection broke down, I kind of stepped up, found him, and I just knew that he was running to the sideline. He flattened [the route] versus man. He went up, got the ball, and made a big play for us."
Carter's touchdown was the other low-probability play, with Next Gen Stats noting the completion probability was just 34.8 percent.
Herbert zipped the ball between the Raiders zone scheme, as the score gave the Bolts a 17-3 halftime lead.
"We kind of knew right when he stepped in here how special he was," Herbert said of Carter. "He was able to play a lot more receiver than what is usual for a return specialist.
"He's a special route runner, very smart, intelligent," Herbert added. "That play, that touchdown that he caught, we've thrown that a couple of times in camp throughout OTAs, throughout camp. It was really good to see from him, but I'm not surprised by his success either."
Staley added: "He's just a really tough football player, tough football player, instinctive football player. I think our quarterbacks really trust him."
4. Everett muscles his way in for 6
The Chargers final points of the day came just past the midway point in the third quarter.
With the Bolts leading 17-10, the offense had the ball on the 18-yard line.
Herbert faked a handoff to Joshua Kelley and looked for Carter on a quick route, but he was covered up. At the moment, the play looks doomed.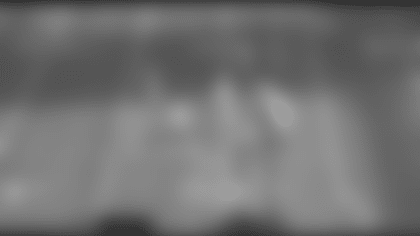 Yet Herbert scrambled to his left as Gerald Everett peeled up the sideline. Wanting to give his guy a chance, Herbert fired a fastball to Everett, who had motored inside the 5-yard line.
Everett secured the catch on safety Roderick Teamer before using his momentum to backpedal into the end zone.
Everett was touted for his ability to gain yards after the catch when he was signed this offseason. And he did that throughout the game on his three receptions, including the handful of yards he muscled for on this touchdown play.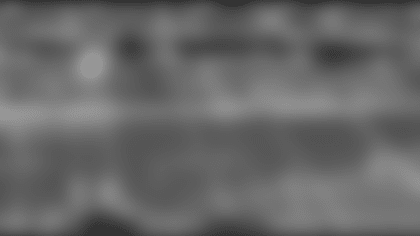 "I think it's something that we've seen all throughout camp from him. He's just a playmaker. He's a special player," Herbert said. "Whenever you get the ball in his hands, something good is going to happen.
"It's a broken-down play and he finds his way up the sideline, makes an incredible catch and fights for more yards," Herbert added. "That was awesome to see. I'm not surprised by that, either. I've seen that all camp. It's just really good to see from him."
Staley chose to give out five game balls in the locker room after Sunday's win, and you can see his explanation in the video below.
The recipients were JK Scott, Carter, Samuel, Drue Tranquill and Mack.
On Monday, Staley explained how and why he chooses to hand out game balls.
"That's a responsibility that I don't take lightly. It's one of my favorite things about the NFL," Staley said. "I try to breathe and try to clear my head and be able to really kind of assess the game. I think it's really important to do that.
"You make sure that when you give them out, that they're meaningful. You're trying not to leave anybody out. You're not trying to give it to everybody. Sometimes it's just one, sometimes it could be like yesterday. I felt like, yesterday, all five of those people deserved it. I feel like they earned it," Staley added. "That's what I want our players to respect; if we give one out, then everyone's like, 'Yeah, that guy definitely deserved one.' I felt like, for all the reasons that I mentioned in the postgame, I felt like all of those guys were very deserving. I was proud of all those guys. You're always going to leave some people out and you feel terrible about that, because you know that it's such a team effort. In every game ball, it's a team of people that are responsible for it. I love that tradition in the NFL, for sure."
Happy Victory Monday, Bolt Fam. This one feels extra sweet since it came against the Raiders, but the focus is already on the Chiefs.
Until then, don't forget to hit me up on Twitter to send in questions for my weekly Chargers Mailbag.
Bolt Up for 2022!
Secure your 2022 Season Ticket Memberships today! Click here to learn more.