Joey Bosa has garnered a ton of attention as the third overall pick has been a difference maker in his first two games.
Brandon Mebane has made an instinct impact on and off the field since signing this offseason, being named a team captain and reinforcing the middle of the line.
Corey Liuget continues to be a force against the run and pass while Caraun Reid has made headlines with a fumble return for a touchdown and safety since being claimed off waivers just prior to the season.
Then there is Tenny Palepoi.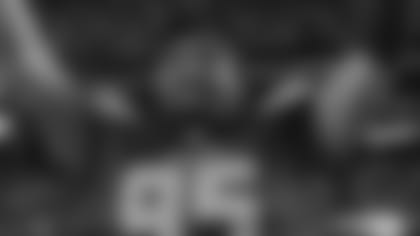 The third-year defensive tackle doesn't garner the headlines like his fellow defensive linemen, but his impact has been just as profound.  Take Thursday night for instance as the win over the Denver Broncos was indicative of the impact the 6-1, 298-pounder has on the field. 
Palepoi's ability to affect the game is why he was tied with Liuget for the second most snaps played by a defensive lineman (43) against the Broncos after Joey Bosa (54). His performance also showed why sometimes a stat sheet can be misleading. While he wasn't credited with any tackles, he had two key pressures on the quarterback that forced incompletions and also drew a pair of pivotal holding penalties as well.  
While some players crave recognition, Palepoi thrives flying under the radar.
"That's not a problem for me," he said.  "I'm accepting the role that is given to you and making the most of it.  I love my role and the way that we play together as a defensive line.  I'm passionate about everything that I do, especially when it comes to football.  This game provides me with a lot of opportunities to take care of my family, and I love playing it.  I grew up watching my older brother play in the NFL, and it's something that I always dreamed of doing.  So I'm enjoying the moment with the guys on the field.  We grind so much, how can you not enjoy playing on game day."
In fact, when asked what the 25-year old brings to the table, Head Coach Mike McCoy and Defensive Coordinator John Pagano each pointed to his passion.
"You love Tenny's energy and the way he really played," McCoy said about the win over Denver. "I'm really pleased. Tenny chased (Trevor Siemian) down on the one boot and forced him to throw that ball away a little earlier than he wanted to. That is all about attitude and effort. That is the way Tenny plays. Tenny is one of those players that when he is on the field he makes sure every rep counts; he doesn't take a play off ever."
"It's the energy and excitement that he plays with that stands out," Pagano added.  "And, he's a really good football player.  When you put those things together, that is what makes Tenny special.  He does everything right.  He's a pro, listens in meetings and works his tail off on the practice field.  Not only does he reward us with doing those things, but by his effort and energy he makes the plays out on the field."
An undrafted free agent out of Utah in 2014, Palepoi appeared in all 16 games as a rookie, totaling 18 tackles and four tackles for loss in a limited role.  Unfortunately, he missed all of his sophomore season after suffering a foot injury on the third day of training camp last year, spending all of 2015 on the Reserve-Injured list.
The lost season served to add fuel to his fire, and the Chargers are reaping the rewards through six weeks.
"Going a year on the sidelined (stunk), but it is what it is and I had to accept it.  I told myself when I came back I'd make the most of every opportunity, and that's what I've done.  It made me, and my love for the game, grow."