The San Diego Chargers kick off the 2016 preseason when they visit the Tennessee Titans Saturday night at 5:00pm PT at Nissan Stadium. It marks the first time the Chargers open the preseason on the road since 2005.
On Offense for the Chargers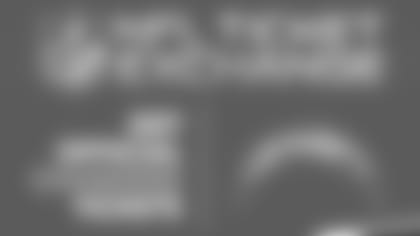 Offensive Coordinator Ken Whisenhunt will call plays for the Bolts for the first time since 2013 after spending the last two years gracing Tennessee's sideline as head coach.  All eyes will be on the Chargers' ground attack as the team has made it a focal point to pound the rock more efficiently this season.  Leading the way for Melvin Gordon, Danny Woodhead, Branden Oliver and company will be fullbacks Derek Watt and Chris Swain in their NFL debuts.  The opener also marks the first time Keenan Allen has appeared in a game since last November when he suffered a kidney injury against the Baltimore Ravens.
On Offense for the Titans
QB Marcus Mariota leads the home team into action, protected by tackle Jack Conklin, who was selected eighth overall out of Michigan State.  He'll have a new target to work with in WR Andre Johnson as the seven-time Pro Bowler was signed on the first day of training camp.  Another newcomer to watch out for is DeMarco Murray.  The former Philadelphia Eagle and Dallas Cowboy running back was acquired via a trade in March.  In his last five seasons, Murray ranks sixth in the league with 5,228 rushing yards and seventh with 34 rushing touchdowns.
On Defense for the Chargers
In the same vein the offense is looking to establish their ground game, the defense is determined to be stouter at the point of attack.  New nose tackle Brandon Mebane figures to play a key role in that area as he makes his Chargers debut.  Meanwhile, the Bolts look to get after the quarterback after ranking 24th in the league with 32.0 sacks.  Melvin Ingram led the way with 10.5 in 2015.
On Defense for the Titans
Tennessee boasts a new-look secondary headlined by former Miami Dolphins cornerback Brice McCain and Arizona Cardinals safety Rashad Johnson. The team also selected Clemson OLB Kevin Dodd 33rd overall, and he'll be making his NFL debut alongside NT Austin Johnson who was selected 43rd overall out of Penn State.
In 2015, the Chargers ranked ninth in total offense (371.8 yards per game), fourth in passing (286.9 ypg), 31st in rushing (84.9 ypg) and 26th in points (24.6). The Titans ranked 30th in total offense (311.8 ypg), 25th in passing (218.9 ypg), 25th in rushing (92.8 ypg) and 28th in points (18.7).
Defensively, the Bolts ranked 20th in total defense (361.9 ypg), 14th in passing (236.6 ypg), 27th in rushing (125.3 ypg) and 21st in points allowed (24.9).  Tennessee ranked 12th in total defense (342.2 ypg), seventh in passing (229.9 ypg), 18th in rushing (112.3 ypg) and 27th in points allowed (26.4).
Saturday night marks the first chance to see a litany of new Chargers in action. 
Free agents who may make their San Diego debuts include safety Dwight Lowery (Indianapolis), cornerback Casey Hayward (Green Bay), nose tackle Brandon Mebane (Seattle), tight end Jeff Cumberland (New York Jets), center Matt Slauson (Chicago), wide receiver James Jones (Green Bay) and wide receiver/punt returner Travis Benjamin (Cleveland).  QB Zach Mettenberger should also see his first action as a Bolt against his former team as he was claimed off waivers from the Titans in May.
Furthermore, members of the draft class who should get their first taste of the NFL include Arkansas tight end Hunter Henry (second round), USC center Max Tuerk (third round), Ohio State inside linebacker Joshua Perry (fourth round), Akron inside linebacker Jatavis Brown (fifth round), Texas A&M punter Drew Kaser (sixth round), Wisconsin fullback Derek Watt (sixth round) and Michigan State guard Donavon Clark (seventh round).
Ten players are returning to action that ended the 2015 campaign on IR.  They include WR Keenan Allen (kidney), WR Torrence Allen (foot), CB Brandon Flowers (knee), RB Melvin Gordon (knee), NT Sean Lissemore (shoulder), DT Corey Liuget (foot), RB Branden Oliver (toe), DT Tenny Palepoi (foot), S Darrell Stuckey (knee) and OLB Tourek Williams (foot).
The Chargers and Titans have only met one other time in the preseason as San Diego defeated Tennessee 21-7 at Vanderbilt Stadium in 1997.
CBS (KFMB, Channel 8 in San Diego and KCAL-TV, Channel 9 in Los Angeles and Orange County) – Spero Dedes (play-by-play), Dan Fouts (analyst) and Heather Myers (reporter)
Rock 105.3 FM, XTRA Sports 1360 (San Diego) and AM 570 KLAC (Los Angeles & Orange County) – Josh Lewin (play-by-play) and Nick Hardwick (analyst)
Spanish Radio –XHFG 107.3 (San Diego)– Jorge Villanueva (play-by-play) and Tony Alvarez (analyst)