"Who's going to make a play?"
Loud and clear, the all-too familiar southern drawl of Philip Rivers could be heard across the field.  But it isn't Sunday and this isn't Qualcomm Stadium.  Instead of breaking the huddle and lining up under center, Rivers walked the sidelines. 
Call number 17 Coach and number 10 as well.  On Friday nights, Philip Rivers and Kellen Clemens trade in the blue and gold for green and gold as the two coach their sons' flag football team, the Oregon Ducks.
The logical assumption would be Rivers coaches the offense, but think again as number 17 is in charge of the Ducks' defense while Clemens runs the other side of the ball.
"I enjoy coaching the defensive side," Rivers said.  "Kellen and I laugh.  (Sometimes) I have to bite my tongue not to give him any suggestions on the offensive side!  But it's always fun just coaching the guys.  You hope they learn a little bit about football and more than that, they have a good time and enjoy it.  At this age, it's all about having fun, teaching them about playing hard and all that." 
"We have a good time with it!" added Clemens who put in the request for the Ducks moniker.  "It's a lot of fun.  We're trying to get all the boys involved and let them play every position.  They're just learning the game so we're trying to give them a chance to learn and hopefully win in the process."
The pair coach a team of eight kids who play six-on-six against a division rival.  The Ducks are currently 2-0 with their most recent win coming against the USC Trojans who happen to be coached by former NFL quarterback Jeff Garcia.
"These guys put their families first," said Trent Tracy, one of the Commissioners of the youth league.  "They have extremely busy, demanding and stressful lives…so it's really important that people understand how much they care about their families.  I imagine it's really difficult as a professional athlete to be gone for so long so to have any extra time to be with their kids and share special moments, they'll take advantage of it."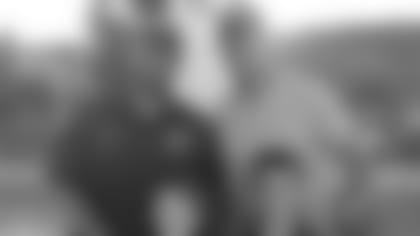 Both Rivers and Clemens coach with the same enthusiasm they display on Sundays.  As Gunner Rivers threw his first touchdown of the afternoon, his dad was just as fired up as when he throws one of his own.
"It's the same passion I play with and the same passion my dad coached with," mentioned Rivers.  "It's the only way I know!  My son's a little more laid back than I am, but he likes it like I did at that age.  He just plays a little more reserved which is just fine."
As players who once learned from their fathers, it's important for the pair to share the love of the game with their own kids, but also reach others as well.
"That's what was done for us when we were that age," Clemens added.  "I know (Rivers') dad coached him, my dad coached me and we want to have that similar relationship with our boys.  But the other side of it is, we're just normal dads!  I think that's cool for people to see."
The relationship of a quarterback and backup quarterback should be strong which is fully illustrated by the bond between Rivers and Clemens on and off the field.  It was Clemens and his son, Grant, who recruited Gunner and his father to come play.  Despite the endless hours they spend together at work, Rivers couldn't pass up the opportunity.
"It's fun just having a teammate and a friend in Kellen where our boys get to play together on Friday afternoon and we get to play a game on Sunday," Rivers mentioned.  "Our children are classmates, we live close, carpool into work and get to have a little fun outside the building.  It's pretty unique and I'm certainly thankful for it."
"It's a unique relationship and something that I really value," added Clemens.  "Both with (Rivers) and his entire family, we're very close as a whole, so this is just another opportunity to spend more time together.  It helps that his kid can flat out sling it!  You can see how it would be genetic."