In roughly 72 hours, the Chargers will kick off the 2022 season.
Over the next four months, the Bolts will play a 17-game regular season slate and endure the rollercoaster ride that is every NFL season.
There will undoubtedly be both highs and lows, sometimes within minutes of each other. There will be twists, turns and some unexpected moments, too.
Chargers Head Coach Brandon Staley believes good things are on the horizon for his squad. But in order to attain that, Staley wants his team to focus on three key attributes.
In Part 3 of a three-part series, Chargers.com is examining those themes that Staley wants the Bolts to embody in 2022.
Staley expanded on that term.
"Discipline is doing what you have to do on a day-to-day basis. And being relentless with that approach," Staley said. "Discipline … you've got to be able to commit to a certain process every day. You have to commit to a certain standard.
"When I think of discipline, I think of that," Staley added. "And when I think of discipline in general, it comes from within. Not anywhere else but inside you."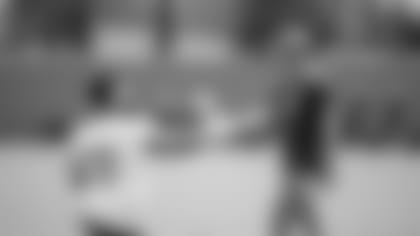 The Chargers reside in the AFC West, a division some are saying might be the toughest in league history considering the talent stacked across four teams.
The Bolts will waste no time jumping into the division fray Sunday at home against the Raiders, which is Step 1 in what they hope is a long and fruitful journey.
Yet as Staley begins his second season in charge, he has parlayed his love for a sport other than football — which led to a surreal life moment for him this summer — to help sum up what kind of discipline he wants to see in his players.
Let's go back to the spring of 2004, when Staley was a senior at the University of Dayton. A longtime tennis aficionado, Staley recalled watching a kid only a few years younger than him win his first Grand Slam title.
"I was a college senior at Dayton and I think that was his first French Open [title]," Staley said. "I remember the kid in the cutoff shirt and the Capris and the long hair.
"If you're a sports fan and you see something special, you can notice it pretty quickly. That's something I was able to notice with him," Staley added. "He had that rare court presence, that rare creativity, shot making … just all the stuff that the rare players in any sport have."
Staley, of course, is talking about Rafael Nadal, who won the first of his nearly two-dozen current Grand Slam titles back then.
Since then, Staley has been an avid Nadal fan, tracking every tournament as he has jostled with the likes of Roger Federer and Novak Djokovic for the most major titles by a men's tennis player. To date, Nadal leads the way with 22, followed by Djokovic (21) and Federer (20).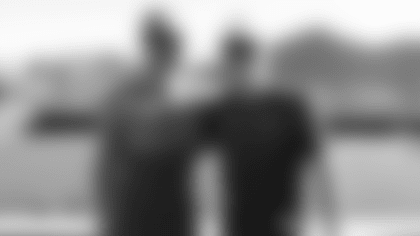 On a late August day, Staley spent nearly a full minute straight explaining what Nadal has taught him from afar about both discipline and dedication to his craft.
"He's got rare focus. Rare commitment to his process and his routine. He's willing to give of himself what it takes each and every time he goes out there," Staley said. "What's hard for people to understand is what you have to give in order to be as dominant as he's been, and for what he's endured as an athlete from when he was a 19-year-old kid to now.
"Everyone has come after him. He gets everyone's best shot. Injuries, evolution, new young players, rivals that keep getting better," Staley added. "He's in the most historic era in tennis history with Roger and Novak. I just think of that rare focus that he has, and observing that up close was really cool for me."
But if that's what Staley observed on television over the years, it was nothing compared to a dream experience this summer when he watched a Nadal practice session during Wimbledon. It was actually the second interaction Staley has recently had with Nadal, the other being at Indian Wells in March.
"Being able to connect with him up close, I just have an appreciation for just the presence that he had," Staley explained. "Special players have that rare presence. They carry themselves with a certain type of poise, carry themselves with a certain confidence."